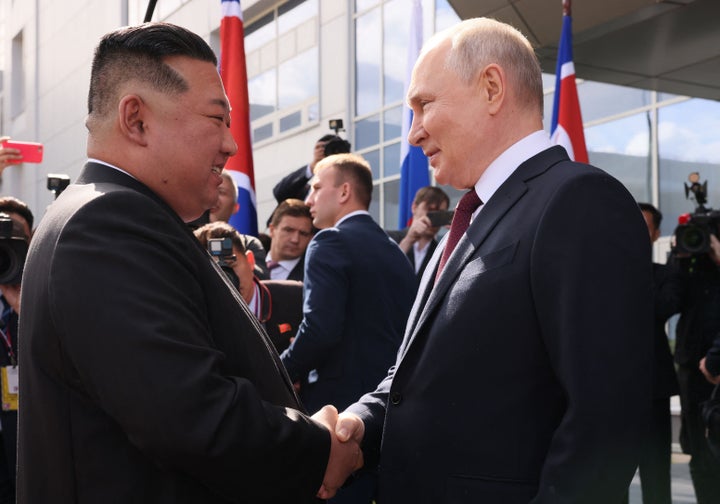 Vladimir Putin and Kim Jong Un have just met up in person for the first time in four years, greeting each other with a 40-second handshake.
The Russian president welcomed his North Korean counterpart to the space base, Vostochny Cosmodrome, in the eastern Russian region of Amur, on Wednesday.
It comes amid suggestions Putin wants North Korea to supply him with weapons for the war in Ukraine.
Russian state media claimed Putin told Kim he was "very glad" to see him, while the North Korean president thanked Putin for his invitation, "despite being busy".
During their lengthy opening remarks, communicated via translators, the international isolated leaders continually shook one another's hands.
This bizarre moment is a stark contrast to Putin's efforts last year to welcome foreign representatives, where he mostly just planted them at a significant distance from himself via a long table.
Moscow seemed to roll out the red carpet for Kim – who has not been out of North Korea since 2019, when he also travelled to see Putin – with a military honour guard and the national anthems of both countries playing.
Their meeting is a cause for concern within the international community because they are said to be considering an arms deal, even though it would breach UN resolutions to trade weapons with North Korea.
Asked by the media if they would be talking about weapon supplies, Putin said they would discuss "all issues".
He indicated that Russia would help North Korea build satellites too, adding: "That's why we came here. The leader of [North Korea] shows great interest in rocket engineering, they are also trying to develop space."
North Korea has failed to launch anything into space so far, so could be looking for assistance from Moscow to put its spy satellites into orbit.
The country is also in need of energy and food supplies, so Russia may offer humanitarian assistance.
In return, it's been speculated that Moscow could ask for weapons as its supplies have been depleted by the war in Ukraine.
However, both countries have denied this.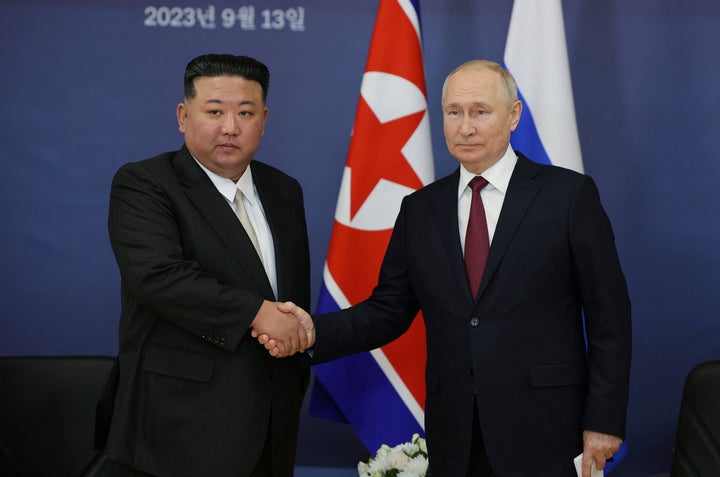 The US's state department spokesman Mathew Miller suggested on Monday that the meeting showed Putin was desperate.
He said: "Having to travel across the length of his own country to meet with an international pariah to ask for assistance in a war that he expected to win in the opening month, I would characterise it as him begging for assistance."
Another theory to explain the meeting suggests Putin is using it as leverage to stop South Korea supplying Ukraine.
Andrei Lankov, North Korea expert at Kookmin University in Seoul, told AFP: "The major worry of the Russian government now is a possible shipment of the South Korean ammunition to Ukraine, not just one shipment but a lot of shipments."
Russia also announced this morning that a Chinese representative will be jetting to the country next week – commentators have speculated that Beijing would be unhappy about this meeting, which could upset the region.
Putin and Kim's meeting also happened just after South Korea and Japan said they had detected the launch of two short-range ballistic missiles from North Korea's east coast.