Train derails at Watford Junction after being hit by landslide caused by flooding.
Two injured and around 400 stranded by incident.
Serious delays to services in and out of London Euston until at least lunchtime.
Half a month's rain fell in a matter of hours in south-east.
Flooding also reported in Greater London, Surrey, Hampshire and Hertfordshire.
Didcot Parkway station hit by 'worst flooding in 30 years'.
Flooding has caused a train to derail at Watford Junction in Hertfordshire.
Virgin Trains said that the London Midland service "hit a landslide causing it to strike another train and derail".
The incident affected the 6.19am service from Milton Keynes to Euston
One person experienced chest pain following the incident while another suffered a neck injury, according to the BBC.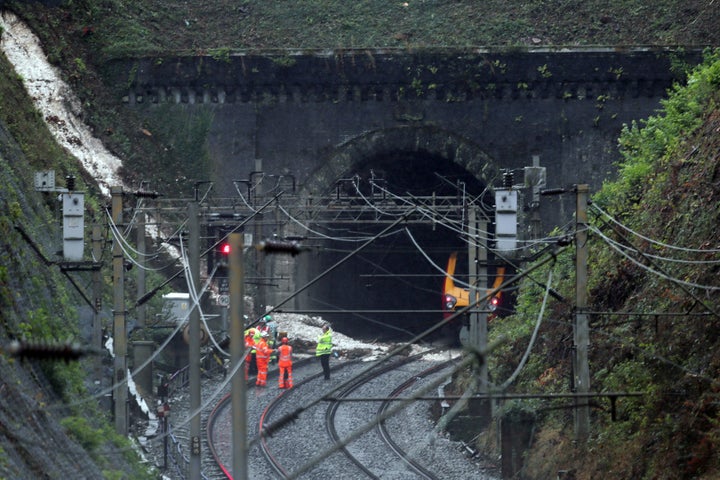 Francis Thomas, head of corporate affairs at London Midland, told BBC Radio 4's Today programme: "It's still under investigation but it caused the train to be derailed.
"This is the busiest piece of railway that carries that carries freight and passengers in the whole of Europe, so it affects anything that goes to the west Midlands, anything that goes to the north-west of England, to Scotland. So all train services have been affected this morning.
"It will take quite a lot of time to get the service recovered so we're expecting disruption until at least lunchtime today."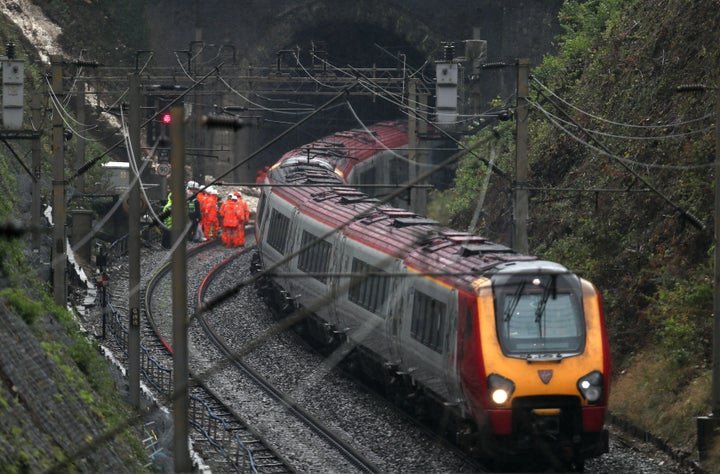 He added that there were four tracks into Euston - two for incoming and two for outgoing trains - and that the fast tracks were open. However with a train departing every 90 seconds from the London transport hub and the lines at half capacity, this would clearly have effects on services.
Thunderstorms across the south-east of the UK have caused widespread travel chaos, particularly for train services into London's Liverpool Street.

She spoke of a "Dunkirk spirit" on board as passengers helped one another, but said she was "worried" about the driver, who had a bad back after the crash.
Speaking to Share Radio, she said: "The trees were taken down from the side of the rail line last year. Trees have roots, roots hold the mud ... The mud had nothing to cling on to.
"It was the first time I've actually flown on a train; when we came off the tracks I assumed the brace position.
"Everyone is looking after each other with water and sugar but we're worried about our driver."
A pregnant woman was on board who emergency services were trying to remove from the train, she added.
Lowther got on the train at 6.47am at Berkhamsted, which was hit by an "oncoming" train at 7.01am.
According to the Evening Standard, up to 400 people were stranded on the train.
Transport for London said two Tube stations in west London were closed due to flooding, while there were reports of disruption on the M4, the Press Association reported.
Didcot Parkway station, in Oxfordshire, was also submerged by floodwater.
Fire chiefs advised motorists to avoid driving through flooded roads and turn around as pictures emerged of Maidenhead High Street resembling a swimming pool.
There were reports of roads and properties being inundated across Surrey, Hampshire, Hertfordshire and Greater London as a band of torrential rain moved in from the Channel overnight, prompting the Environment Agency to issue a series of flood warnings.
Surrey Fire and Rescue Service said it had been called to reports of a house struck by lightning near Woking, while crews worked to pump water out of flooded premises across the county.
In Christchurch, Dorset, a house caught fire after being struck by lightning.
The weather front is due to send temperatures tumbling ahead of the weekend, just days after parts of the country baked in 34C (93F) heat.
A yellow warning of rain is in place for much of England during Friday, rising to amber along a narrow corridor west of London where "exceptionally heavy, thundery rain" accompanied by hail is expected.
Met Office meteorologist Martin Combe said 32.8mm of rain had fallen in just three hours in Farnborough, Hampshire – nearly half the 70mm average for September.
He said: "The storms are quite slow moving so it means the amounts are starting to build up over time, so we may get higher figures and localised flooding.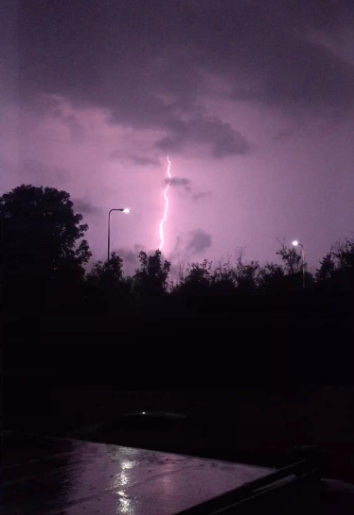 "The showers and thunderstorms are going to carry on for quite some time moving slowly north and eastwards, remaining around London through the morning and all afternoon in East Anglia.
Away from the storms Friday will be a relatively cool and fresh day for most of the country with some sunshine.
London is expected to see a high of 21C (70F), Cardiff 18C (64F) and Manchester, Glasgow and Belfast 17C (63F).
Saturday and Sunday are expected to be similarly fresh, although a weather front will bring rain for Northern Ireland, Scotland and Wales on Sunday.
Popular in the Community