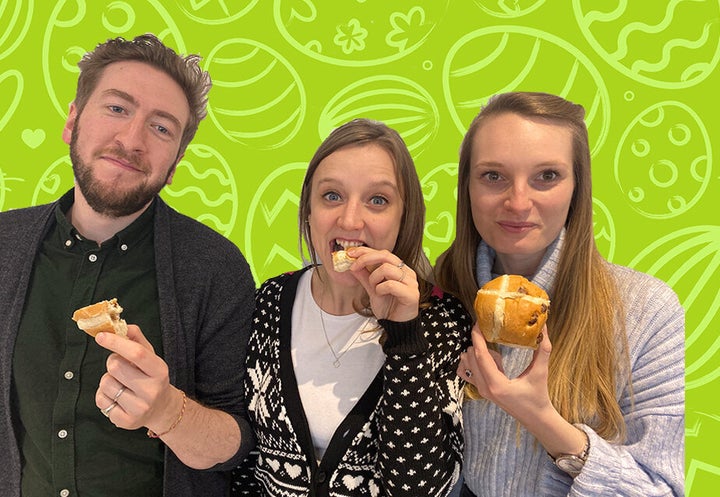 First, we went wild for the vegan sausage rolls. Then, the vegan steak bake hit the scene. Now, Greggs has upped its vegan credentials with the launch of vegan-friendly hot cross buns.
In stores for a limited time to coincide with Easter, the packs of four buns, costing £1, are free from all animal by-products. Greggs describes them as having an "orange flavour, juicy vine fruits and a unique mix of spices".
The HuffPost team tried them as they come, straight out of the packet (no toasting, no toppings) to find out how they really compare to the traditional, butter-based variety.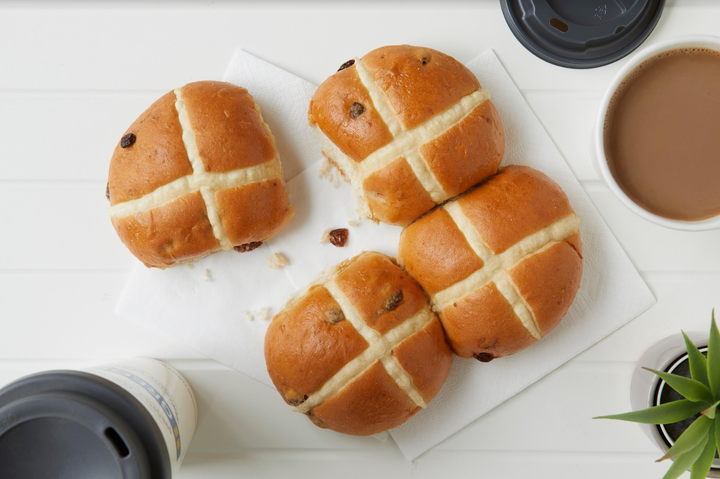 'You could slip this to your non-vegan friends with no fuss'
John Johnston, senior video producer
"Since becoming a Monday-Friday vegan (hey, I'm trying) in April 2019, I've found baked goods have been the more successful replacements. If you replace milk and butter with non-dairy alternatives, they're almost indistinguishable – and it's the same with these.
"The hot cross buns let the currants do all the work with a nice level of sweet tang and moistness (sorry, I know everyone hates that word). I didn't detect much orange-tinged flavour, though. You could slip this to your non-vegan friends with no fuss. There's no glaze though and I did miss that."
Rating: 3.5/5
'I genuinely couldn't tell the difference'
Amy Packham, assistant Life editor
"Hot cross buns are lush when toasted with butter, but I often have them as they come – straight out the packet. I genuinely couldn't tell the difference when I tried Greggs' vegan treat – the same sweetness, fluffy bun, and odd currant as a non-vegan, buttery bun.
"I'm sure if it was toasted it'd taste just as good, too. I was told after I ate it all that it was meant to have an orange flavouring to it, which I couldn't taste. But that didn't make a difference to me. I'd buy these!"
Rating: 4/5
'This thing has barely any flavour'
Ashley Percival, Entertainment editor
"Sorry, but the people who said this tastes like a normal hot cross bun have clearly never had a decent one. This thing has barely any flavour and is so sawdusty in texture.
"I would need to slather the whole thing in a tub of butter to get through it, which would then defeat the object of it being vegan in the first place."
Rating: 1/5
'I don't think I've ever seen such a dry-looking bun'
Nancy Groves, head of Life
"The best thing about hot cross buns is surely butter. The butter that goes into them, the buttery glaze on top, and the butter you spread on those toasted halves before it melts. On first glance at Greggs' new offering, I don't think I've ever seen such a dry-looking bun.
"The good news is that once you bite in, it's pleasingly squidgy. The promised orange flavour is more of an accent – not overwhelming, but a nice kick. And I don't get the feeling it's there to mask the butter-substitute, as with the vegan croissants we recently taste-tasted. It's one of the best vegan replacement baked goods I've tried."
Rating: 4/5
'I'd buy them again'
Rachel Moss, Life reporter
"Just like the famous sausage roll, this Greggs product has blown my mind a little – I wouldn't know the hot cross buns were vegan unless I was told. They're packed full of sultanas, giving them a gloriously sticky consistency, and the dough is light and fluffy before toasting – not dry or dense as I'd feared.
"I can't taste the orange flavouring or spices particularly, but that's fine by me – I prefer a classic hot cross bun anyway. I'd buy them again."
Rating: 4/5