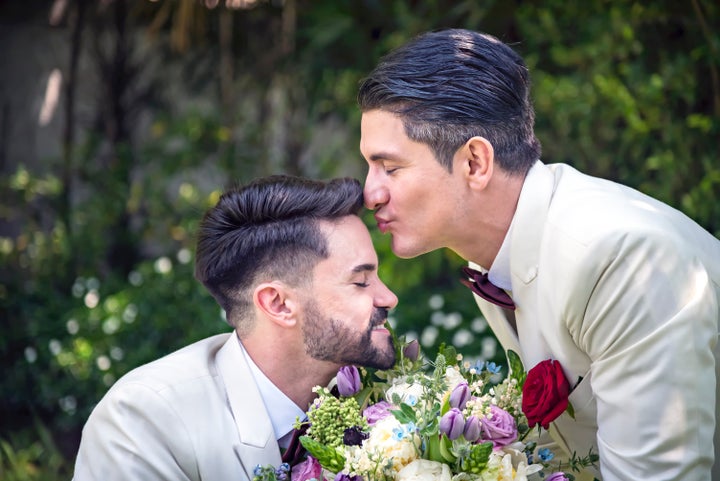 The 30-guest limit at weddings in England has been lifted, despite a four-week delay to the ending of lockdown.
From June 21, people can have more than 30 guests at a wedding, "provided social distancing remains in place", Boris Johnson announced at a Downing Street press conference on Monday – welcome news to the many couples who have postponed their celebrations time and time again.
He told the Downing Street press conference that the spread of the Delta variant meant the government and public "faced a very difficult choice" between continuing with Step 4 of the roadmap on June 21 or giving the NHS "a few more crucial weeks" to get all remaining vaccinations administered.
"And since today I cannot say that that we have met all our four tests for proceeding with Step 4 on June 21, I think it is sensible to wait just a little longer," he said.
"I am sorry for all the disappointment that's going to be caused by going a bit slower as we are today," the prime minster told a journalist and bride-to-be who said she had already twice postponed her wedding.
The reporter had questioned why testing and vaccination status could not be used to open up weddings in the same way as football matches, and said weddings felt "bottom of the priority list despite being significant life events without which some people cannot progress with their lives."
Boris Johnson, who married his wife Carrie in a secret ceremony in Westminster Cathedral on May 29 attended by 30 people, said he was sorry for the "many, many businesses" affected by delays – adding "it's a few weeks that I think is worth it to get those jabs in".
What are the wedding rules from June 21?
No maximum cap. From 21 June, there will no longer be a maximum number of people for attendees set out in law. "Instead, the number of attendees at weddings, civil partnerships and receptions will be determined by how many people the venue or space can safely accommodate with social distancing measures in place," the government website states. This will be based on the risk assessment of the venue or outdoor space.
Private garden and home weddings. "These events must not happen indoors at private dwellings," the guidance states, "unless they are urgent marriages where one of those getting married is seriously ill and not expected to recover." For events taking place in other venues – such as a garden of a private home or on private land – organisers will need to make the space as safe as possible. A marquee or other structure in a private garden must have at least 50% of its walled area open at any time for it to be classed as 'outdoors' and for the limit based on safe capacity to apply.
Face coverings. Attendees and staff at a wedding ceremony or reception must wear a face covering (except when eating or drinking), unless exempt.
Receptions. These must not take place indoors in private homes, except in line with social contact limits of six individuals, or two households.
Social distancing. Instead of instructing people to stay two metres away from anyone they do not live with, as per the guidance change from May 17, people are encouraged to exercise caution and consider guidance on risks associated with Covid-19 and actions to take to help keep friends and family safe.
Dancing. "Dancing is advised against due to the increased risk of transmission, except the couple's 'first dance'," the guidance states. Dancefloors and other spaces for dancing must remain closed but can be repurposed for additional customer seating or other relevant purposes, ensuring this is in line with the social distancing guidelines.