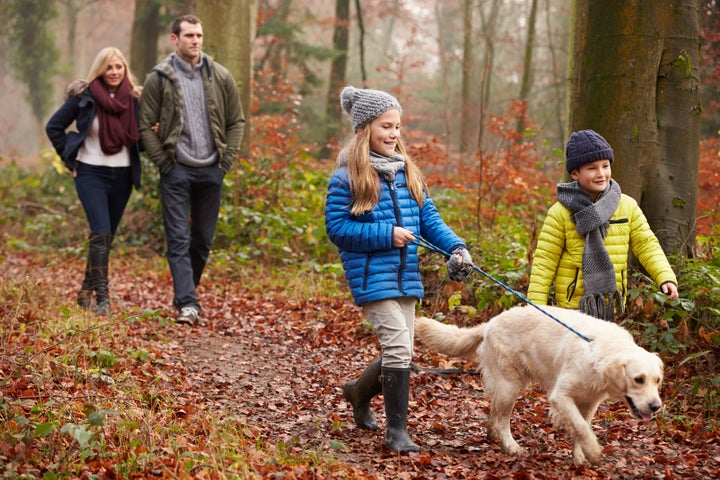 2020 is a bumper year for autumnal nuts and fruits, according to Forestry England – and it's all because of a natural phenomenon known as a "mast year", where some tree species produce very large crops of seeds.
"Part of the fascination of experiencing a mast year is that we don't completely understand the complex blend of factors that give rise to them and allow plants and trees to co-ordinate the production of so much fruit and seed," explains Andrew Smith, director of Westonbirt, The National Arboretum.
"Weather and climate can certainly affect fruit and seed production in trees, however we also see certain trees go through cycles of mast years. For oak trees it's usually every four years."
Forestry England doesn't encourage foraging on any of its sites and instead, urges visitors to "only take memories away". It does, however, run foraging courses.
The Woodland Trust is a little more relaxed, though, allowing foraging on most of its sites for personal use, unless signs explicitly prohibit it for conservation purposes.
Remember, wherever you forage, you should seek the land owner's permission and leave plenty for others and the local wildlife. Never consume a wild plant or fungus unless you are absolutely certain of its identification.
Here are a few things to look out for this autumn and winter:
Sloe Berries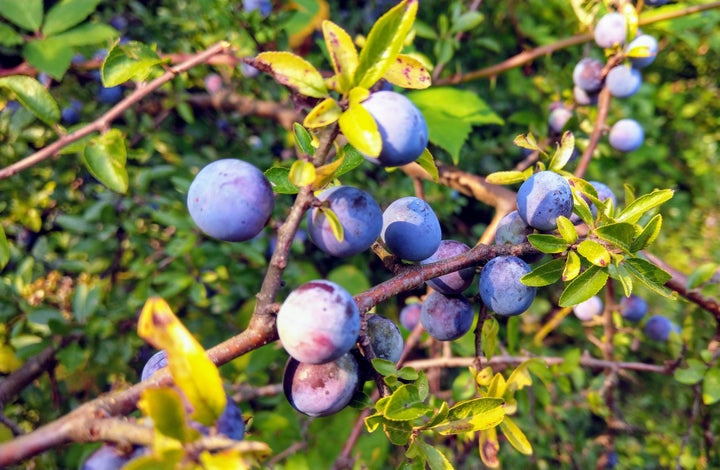 Look out for sloes, which can be used to make sloe gin and are available from September through to December, advises Hazel Jackson, head of conservation outcomes and evidence at the Woodland Trust.
"These can be found on blackthorn bushes and trees and are ready for picking when they become a rich dark purple, which squash easily between your fingers," she says.
For best results, wait until a cold snap: seasoned gin makers often wait until after the first frost, as this softens the skins and helps to release the juices. You'll need to add sugar before leaving the berries to infuse your gin.
Sweet Chestnuts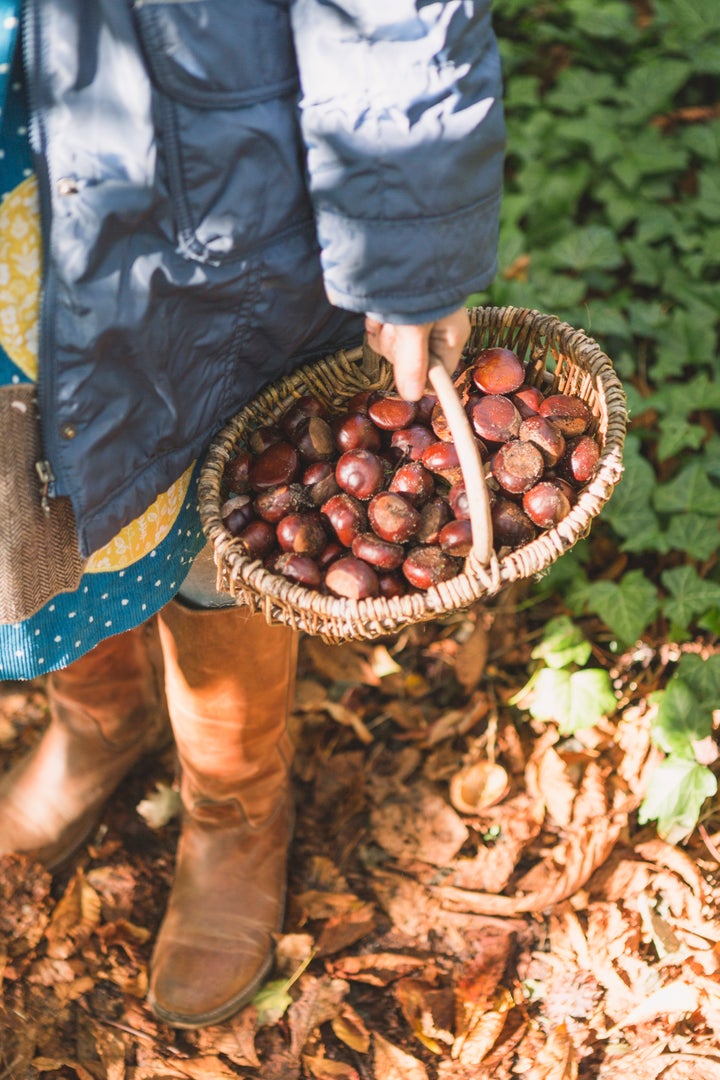 Chestnuts are a "foraging favourite" for this time of year, says Jackson.
The nuts are pretty versatile and can be baked, roasted, boiled or microwaved – just remember to score a cross in them first to stop them from exploding when cooked. Once softened, they can be eaten whole, but they're most delicious when added to desserts or folded into stuffing alongside your roast dinner.
Hazelnuts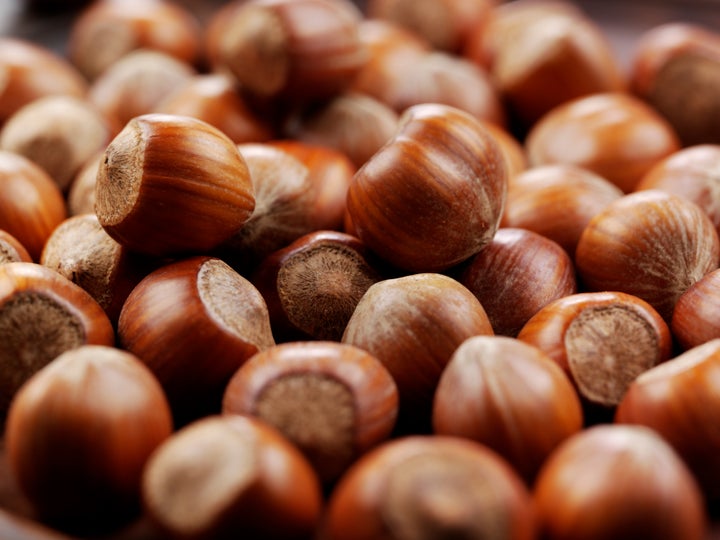 Fans of hazelnuts will need to hurry up, as the most ripe nuts are found in early autumn, depending on the weather. You can pick nuts when they're still a little green, but ripen in a warm, dry, dark place at home, such as an airing cupboard.
"If you collect enough, the shelled nuts can be roasted in the oven or used to make nut butter," says Jackson.
Walnuts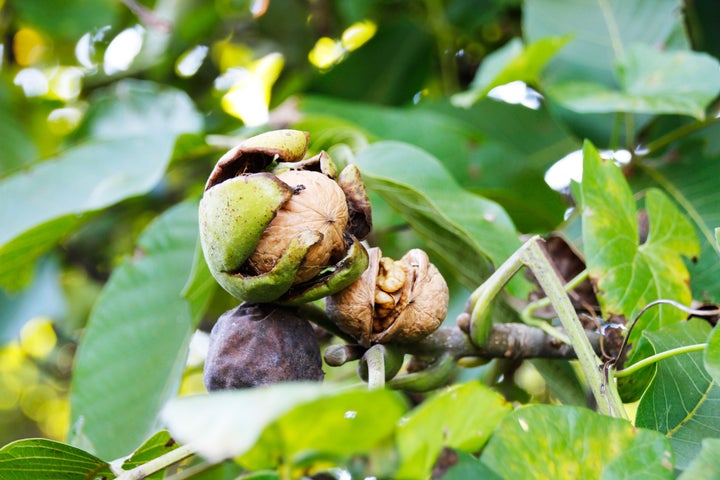 Walnuts are covered with a green, fleshy husk that starts to split as it ripens. Late autumn is your best bet for finding these.
The nuts can work with sweet or savoury dishes; a mushroom and walnut pâté is a popular vegan option, while coffee and walnut cake remains a classic treat.
Rosehips
You'll find bright red rosehips from September to November along hedgerows and woodland fringes. The outer later is rich in vitamin C and rosehips have long been used to stave off colds.
You can use them in wines, jellies or jams, or follow this recipe to make traditional rosehip syrup, which can be used for cordial or pouring onto ice cream or pancakes.
Mushrooms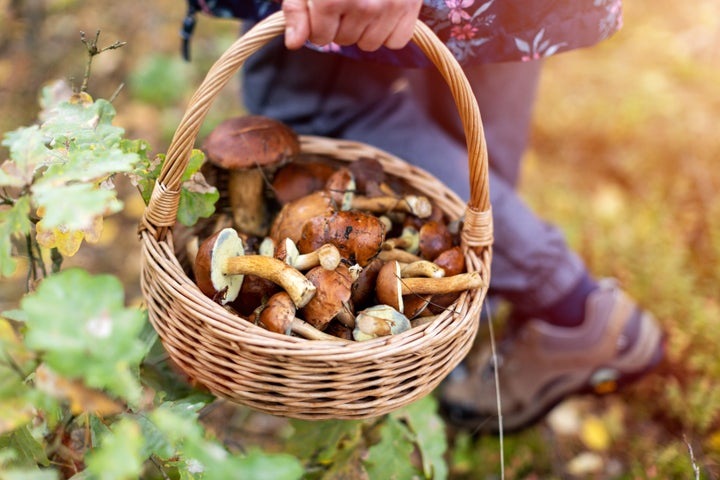 You'll find an abundance of wild mushrooms throughout October and November – but this is where the experts really urge caution.
There's a guide on mushroom foraging on the Woodland Trust's website, but their advice is to stick to the supermarket if you can't tell the difference between "delectable and deadly" – as some varieties are highly poisonous.
If you're an amateur who's determined to have some fungi fun, search for a guided mushroom picking class in your area. Wild Food UK offers courses across the country.