Vaccine passports – sometimes called immunity passports – are making headlines, with some suggesting Brits who've been vaccinated against Covid-19 may get priority boarding for their summer holidays.
The debate around these passports has existed for a while now – Matt Hancock admitted the government was looking at 'immunity certificates' as far back as March 2020. So, what's going on? Here's what we know so far.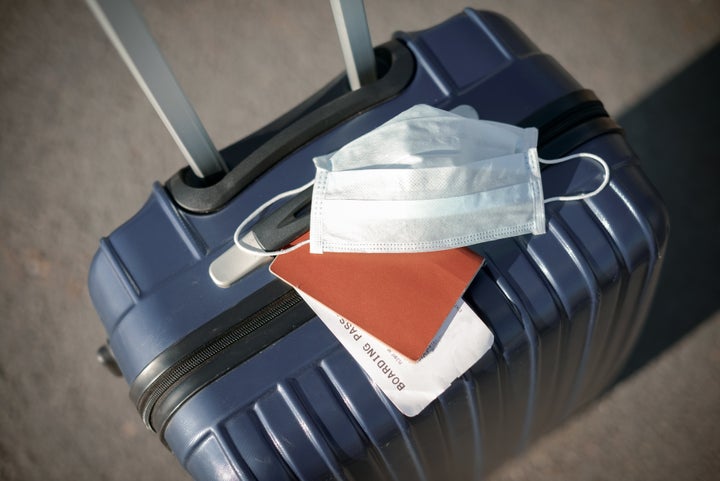 How would the passports work?
The digital passports are "likely to appear as apps on smartphones, and will document the health status of travellers, keeping record of information such as vaccination status and Covid test results," according to Business Traveller.
While vaccine passports are primarily being discussed in relation to foreign travel, the passports could, theoretically, be used within a country, in entertainment and hospitality settings, or even workplaces, to signify who has and hasn't received a vaccine.
In some cases – such as in Denmark – a passport may include whether the person has been vaccinated, whether they have tested negative recently and whether they have antibodies, so-called 'immunity passports'. However, the discussions in the UK mainly refer to a passport which shows vaccination.
Would they be effective?
So far, we know the vaccines from Pfizer/BioNTech, Moderna, Novavax, Oxford/AstraZeneca, and Johnson & Johnson are effective at stopping people from getting sick.
However, not much is known about whether the jabs stop transmission of the virus – i.e. people spreading it without symptoms – and this is the biggest concern about vaccine passports.
Recent data from the University of Oxford does suggest the AstraZeneca vaccine may reduce transmission by 67% – but it's still early days.
It's also important to note each person has a different immune response to Covid-19, and immunity may wane over time, adding another challenge.
What's the debate around them?
Charities including the Ada Lovelace Institute have raised concerns about data privacy and the potential for discrimination, for example, if a person who's received a vaccine is offered a job over someone further down the waiting list.
The head of the UK's data privacy watchdog, Elizabeth Denham, told MPs in January she can see the benefit of these passports, but also warned they came with privacy concerns. "We would approach a detailed proposal around a vaccination passport or a freedom passport in the way that we do any initiative," she said. "That is, is it necessary? Does it work – does it do what it says on the tin? Is it proportionate? And is there transparency?"
Denham also alluded to the issues of discrimination – "they touch on human rights, they touch on whether or not we're going to create a two-tier society based on whether you have a jab in the arm".
This debate around the 'vaccine apartheid' has been echoed by others. "From an ethical point of view, vaccine passports are completely unacceptable," Dr Clare Wenham, assistant professor of global health policy at the London School of Economics told The Telegraph.
"You're going to create a two-tier system and history shows that when you create division within society it leads to civil unrest. It's vaccine apartheid."
What's happening around the world?
Some countries – including Denmark and Sweden – have announced plans to introduce such passports. Sweden plans to launch a digital "vaccine passport" by summer, and Denmark said it would launch a first version of a vaccination passport by the end of February.
Interestingly, the Swedes want an 'international standard', which means they want the World Health Organisation, or maybe the EU, to agree on a standard that would mean their passport would be accepted across borders.
Greece and Spain have been among the EU countries lobbying for an EU-wide passport, because they're dependent on tourism and want to get the sector up and running – in some capacity – in time for the summer.
In January, Reuters reported that EU leaders agreed during a video conference that it should be possible to agree on common standards for vaccine certificates for medical purposes. However, they didn't debate whether they could be used to enable travel, as Greece and Spain want.
Grigoris Tasios, president of Greece's hoteliers federation, told The Times the introduction of vaccine passports could see British holidaymakers enjoying the country sooner than expected.
"Greece has long been a favourite holiday destination for the British, and with the rate of inoculations in the UK largely outpacing all others across Europe and beyond, British travellers will be among the safest to travel here by as early as May," he said.
What does the government say?
When HuffPost UK asked the government if it had plans to introduce vaccine passports, a Department of Health and Social Care spokesperson said:
"'We currently have no plans to introduce immunity passports. While we continue our fight against this pandemic it is illegal to go on holiday and vaccinated individuals will not be exempt from this.

"Instead we want to protect the most vulnerable and reduce the pressure on our NHS so we can restore freedoms fairly to everyone when it is safe to do so."