Based on the latest figures, an average of 418,000 first doses would be needed each day in order to get there, with nearly 7.9m people having so far had at least one jab. The UK managed more than 490,000 on Saturday last week, so it's theoretically possible.
What's more, a further 32 vaccine sites have opened across the country, including one at the museum made famous as the set of hit TV series Peaky Blinders.
Other sites roped into the vaccination effort include a race course, a show ground, a football stadium and a former Ikea store.
Brilliant. What's the catch?
The government has repeatedly caveated any positive news about the vaccine rollout by emphasising that the supply of doses is the "limiting factor".
Speaking at a Downing Street press briefing on Monday evening, health secretary Matt Hancock said he was "confident the NHS will be able to deliver every shot that is made available to it" but that supply is "tight".
He added: "The rate-limiting factor to this vaccination programme remains supply".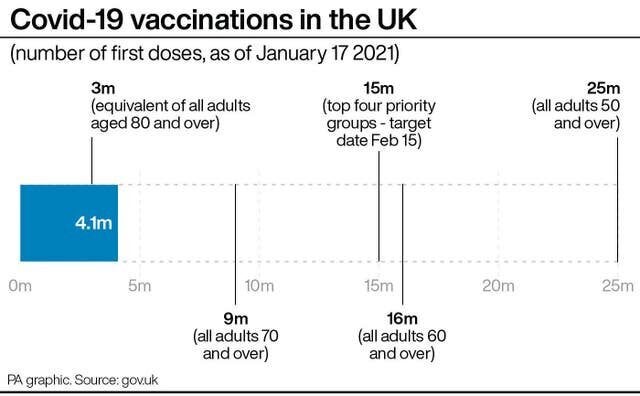 Johnson has repeatedly made similar comments, highlighting the limiting factor as waiting for batches of the jab to be quality approved.
Speaking earlier this month, he said: "We have the capacity. The issue is to do with supply of the vaccine.
"It's not so much a manufacturing issue although that's part of it. Each batch needs to be properly approved and quality controlled."
Are they telling the truth?
Yes, it appears they are.
In terms of secured doses, the government has lined up 367m of the seven most promising vaccine candidates.
Three of these seven candidates have been approved, giving us – in theory – 157m doses, more than enough to give the required two doses to every single one of the UK's 66.65m population.
BioNTech/Pfizer (MHRA authorised) – 40m doses secured
Oxford/Astra Zeneca (MHRA authorised) – 100m doses secured
Moderna (MHRA authorised) – 17m doses secured
Janssen (in phase 3 clinical trials) – 30m doses secured
Novavax (in phase 3 clinical trials) – 60m doses secured
GSK/Sanofi (in phase 1 and 2 clinical trials) – 60m doses secured
Valneva (in phase 1 and 2 clinical trials) – 60m doses secured, with an option to acquire a further 130m if the vaccine is proven to be safe, effective and suitable
Brilliant. What's the catch?
In short, there is a big difference between "securing" a dose and having in a syringe ready to jab into the arm of a grateful Brit.
So… how many doses do we actually have?
A very good question, and not one that is as easily answered as you might think.
The government has refused repeated requests to confirm the number of doses actually on UK soil and one manufacturer told HuffPost UK they could not release the information as the contract was "confidential".
The Oxford/AstraZeneca UK vaccine
We know from a Commons Science and Technology Committee hearing earlier this month that AstraZeneca has released 1.1m doses to the UK and the aim is to reach two million doses a week in or before the middle of February.
Tom Keith-Roach, president of AstraZeneca UK, said: "We're absolutely on track to do that and therefore deliver tens of millions of doses in the first quarter of the year."
The Pfizer vaccine
When asked how many doses of the Pfizer vaccine had been released to the UK, the company told HuffPost UK deliveries were "on track".
Beyond this, Pfizer was a bit vague, saying only that the UK would have its 40m doses "by the end of the year", but it is understood they have delivered around five million so far.
The Moderna vaccine
Moderna failed to respond to multiple requests for information but Professor Stephen Powis, national medical director for the NHS in England, has said doses will "come to the UK for use in the coming months".
So in total, the UK has around 21m doses, 6.3m of which have been administered, with enough left to reach the targets of vaccinating 15m people in the top priority groups.
Brilliant. What's the catch?
We have enough doses as well as the infrastructure to give 15m people – plus six million more – one dose of the vaccine by mid-February.
But what about everyone else? And what about the vast majority of people who have only received one of the two doses they will need?
In other words, will we have enough once the initial supplies run out?
The government has sounded a bit less certain on this front than on the daily uptake figures, which Hancock regularly promotes on Twitter.
Earlier this month, vaccines minister Nadhim Zahawi said: "I now have line of sight of deliveries all the way through until end of February, and [am] getting more confidence about March as well."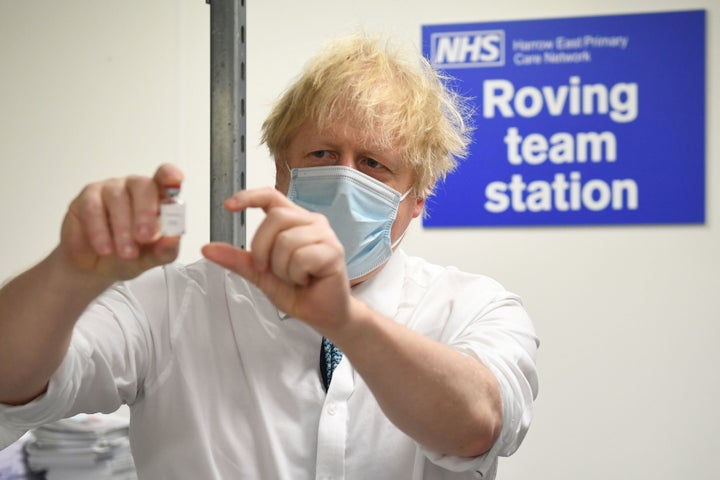 So how long before supplies that haven't already been delivered make it to the UK?
When discussing the AstraZeneca vaccine, Pangalos said: "If you look in total, you're talking about a three- to four-month process."
What we don't know, and what neither the manufacturers or the government is saying, is how much of each vaccine is at the various stages of this process.
Both Pfizer and AstraZeneca are in the process of ramping up production but in the case of the former this involves a temporary reduction in capacity while it upgrades its factory.
And while this will increase the total number of doses eventually available to the UK, it won't speed up how quickly they get here.
Will we run out before they get here?
Based on what the manufacturers and the government have said publicly, we just don't know.
What about the EU's row with AstraZeneca?
A row has erupted between the EU and coronavirus vaccine manufacturer AstraZeneca over delays to its deliveries.
The bloc has accused the company of a "lack of clarity" and "insufficient explanations" after it said it cannot meet agreed supply targets up to the end of March.
As a result, the European Commission has imposed export controls on some vaccines made in the bloc, and even taken the dramatic step of triggering a protocol in the Brexit withdrawal deal to stop the unfettered flow of jabs to the UK via Northern Ireland. It's currently unclear how that impacts the UK's supply of Pfizer jabs.
Is there enough vaccine for all the countries likely to approve it?
Simon Stevens, the chief executive of NHS England, told the Health and Social Care Committee on Tuesday: "Of course there is a supply shortage" of vaccines.
He added: "If there were unlimited vaccines then you wouldn't see what the European Commission were saying yesterday, you wouldn't see Italy attempting to sue one of the manufacturers, you wouldn't see Germany in uproar as it is today.
"Of course there's a supply shortage, and we've done very well in this country to get the supply we have available to us, the question is how do we use it to best effect."
Is there anything else I need to know?
"This has been on the cards for a while and was originally planned to open next year," Dr Stephen Morris, research fellow in vaccine process analytics at University College London, told HuffPost UK.
"It was designed as a platform for the likes of myself to test out new manufacturing technologies so it's designed to be very flexible but now it's been repurposed to some degree.
"That in theory will have enough manufacturing capacity to produce enough vaccine for the UK."
But while it will increase the amount of vaccine the UK can produce, it won't speed up how long they take to manufacture.
Popular in the Community