Donald Trump has named the boss of the world's largest oil company ExxonMobil as his Secretary of State, in another Cabinet appointment to alarm critics.
Leading Republicans in Congress are among those who are anxious about the announcement, made on Tuesday, that would see Rex Tillerson try to turn his skills making business deals abroad into addressing the international problems facing America as its top diplomat.
The 64-year-old has spent his whole working life at ExxonMobil. He ascended the corporate ladder, largely through the deals he made with Russia in the 1990s and beyond.
On Twitter, Trump said Tillerson was "one of the truly great business leaders of the world".
He added: "The thing I like best about Rex Tillerson is that he has vast experience at dealing successfully with all types of foreign governments."
But much of Tillerson's experience of dealing with foreign governments is relates to one particular government.
1. He has close ties to Vladimir Putin
Tillerson's appointment was announced just days after US intelligence concluded Russian hackers intervened in the election to help him defeat Hillary Clinton. Vladimir Putin's relationship with Tillerson is seen as a liability as US-Russian relations languish.
Tillerson has met the Russian president several times as part of various deals ExxonMobil agreed with the Russian state-owned energy company Rosneft. After one of the signings, he enjoyed a glass of champagne with Putin.
In 2012, he even received Russia's highest honour for foreigners, the Order Of Friendship.
Senator John McCain, a former Republican candidate for president, said Tillerson's links to Russia were "a matter of concern".
He told Fox News on Saturday: "Vladimir Putin is a thug, bully and a murderer, and anybody else who describes him as anything else is lying."
Senator Marco Rubio, whom Trump defeated for the Republican nomination, said: "Being a 'friend of Vladimir' is not an attribute I am hoping for form a Secretary of State."
Bradley P. Moss, a national security lawyer, said Tillerson's Order of Friendship was remarkable given he had clients who "lose clearances because of distant cousins in Russia who served in the military once".
2. His company has an interest in ending sanctions
Exxon has a lot invested in a stalled deal with Russia that can only go ahead if sanctions are lifted.
The sanctions were imposed after Russia annexed Crimea from Ukraine in 2014. Tillerson had to avoid a meeting with Putin in June in that year, under White House pressure. After the the sanctions came in, Exxon had to stop a deal to drill with Rosneft in the Kara Sea and it has been on hold ever since. Tillerson went into "crisis mode" after the sanctions were drawn up, managing to start drilling before they came into effect, Reuters reported. Unsurprisingly, Tillerson has cast doubt on sanctions since. He told Exxon's annual meeting in 2014: "We do not support sanctions, generally, because we don't find them to be effective."
Campaigners feared this would colour Tillerson's approach to Russia. "The chances that [Tillerson] will view Russia with ExxonMobil DNA are close to 100 percent," Robert Weissman, the president of Public Citizen, a public interest group, told The New York Times.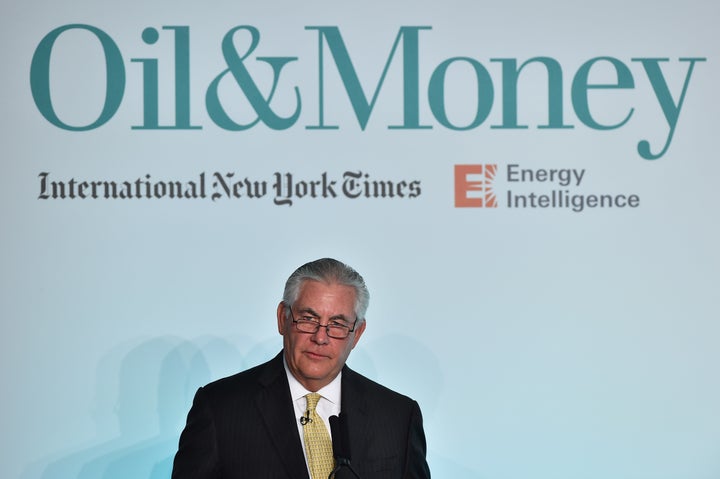 3. He has a legacy of climate chance sceptism
Tillerson has been called "a real-life JR Ewing". The fossil fuel industry and the environmental lobby are not friends and environmentalists are not expecting the oil boss to do much to combat climate change.
Environmental campaigners Greenpeace said they expected Tillerson to lobby for the reopening of Exxon's arctic drilling.
Greenpeace UK's executive director John Sauven said: "A real-life JR Ewing becomes America's chief diplomat as Donald Trump does away with the usual intermediaries and directly outsources foreign policy to the fossil fuel industry.
"We spent years warning that Exxon was too close to the US government. Now they are the government.
"Rex Tillerson, while unlikely to wear his Russian friendship medal during his Senate confirmation hearings, will almost certainly use his new job to lobby for the reopening of Exxon's Russian Arctic oil exploration.
"And with oil in his blood he's unlikely to use his new office to promote solutions to climate change."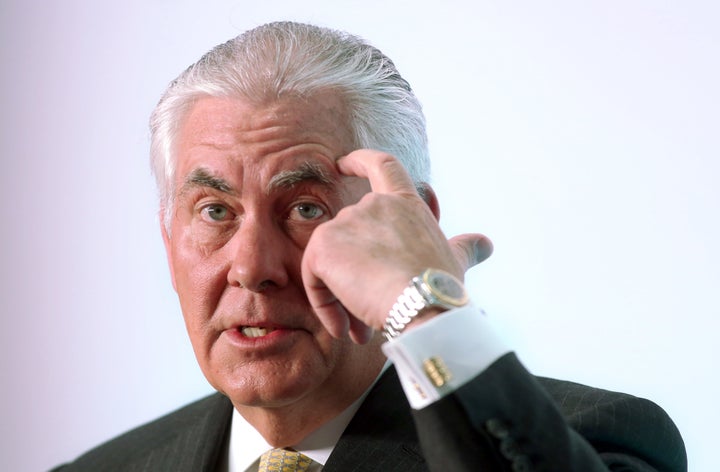 4. He has no government experience
Tillerson has never worked in the public sector and spent his whole career with one company. His ExxonMobil role has never required him to solely represent the interests of the US.
This is in stark contrast to his most recent predecessors in the role, who all had foreign policy and Government experience. John Kerry was a former US Senator, as was Hillary Clinton. Condoleezza Rice was National Security Advisor. Colin Powell was Chairman Of The Joint Chiefs Of Staff, America's most senior soldier.
Steve Coll, who wrote a book about ExxonMobil, wrote in The New Yorker: "In nominating Tillerson, Trump is handing the State Department to a man who has worked his whole life running a parallel quasi-state, for the benefit of shareholders, fashioning relationships with foreign leaders that may or may not conform to the interests of the United States government."
5. He isn't exactly what Trump promised
Tillerson follows other questionable appointments, including the president of Goldman Sachs as National Economic Council director.
A man whose net worth is reportedly $150 million is a far cry from the President Elect's campaign rhetoric that he would "drain the swamp" of special interests in Washington.
Some found it hard to take that "one of the truly great business leaders of the world", fitted the bill of an outsider.
In his statement announcing Tillerson's nomination, Trump said: "Rex Tillerson's career is the embodiment of the American dream.
"Through hard work, dedication and smart deal making, Rex rose through the ranks to become CEO of ExxonMobil, one of the world's largest and most respected companies.
"His tenacity, broad experience and deep understanding of geopolitics make him an excellent choice for Secretary of State. He will promote regional stability and focus on the core national security interests of the United States."