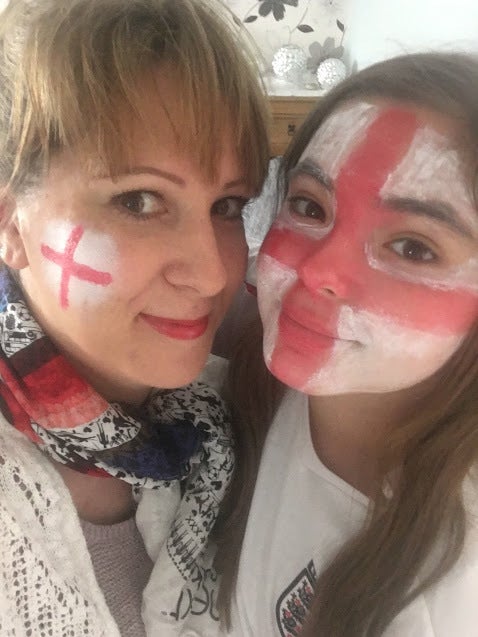 For me, watching England play in the World Cup has meant much more than the game itself - because it's all about family, national pride, togetherness, and the feel good factor. There is so much sadness around us a lot of the time and this has brought some joy and celebration back into our lives.
While, of course, I always end up on the edge of my seat, barely breathing thinking that if I shout loud enough the ball will hit the back of our net, I also experience deeper emotions. Since surviving acute leukaemia in 2015 I find myself appreciating times like this on a whole different level. Making memories for my daughter to carry with her into adulthood has become something I am passionate about. Before my mortality suddenly became a reality I hadn't fully realised the importance of many of life's little things, I thought I had a lifetime to make memories with my daughter, how wrong I was. Literally overnight I was whisked away from the life I was living, no time to prepare for my absence, months in hospital contemplating my regrets. My life could have been cut short at the age of 39 and I am incredibly lucky to be here today. This has had a profound effect on how I live my life now so one thing if one thing is for sure, I don't intend to waste this chance I have been given.
This World Cup has given me another opportunity to make new memories and share my childhood experiences with my 11-year-old daughter. Relaying stories of the emotion, the country coming together, shell suits and explaining that the pundits on ITV and BBC Sport used to 'play when I was a girl' (can't believe I am repeating the words of my mother!). Reminiscing back to happy times has made me smile and helped relive some of the stress I am going through at the moment. Taking time out of my busy life to meet up with friends to watch the games and watching everyone simply enjoying themselves has been very therapeutic.
The World Cup tournament that that stands out the most for me is Italia '90, from the spine tingling theme music of Pavarotti to the excited chatter my school friends and I had after each match. I've had to explain to my daughter that we wrote notes to each other because we had no mobile phones or social media which was interesting. Also telling her how the whole country was taken over by football fever, the streets empty whenever England played and of my treasured England shell suit that friends still remember and tease me about to this day. And even though we didn't win the World Cup the team still came home to hundreds of supporters lining the streets because they wanted them to know it didn't matter, they were still proud. Explaining this reaction to my daughter is another important lesson, that it's not always about winning, its also about the journey itself. I still cherish those memories of Italia '90 and I can fully understand my daughters reaction when England's World Cup came to an end last night, I smiled to myself as I comforted her, partly because I remember exactly how it felt and partly because of the wonderful feeling that my daughter is so like me.
I've always loved the feeling of the country coming together, of being part of something big, that sense of togetherness and teamwork that comes with something like the World Cup. It is important for our children to experience these things so that they too understand what it is to be.
My daughter loves hearing about my experiences as a child just I did when my parents used to share theirs. I have had the privilege of sharing this experience with my daughter, history has repeated itself and she will be able to share these memories with her children one day. For me it's important to make memories because when you are gone these are what your loved ones cling to, what gets them through, what they laugh about when sadness overtakes them, how they find you when they feel like they've lost you. Memories to revisit are a link between you and them that cannot be broken by anything