Mike Checkley and Terry James love Christmas, so much so, they've lost track of how many lights are currently displayed on the outside of their home.
"I can't say I'm going to count them one by one, because that would be taking things too far," Mike jokes. "But we know we have over 30,000. We started putting them up this year on 21 October. We tend to do a little bit each day and it's a bit like a jigsaw puzzle, it grows and grows and grows."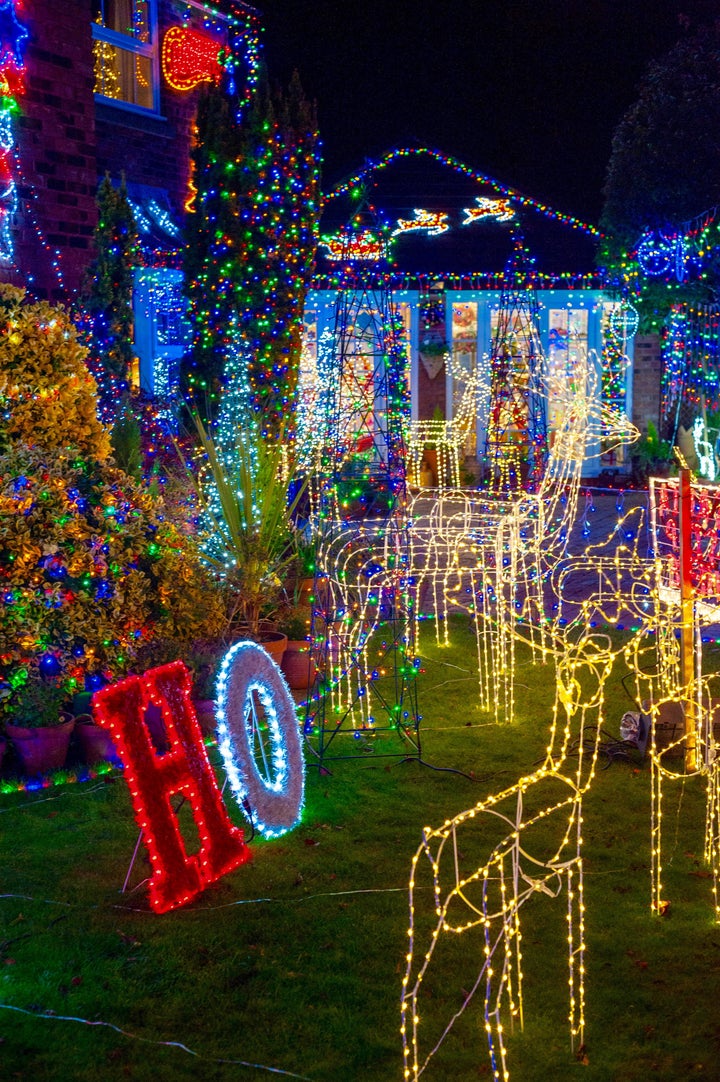 The couple, who live in Bradley Stoke, South Gloucestershire, began to decorate their home with lights five years ago, raising "a few pounds for charity" via a collection box outside. But things have escalated, to say the least.
Last year they raised an impressive £3,022, but this year they've added another 4,000 bulbs to the display and given themselves an ambitious fundraising target of £4,000, with all donations going to St Peter's Hospice.
"It's a place that's very close to our hearts because it has helped family and friends, at probably the most difficult time that families have to deal with," says Mike, whose father was cared for at the hospice before his death two years ago.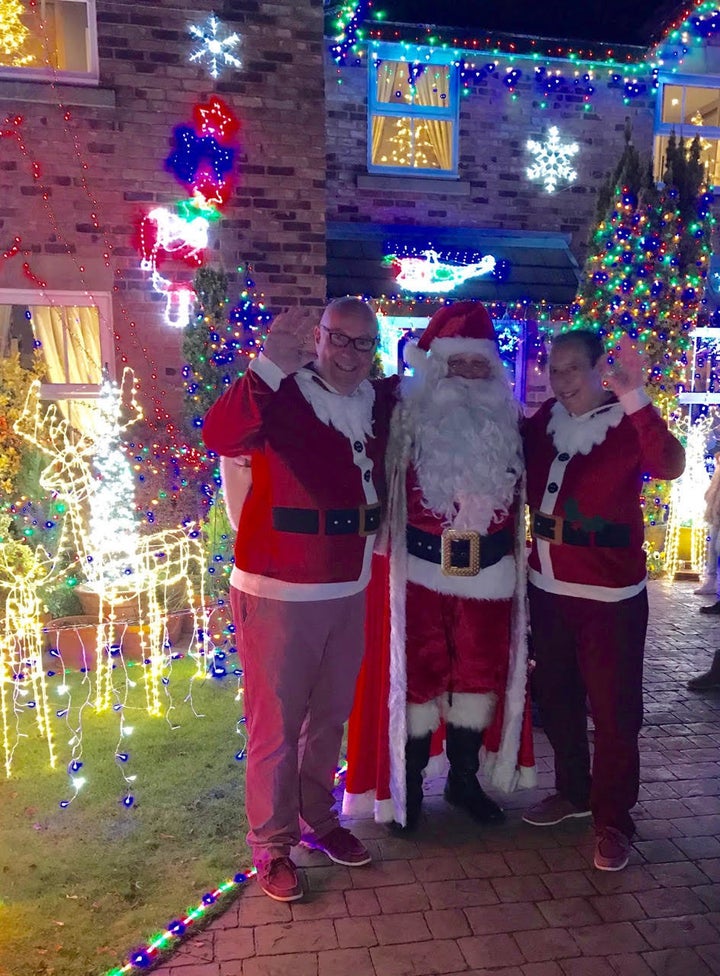 You'd expect neighbours to raise a few eyebrows at the display, which gives the Blackpool Illuminations a run for its money. But Mike insists everyone locally loves their valiant effort, especially when they find out it's for charity.
"We're quite lucky because they way our house is faced we don't have any neighbours that directly overlook us," he says. "But nevertheless we only put the lights on from 5 o'clock to 9 o'clock at night, and only for a month."
The display has even made them local celebrities, with some families visiting every night of the month, because "the kids just nag their parents".
"From all the feedback we get, most people feel elated, wowed, amazed – they just love it," Mike says. "We get lots of superlatives, some lovely comments. It makes people feel very Christmassy."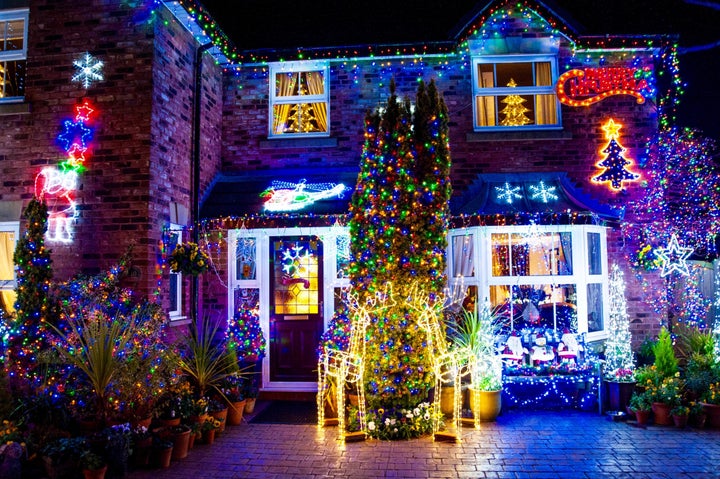 They've also gained fans from further afield, with people travelling from places including Somerset, Wales and nearby Bristol to see the lights. Last year, they even had a 92-year-old from Birmingham.
"She's our oldest visitor and the youngest is just days old," says Mike.
Even their dog, five-year-old black Labrador Edward, is a fan: "He loves the visitors because he loves all the attention."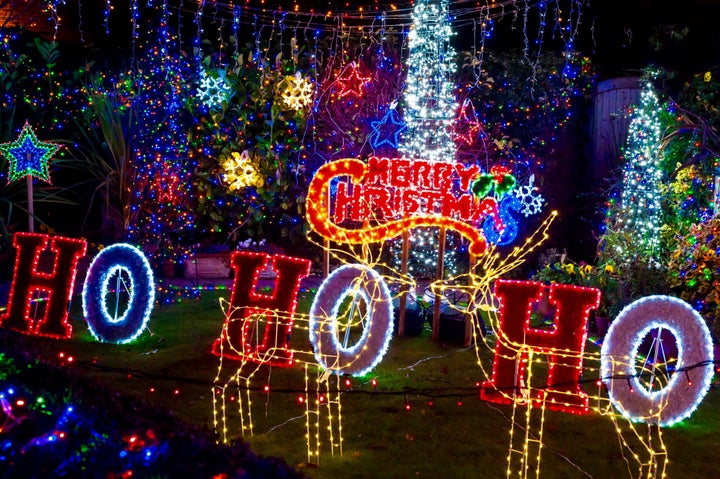 None of the lights are solar-powered but Mike "doesn't worry too much" about the environmental impact because they all use low voltage bulbs, which helps keeps costs down, too.
The couple pay for all the lights themselves, giving 100 per cent of the donations to charity. He says their electricity bill is "not as bad as you might think".
"We don't actually monitor it as such, but we know it's not that bad," he says. "It's not a major cost for us to be concerned about."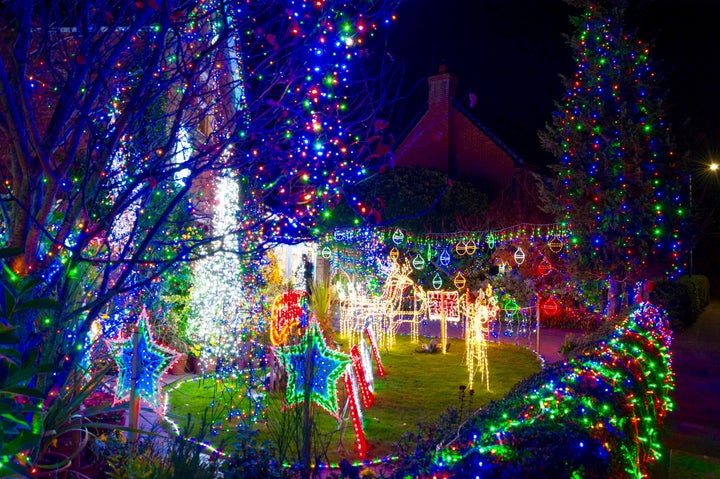 The couple, who are both retired, say they couldn't complete the display without the help of their "young and nimble" window cleaner, who kindly offers to hang all the higher lights requiring a ladder.
The display has also helped them to feel more connected to the wider community.
"Being two guys and a dog, we don't have children ourselves," Mike says. "But the joy you see on kids' faces at Christmas time is priceless. We're all big kids at heart, aren't we?"
Terry and Mike's Christmas light display will be on each day from 1 December – 1 January 2019, 5pm – 9pm at Watch Elm Close, Bradley Stoke, BS32 8AN. Charity donations can be made at the house, or via an online donation page.