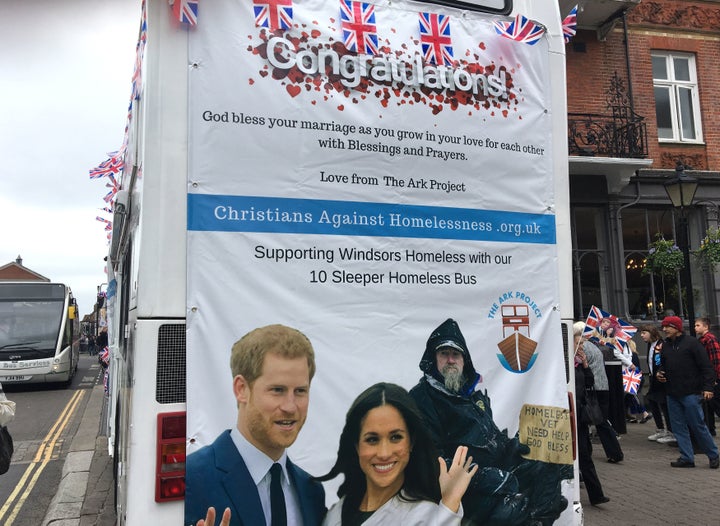 A double-decker bus that was offering refuge to rough sleepers in Windsor will continue to be impounded by police as part of an "ongoing investigation" while the Royal wedding looms.
Thames Valley Police announced on Friday it would be holding the vehicle for further investigation after seizing the vehicle, alleging its driver lacked the correct licence.
Charity founder Michael Longsmith, 42, had vowed to pay £1,500 to get it released before driving it straight back to Windsor Castle ahead of Prince Harry and Meghan Markle's wedding.
But his plan appeared to be in jeopardy, with roads police officer Inspector Gavin Biggs announcing: "It will now be retained as part of an ongoing investigation to ensure it is roadworthy.
"Once the investigation has been completed, we will be happy to release the vehicle, as long as the correct documentation is in place."
A force spokeswoman could offer no time scale for the investigation.
The bus was seized on Thursday afternoon, with the force claiming it was a "commercial vehicle".
Longsmith, of Newbury, Berkshire, said police pulled the bus over for not having an MoT, but he proved it was exempt. Then, he added, they questioned his licence, which he claimed is appropriate for the vehicle.
The bus's presence came after Windsor council's Conservative leader Simon Dudley sparked controversy with a letter to Thames Valley Police saying rough sleepers should be removed ahead of the wedding.
But, after a backlash, it appears the street homeless have not been removed and the Royal Borough of Windsor and Maidenhead said it has been working with charities to get rough sleepers the help they need.
Corey Stoughton, advocacy director at Liberty, said: "We met with the Thames Valley Police weeks ago and they assured us they would not target homeless people in response to the royal wedding – but their actions seem to be betraying that promise.
"Police should focus on keeping the public safe this weekend, not targeting vulnerable homeless people and airbrushing Windsor's streets."