Work from home set-ups differ from household to household – whether it's a desk facing a window (lucky you), spread out on a kitchen dining table, or a makeshift home office in bed.
But it seems one of those options is growing in popularity, as more people opt for the comfort of duvet-based video calls. New research by physiotherapy group Ascenti reveals 56% of the UK are now more likely to use their beds as a typical workspace set-up rather than a desk.
Some say working under your duvet can be beneficial – "it can feel like a safe calming space, particularly when anxiety is an issue," says counsellor Kerry Quigley tells HuffPost UK. But others warn against the trend.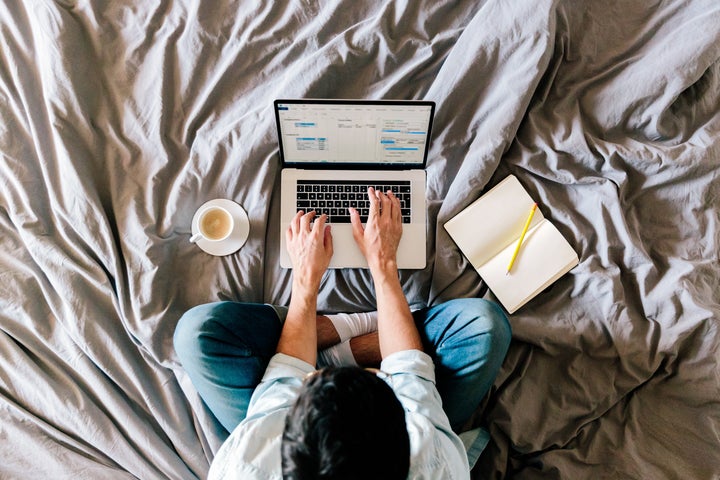 Paul McCrossin, president of the United Chiropractic Association, stresses that beds are designed for rest and sleep – and spending too much time there can impact your health. "If we're static for long periods it can lead to stiffness, loss of physical conditioning, pain, fatigue, and poor concentration," he says.
"People should exercise with caution. It's important to sit as upright as possible with a cushion behind your lower back and put your computer on something in front of you as a makeshift desk."
Still, one size doesn't fit all and many find they are most productive while cushioned in the cosiness of their bed. Plus for some, it's their only option.
We spoke to the unashamed bed workers about their work from home situations.
'When I'm feeling on the low end of my mental health, I work from bed the most'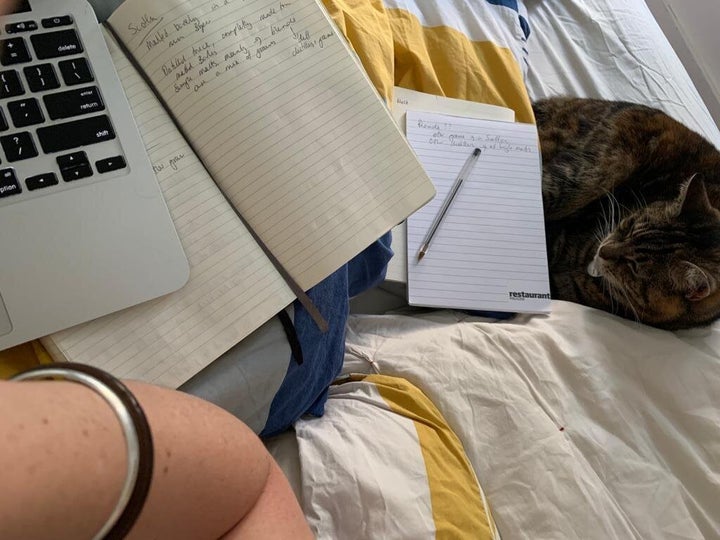 Academic and food writer, Dr Anna Sulan Masing, 39, finds it difficult to stay in one place and occasionally worked from bed before the pandemic. Since the introduction of the on-and-off lockdowns, this pattern has increased.
"To write and think, I need new locations," says the 39-year-old from north London. "Cafes, working with friends, and co-working spaces help with a change of scenery. Without that, my home needs to provide that break up of space, hence, my new cafe-bed.
"If I'm honest, when I'm feeling on the low end of my mental health I work from bed the most – it helps me feel positive and productive but also safe. You need to be kind to yourself. Also, we don't acknowledge enough the need for thinking time, in work. To ponder is productive. Problem-solving is often not doing, which is all perfect bed activity."
'The bed is just as efficient as elsewhere'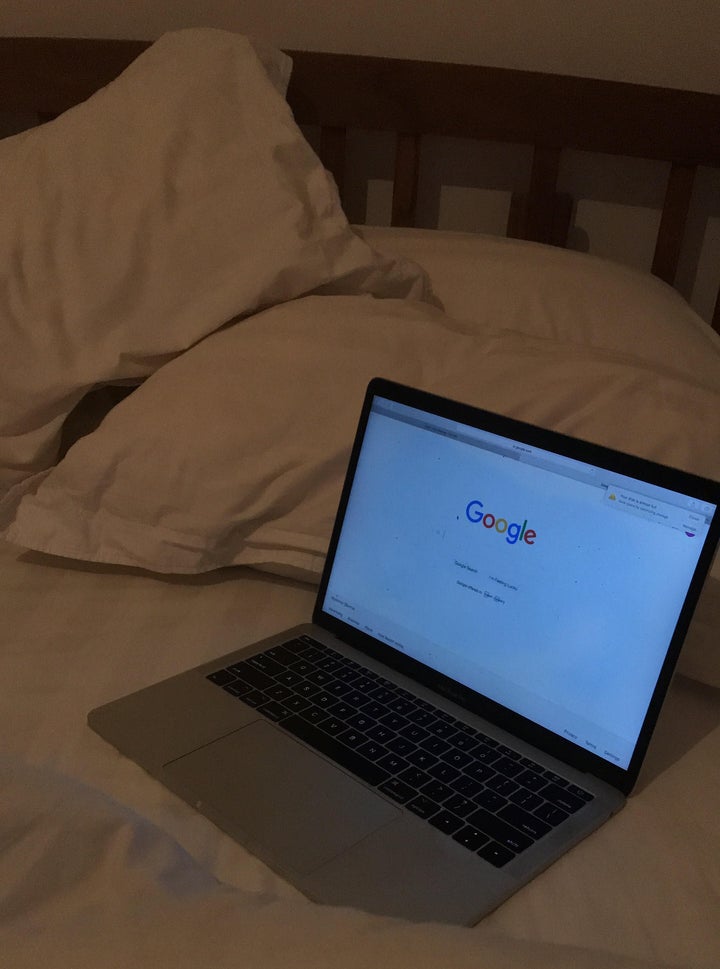 Chief operating officer, Victoria Smith*, 40, from Southeast Asia, has plenty of desk options at home, but prefers to do most of her day-to-day work from bed.
"I used to have a pretty solid morning routine of waking up, checking Twitter then moving to emails and clearing them before heading into work 'properly'," she says, "but 2020 saw probably upwards of 75% of my workload done from the comfort of my bed."
Smith says being in lockdown, trying to social distance, and suffering from "intense" depression and anxiety meant she preferred to run meetings from bed – "sometimes camera off, sometimes with a hastily constructed desk of books or boxes to get the right height needed so people can't see I'm in bed".
She adds: "The bed is just as efficient as elsewhere in my mind so that's where I prefer to be."
'I try to mix it up, but my bed is the warmest, most comfortable place in my flat'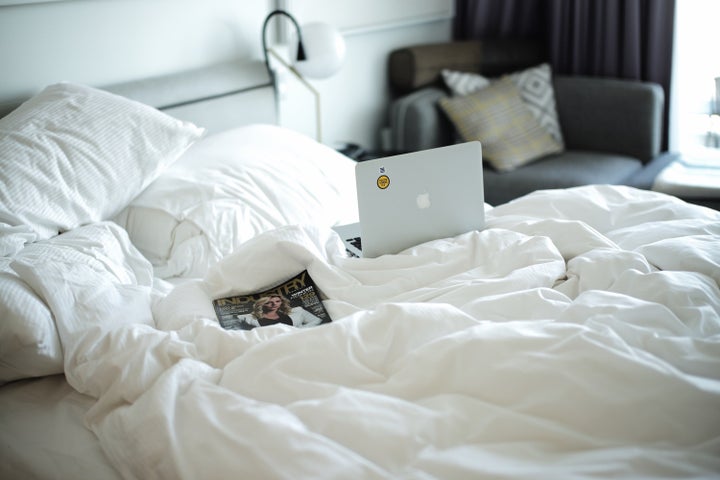 Journalist Megan Carnegie, 27, in north London, doesn't have the luxury of her own desk. She finds working from bed less distracting compared to elsewhere in her home. "Right now, I'm working from bed most days," she says.
"I try to mix it up but it's the warmest, most comfortable place in my flat at the moment. It's definitely not hindered my creativity and it limits distractions."
Carnegie says when she works in the living room, she drifts over into watering plants, looking in cookbooks, hoovering up a patch of dust – "before I know it, I've lost an hour," she says.
"My partner, who is a teacher, conducts virtual lessons most of the day at the desk space we have. I could work at the kitchen table, but the chair-to-table height is a bit off and it's not ideal. I find it hard to create healthy boundaries wherever I work when I'm working from home, but I do always make sure I clear away work stuff at the end of a day, make dinner, do other stuff, and then return to it as my actual bedroom when I'm ready to sleep."
'Working from bed has helped my productivity and creativity'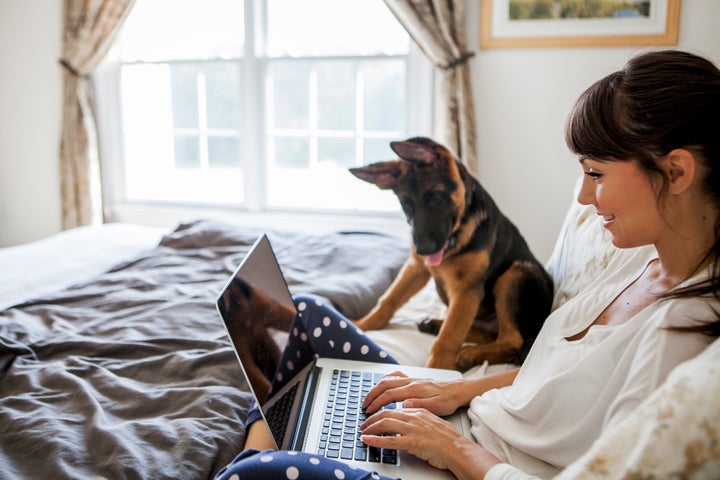 Edinburgh-based consultant and designer, Steph Marsden, 40, is a long-time bed worker. She's been using her bed as an office for the past three years and finds all her best work is done in bed.
"Jokes aside, I think overall, it has helped my productivity and creativity," she says. "I can work in a more fluid way when working on my own terms and often it doesn't feel like 'work'.
"I find time goes very quickly working this way as I am not distracted by making multiple cups of tea or tidying up. I often juggle a lot of different projects and a lot of the time I work most creatively late at night, so the boundaries I have are more to do with the way in which I work, rather than the location."
*Some names have been changed