This is the moment a group of daredevils zipwired directly across the Thames in the first ever stunt of its kind.
The 20 zipwirers reached up to 40mph as they sped across a the water on Friday on a wire specifically constructed for the occasion by the London Fire Brigade.
They sped across the river from the roof of St Thomas' Hospital on the South Bank to Victoria Tower Gardens next to the Houses of Parliament on the other side.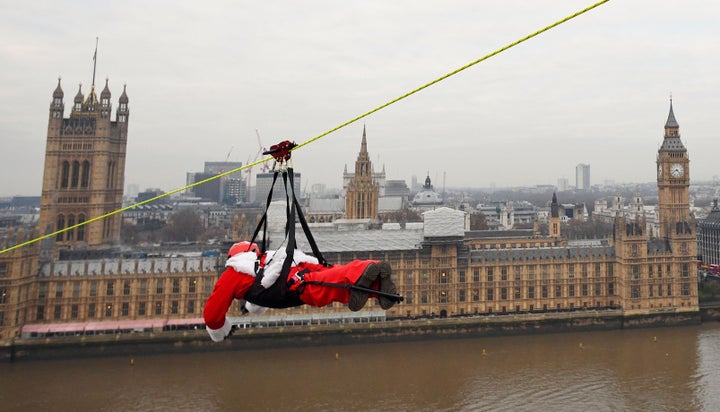 Before Friday's zipwire, he said: "My son might not be alive today if it wasn't for the NHS and in particular Evelina London Children's Hospital and so I wanted to find a way to thank the remarkable staff at this fantastic hospital. During the many hours I spent by my son's bedside, I realised that I could use my specialist skills to rig up a zip wire from the roof of St Thomas' Hospital across the Thames and that perhaps people would pay for the chance to speed across it like a firefighter.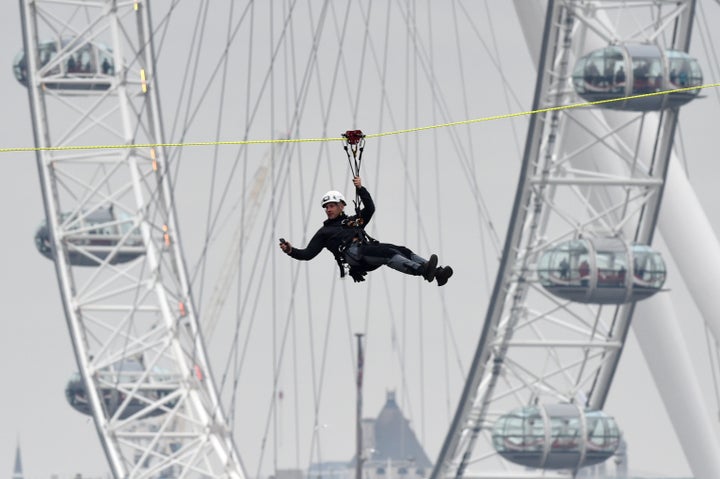 "I've got to warn you, this is not a trip for the fainthearted. It will feel like you are flying directly into the Houses of Parliament. It's great that I have a chance to showcase the Brigade's skills and raise money as part of celebrations for London Fire Brigade's 150th anniversary.
"In my view there's no better way to support one of the leading children's hospitals in the country in helping them to continue their vital work."
Those taking part in the stunt included staff from the Evelina Hospital, model Rosie Tapner and the winner of a competition to ride the wire, Nikhita Sethi.
Each of the participants pledged at least £50,000 to the hospital and so will raise a combined total of more than £1 million.
Professor Gideon Lack, head of Evelina London's Allergy Service, hopes to use the new Clinical Research Facility to help prevent all food allergies occurring in children, as well as eventually other allergic diseases, such as asthma and hayfever.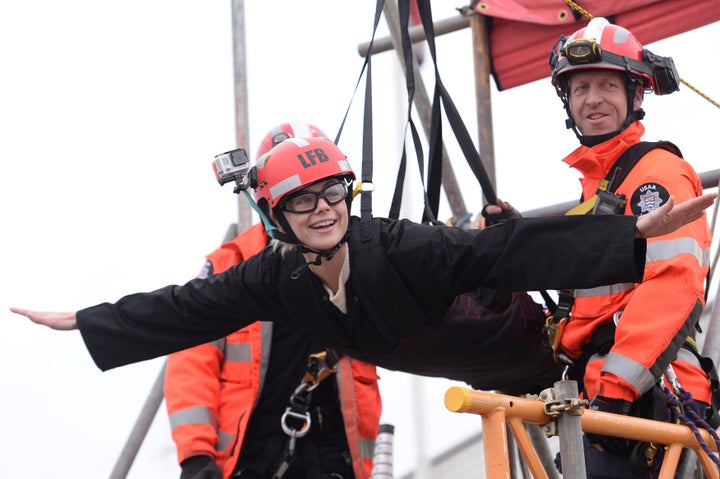 Ahead of the stunt, he admitted: "I have a fear of heights, so I'm feeling a bit apprehensive, but I'm very excited about it. I'm just delighted to play my part in helping to raise much-needed funds. It's only by having a state-of-the-art, Clinical Research Facility with sufficient beds and in an environment that is favourable and friendly to children that we can help find better treatments and cures."
Caroline Gormley, Evelina London's Head of Events & Community Fundraising, says: "We have been blown away by the response from both the public and our amazing participants, and are delighted to have exceeded our target of £1 million in vital funds for Evelina London Children's Hospital. We'd like to thank all of our key partners for coming together and making this daring proposition possible."
Popular in the Community