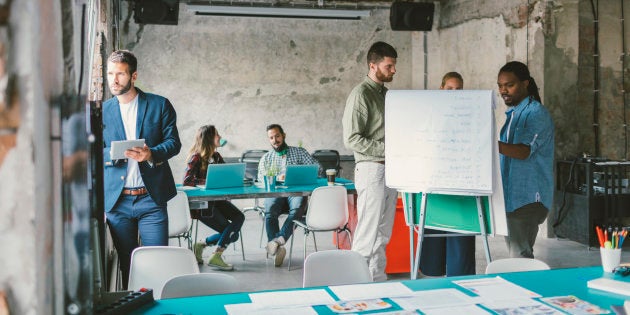 South Africa is home to two of Africa's biggest entrepreneurial hubs, in the shape of Western Cape and Gauteng. If the country is to reach its true potential, however, it needs to not only grow the number of tech entrepreneurs in the country, but fundamentally change the way it supports and develops those entrepreneurs.
Doing so won't just make things better for a few isolated players in the local tech sector, but for South Africa as a whole. One obvious reason for this is that technology is playing an increasingly large role in economies around the globe. Information and communication technology (ICT) — the backbone of the tech sector — now makes up 3 percent of the global economy, compared to 1.5 percent 15 years ago.
Small wonder then that countries that have invested in nurturing digital and innovation-based cultures not only enjoy extraordinary wealth (and job creation) but have also transformed the way people live and do business.
But what does that look like in the South African context? How can the country better grow and support its tech entrepreneurs?
A research report commissioned by Google and compiled by management consultancy OC&C provides some clues.
Partly as a result of circumstances – many South Africans are entrepreneurs out of necessity – South Africa has a low tolerance towards failure.
South Africa's education issues are well known to people inside the country. Pupils across the country perform poorly in everything from basic literacy to mathematics, with school leavers routinely unprepared to enter the workforce. Many of those same issues, coupled with a lack of exposure to successful entrepreneurs, mean the country is failing to equip its young people to become tech entrepreneurs.
The government has sought to address this by amending immigration policy to attract highly skilled science and mathematics teachers, technicians, researchers and graduates with high-priority degrees. However, this may not fully counteract the so-called brain drain of 19,000 skilled professionals to OECD countries.
More needs to be done, right from a foundational level, to increase the entrepreneurial potential of South African school leavers.
2. Management and monitoring of support networks
South Africa has a number of well-established entrepreneurial support networks. The government runs some of these, others are run and funded by the private sector. While these support networks are undoubtedly invaluable, there needs to be a greater degree of monitoring and management to ensure they provide maximum impact for the entrepreneurs involved.
A large number of programmes may create some confusion in the market, as overlapping initiatives may be difficult for startups to navigate given the lack of a single portal that centralises all information.
3. A changing attitude towards failure
Partly as a result of circumstances — many South Africans are entrepreneurs out of necessity — South Africa has a low tolerance towards failure.
A look at some of the most successful startup environments, however, shows that failure is necessary for both innovation and the long-term success of entrepreneurs. While there are signs that South African tech entrepreneurs are steadily leaning towards innovation and away from necessity, the country needs more role models for this new type of entrepreneurship.
One area where regulation has a direct impact is on the ability of tech entrepreneurs to raise financial capital.
Unlike many of its neighbours, South Africa has a relatively straightforward regulatory framework. That said, bureaucracy can create delays and raise costs. South Africa ranks 74th in the World Bank's Ease of Doing Business assessment, reflecting high regulatory mandates and similarly high costs of doing business for basic business procedures.
Among the regulatory factors that limit entrepreneurial growth and development are inflexible labour laws, a lack of systems for startups to defend their intellectual property (IP) and overly tight cross-border exchange controls.
While some work has been done on improving those parts of the regulatory framework that impact tech entrepreneurs, more needs to be done.
5. Access to financial capital
One area where regulation has a direct impact is on the ability of tech entrepreneurs to raise financial capital.
In South Africa, the Gauteng funding landscape is fuelled by large amounts of government spending and government-directed private-sector spending, with angels and venture capitalists (VCs) playing a minimal role. The Western Cape ecosystem is funded by more traditionally configured VCs and angel investors, in part owing to the high number of wealthy individuals that reside in the area.
Tax incentives have opened up the investment space slightly, but investors still face restrictions related to investing in South African startups, such as the requirement for domestic registration of the startup and off-limits industries, including professional services (financial and management consulting) and alcohol, tobacco, weapons or gambling.
Additionally, few startups are mature enough to IPO on the JSE, which has just 3 percent of tech companies in its listings. As a result, most startups exit via strategic acquisitions, though a law in place that renders cross-border IP acquisition taxable might be limiting options for startups.
The disparity in internet connectivity seriously limits the ability of tech entrepreneurs to target the consumer space.
While South Africa has made gains in ICT infrastructure over the past few years, access to that infrastructure is distributed unevenly. Those with the means, and who live in the right areas, can access fibre lines, which provide world-class connectivity. Those who can't are left with few viable options.
Take mobile data, for instance. It has the potential to give millions of South Africans meaningful internet connectivity. Despite nationwide protests, it remains prohibitively expensive and slower than in other Brics countries.
The South African government has set a target of 100 percent network coverage in the cities, something that's obviously vital to tech entrepreneurship. Results have been mixed so far, and things will have to improve rapidly if universal connectivity is to be achieved.
This disparity in internet connectivity — 3.2 percent fixed versus 58.6 percent mobile subscription, and only 24 percent of households with a computer — seriously limits the ability of tech entrepreneurs to target the consumer space.
While things are better in the B2B space, with as much as 12 percent of South Africa's gross domestic product (GDP) now spent on small business procurement, "market access" is still seen as one of the primary challenges for tech entrepreneurs. Much of this is because of the structure of the market, where large, established companies dominate the private sector and SMMEs contribute just 35 percent to GDP.
Fortune Mgwili-Sibanda is the public policy and government relations manager for Google South Africa.