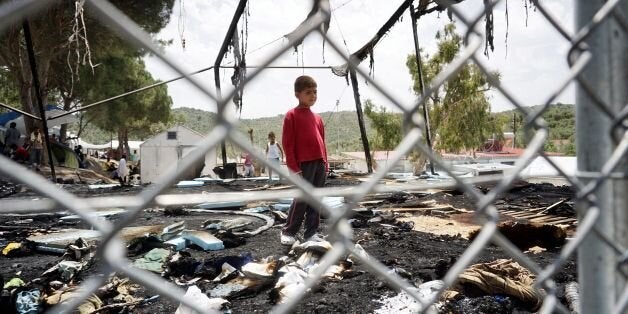 A year ago this week, European leaders agreed on an emergency relocation programme to relieve the pressure of countries, including Greece, where tens of thousands of refugees were stranded in appalling conditions across the country.
Following the closure of the border between Greece and Macedonia, effectively blocking routes to other European countries, thousands of people became trapped in Greece, hopeless and exhausted after gruelling journeys fleeing conflict and persecution.
One year on, European leaders have spectacularly failed. A recent briefing from Amnesty International highlights that a pitiful 6% of the commitments to relocate refugees have been fulfilled. The UK chose not to participate in the programme.
A large proportion of the refugees are from Syria and as a former Syrian refugee myself and now a British citizen, I am angry and ashamed at this acute lack of political will.
Nobody wanted to leave Syria. I am from Tartus, a beautiful city on the Mediterranean coast. But I was imprisoned for four years and tortured because of my journalism and human rights work, so I fled to the UK in 1999. Back then, I had no idea how many more would follow or how lucky I was.
I started volunteering in Greece last year when thousands of refugees began arriving in the Mediterranean. In fact, I rescued members of my own family who arrived by boat, including my brother who fled Syria fearing for his life, with his heavily pregnant wife. She was petrified of losing her baby as people trampled on her belly in a panic to get out of the boat. Thankfully they are all alive and well living in Germany.
One year on, the situation is much worse in Greece. Over 60,000 are stranded in dire conditions. I recently visited as a volunteer and in my capacity as advisor to Amnesty International UK's 'I Welcome' refugee campaign. I went to a refugee camp in the north of the country and to the capital, Athens,
Arriving in Cherso refugee camp, near the Macedonian border, I saw mothers and emerging from their wet and muddy tents after a heavy night's rain. I asked one woman how she was feeling and she despondently replied, "My family is divided, my husband is in Aleppo and we are here." This mood was reflected across the camp with the general conversation being about divided families and the news of bombing in Syria. Another woman said: "We are dying a slow death here."
I ask her daughter, Rasheeda, 10, whether she goes to school and she answers, "I am not happy here, no children are happy here. We do not have a school here."
Cherso refugee camp is one of four new refugee camps recently opened up in response to the massive overcrowding in Idomeni refugee camp close to the Greek and Macedonian border.
And it is just one more sad and shocking example of the appalling response by the international community.
During my tour of the camp, I met a Kurdish Syrian family. The couple have three children, one son and two daughters. The youngest daughter was born amid the deplorable conditions in the Idomeni camp, designed to hold 2,500 people but at one point home to more than 15,000.
Their second youngest daughter who is seven was extremely thin, weighing little more than two and a half stone. According to the family, she is unable to cope with living in the camp and barely speaks. She is obviously ill but there is very little medical care available in the camp.
The situation has been so bad in Idomeni and Cherso that they want to go home to Syria. And we all know how bad the situation is there. "We have lost hope in Europe, we have lost trust in Europe," the father said after a long deep breath.
I also met a little boy, aged 12, who was sexually harassed by a man in the camp. He too was silent and broken. When he smiled, his smile was just a thin string across his face. The abuser stayed in the camp for four weeks after the incident. The family complained to the army but they said there's nothing they could do.
As a father myself, it breaks my heart to see young children living in such desperate conditions and vulnerable to all kinds of abuse.
I went to the port in Athens to see how the situation had changed from the previous year but I realised that many of the people who had been living in tents there, were now living in an abandoned hospital building.
The building was occupied by activists who brought the refugees in, but shortly after they moved in, three men with sticks took over the building and stole all the supplies. The day I visited, the refugees inside were scared that Golden Dawn, a fascist group, would come and attack the building.
Amid all this fear and chaos, a baby girl was born. The father was happy but anxious for their future.
As I climbed up the stairs, the fear and uncertainty was palpable.
People started asking me, "Have you heard any news, any update about our situation, we are really exhausted". People just want to start rebuilding their lives but they are living in squalor and fear, with many of them separated from their loved ones.
I met Nour, a 16-year-old boy from Deir Ezzor who was anxious as he had no credit in his phone to call his parents back in Syria. When I offered to help he refused and said, "Looks like I have to get used to not speaking with them. I have to get used to their absence." His words made me shiver, really shiver.
On the second floor of the building I met a mother who was living there with her four children. Her husband was put in prison on the Turkey border when he had tried to stop a fight but the police thought he was one of the aggressors.
They fled Syria after their 12-year-old son was killed after a car exploded close to their home. Assad's forces had arrested the father on many occasions.
She described the journey from Damascus to Turkey as the "journey of hell" having to deal with numerous people smugglers and armed groups along the way, including the ISIS and Nusra Front.
She said that her heart could not take any more when they arrived in Turkey. "When I crossed to Greece, I thought I could try and rebuild our shattered lives, after the death of our son," she explained. "That I could build some kind of future for our other children. But we ended up here, in the terrible Europe." And then she started crying.
The mother has to wait for her husband to come back, for the borders to open, for "Europe to feel ashamed".
And ashamed is exactly how world leaders should feel after the failure of the important UN Summit for Refugees last week in New York.
Theresa May talked about the importance of a global response to the refugee crisis but she did not offer any more resettlement opportunities and of course, the UK is playing no part in this emergency programme to relocate refugees from Greece. All world leaders must urgently step up to their responsibilities and offer dignity and safety to the people who have fled violence and persecution and survived perilous journeys to Europe. And they must prioritise reuniting families who have been separated and torn apart.
I saw too much suffering in Greece and this pain shatters my heart. I do not like to be angry but I am full of anger and I am disgusted by this terrible indifference.
The people I met last week were full of warmth, compassion and dignity, despite their despair and exhaustion, and they deserve so much more.