Europe has been blessed with some extraordinarily beautiful beaches, from the soft white sand and pebble beaches of Greece and Italy, to the golden sand beaches of Spain and Portugal. It's the perfect place to escape the worries of the world and relax. Beach holidays are meant to involve minimal stress, but I've learnt from experience that if you have small children and don't pick your beaches carefully what is meant to be a fun-filled beach holiday just ends up being headache-inducing. If you're traveling with kids and are looking for a beach where the water is shallow and the kids can build sandcastles while mum and dad relax, then here are some fantastic child-friendly beaches to consider:
Voutoumi Beach, Antipaxos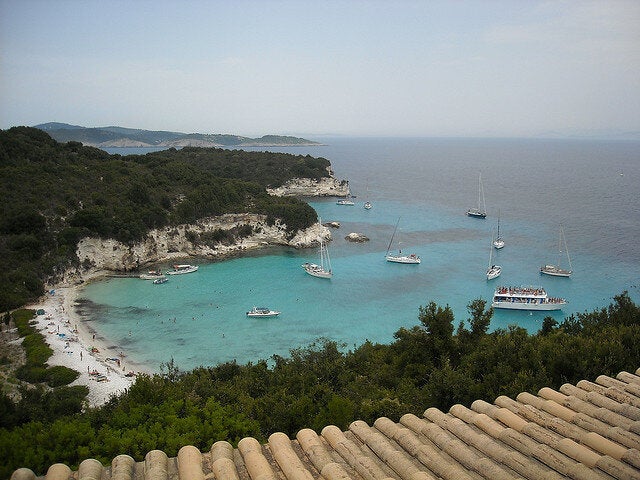 Voutoumi Beach from Bella Vista Taverna © ale3andro
If you're looking for a postcard perfect beach in Greece that is ideal for families with small children, then look no further than secluded Voutoumi Beach on the small island of Antipaxos. It's one of my favourite Greek beaches, not only because of the magnificent setting below rugged cliffs, but also because the shallow turquoise water is perfect for kids. Although there are pebbles on the shoreline, on the rest of the beach you'll find soft white sand underfoot. Just remember to bring an umbrella because there is no shade on the beach. When you're not building sandcastles or paddling in the shallow water you can always go snorkelling near the rocks. If your kids are older and energetic you can climb 200 steps to the Bella Vista taverna which sits on top of the cliff and has splendid views. If your kids are too small, or you're just too lazy there is also a great taverna just behind the beach where you can eat lunch or get refreshments. The cheapest way to reach Voutoumi is to take a 20-minute morning boat trip from Gaios harbour on Paxos. Most people get off at the first stop - Vrika Beach, but if you stay on board the boat continues on to Voutoumi. There is also a cliff-top path that connects the two beaches.
Plage d'Arcachon, Gironde Department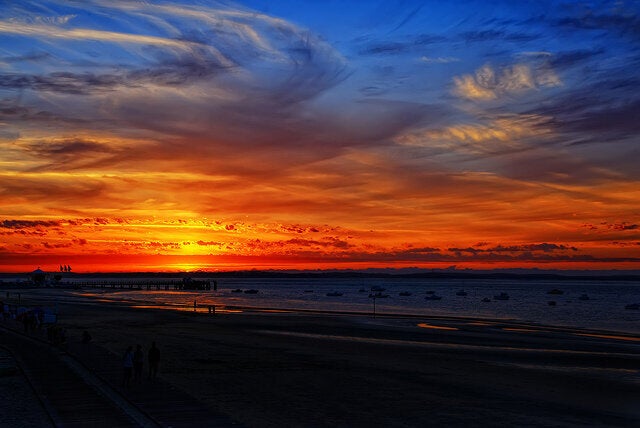 Plage d'Arcachon is located on the west coast of France, to the southwest of Bordeaux. With a long stretch of sandy beach, as well as boardwalk, souvenir shops, and rides it's sure to please both the kids and the adults. One of the most popular attractions is Dune de Pyla, which your kids are sure to spend a few hours climbing up and running down. If you bring a body board they can even go dune boarding. When they're not swimming in the sea or running down sand dunes, they can take Le Petit Train over the dunes, or you can across Arcachon Bay to the chic resort of Cap Ferret for a great seafood lunch. With so much to do it's not hard to see why Plage d'Arcachon is so popular with families.
Praia Dona Ana, Algarve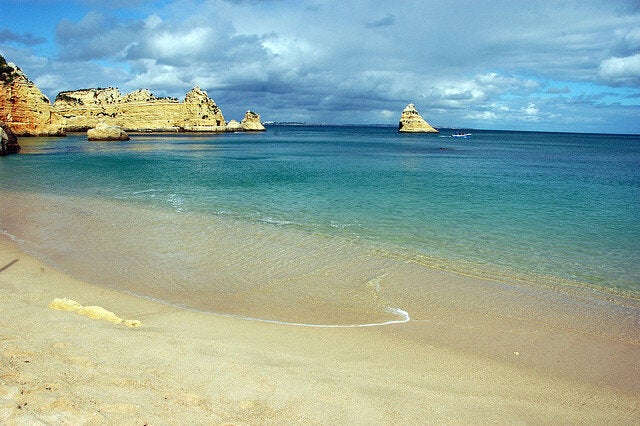 The clear, shallow water at Praia Dona Ana is perfect for children © Hendrik Dacquin
Located just a 20-minute walk from the family friendly resort of Lagos in Portugal, you'll find the beautiful golden beach of Praia Dona Ana. Like many of the Algarve beaches, the secluded cove has been carved into the beautiful honey-coloured cliffs and is accessible by a steep flight of stairs leading down the side of the cliff. Don't be put off by the effort involved in reaching the beach. Although you may have to carry smaller kids up and down the stairs, it's well worth the effort. The water at Praia Dona Ana is clear and shallow, and very safe for little paddlers. When the little ones get hungry there is also a bar nearby that sells snacks and drinks. Just be warned, the beach gets very crowded in the summer months.
Playa de Poo, Asturias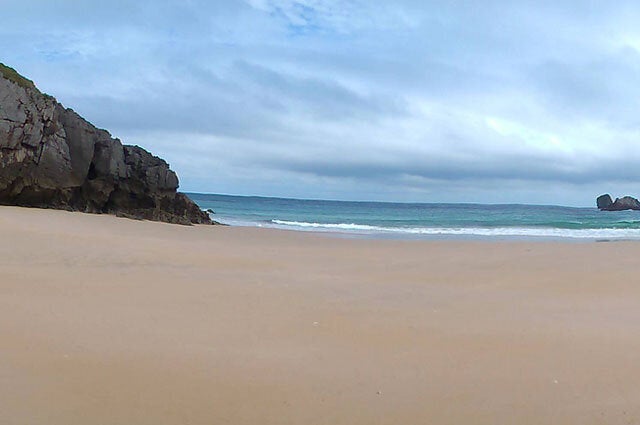 If your kids are anything like mine the name "Poo Beach" will have them in fits of laughter before you even arrive there. It's a winner before you even get ! Playa de Poo is situated between Ribadesella and Llanes in Asturias, in a peaceful lagoon formed by an estuary. At low tide there is an expansive stretch of sand, but when the tide comes in it forms a lagoon that feels more like a swimming pool than a beach. Children can paddle in the shallow, calm waters in the sheltered lagoon, while you soak up some rays on the sun-kissed sand. During the peak season there are lifeguards on duty. When you're hungry there are two cafes and restaurants nearby with toilets.
Cala Goloritzè, Sardinia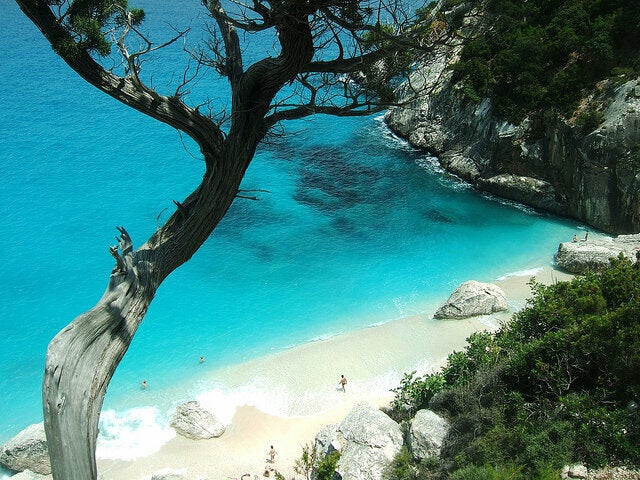 Although it's tricky to reach, the turquoise water at Cala Goloritzè makes it worth the effort © Marco Molino
The island of Sardinia is home to some of the most exquisite beaches in Europe and Cala Goloritzè is no exception. The pebble and sand beach is part of a coastline that has been declared an Italian National Treasure. The water in this secluded cove is shallow, warm and crystal clear, making it ideal for families. Although Cala Mariolus can be reached on foot, it's an arduous trek for little ones, so the best way to reach it if your children are small is by boat leaving from Cala Gonone or Santa Maria Navarrese. If your kids are bit older and don't mind a hike, you can take the footpath that leads directly to the beach from the car park at the top of the hill. The walk takes approximately one hour. Older children may also enjoy snorkelling in the clear water.
Ainsdale Beach, Southport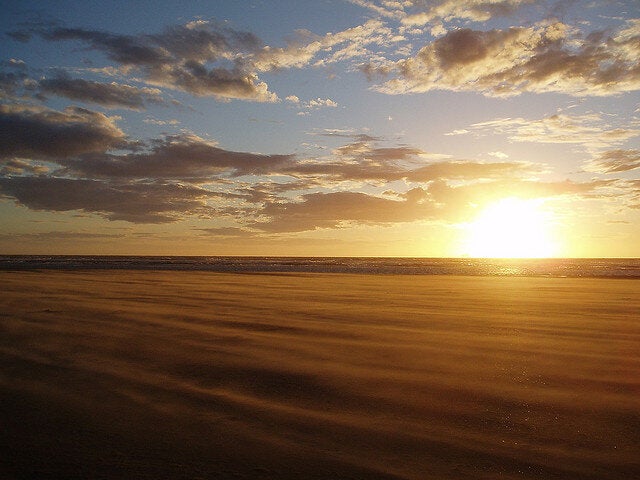 Kids will love the vast expanse of sand at Ainsdale Beach © Mike
If you're looking for a vast expanse of golden sand, and hardly a person in sight then Ainsdale Beach near Southport is ideal. The sand is perfect for building sand castles, and although cold, the water is safe and shallow for a long way, even at low tide. The beach is quite windy so it's ideal for kite-flying. There is a lifeguard station, as well as toilets and during the summer months there is an ice-cream van and pop-up snack bar near the car park. You do have to pay £5 for parking, so if you want to save yourself some money you can always pack a picnic lunch to enjoy on the beach while you watch the kitesurfers and windsurfers.
Cala Luna, Sardinia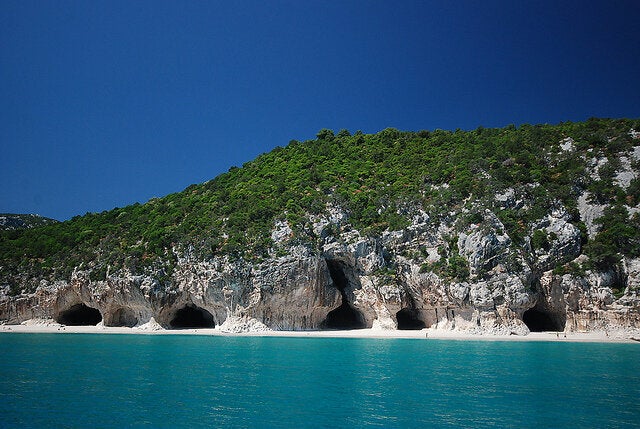 While mum and dad soak up the sun the kids can explore the caves at Cala Luna © Vasile Cotovanu
Another spectacular Sardinian beach that is perfect for families is Cala Luna. The water here is three shades of turquoise and is fit for a postcard. Cala Luna is located on the north western coast of Sardinia, overlooking the Gulf of Orosei. Most people access the beach by a following a steep path from Cala Gonone, Cala Fuili or Balnei, but unless your kids are fit you may prefer to reach Cala Luna by one of the boats that leave from Cala Gonone on the hour from 9am to 5pm. You can soak up the sun on the soft white sand while your kids snorkel in the clear, warm water or explore the caves in the limestone cliffs that surround Cala Luna.