Record results for the malaria campaign
It is extraordinary news to end the year. The World Health Organization's 2013 World Malaria Report in mid December shows that 3.3million lives have been saved from malaria since 2000, mainly young children. Global death rates have been reduced by 45% and in Africa by 49%.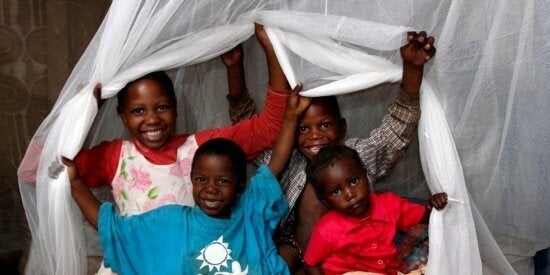 Death rates for children under five in Africa, those most affected by malaria, have decreased by a staggering 54%. To set that in context, this disease has been around for over 200,000 years and has killed more of humankind than any other. The achievements of the last 12 years are astounding. Dr Margaret Chan, WHO Director-General says: "This remarkable progress is no cause for complacency: absolute numbers of malaria cases and deaths are not going down as fast as they could."
'Here's one we've done earlier'
There is always a 'but' - this one merits the vigorous pencil underlining of our childhoods. For those of you who, like me, have fond memories of Blue Peter, you'll remember the line similar to 'and here's one we did earlier', usually involving toilet rolls, an empty washing bottle of washing up liquid and sticky backed plastic. The malaria campaign has been done before - it has a precedent, a 'here's one we did earlier'. By the 1980s the world had dramatically reduced deaths from malaria only to then take its foot off the pedal assuming the job was done. Within a decade the disease surged back, not least because in areas where it had been sharply reduced, people's resistance had decreased. Millions of children have died of malaria since that fateful time when the collective eye was taken off the ball.
To reduce investment now would be the global health equivalent of creating the iPhone, seeing demand soar, and then stopping production. In the private sector, investment follows success. It is not so simple elsewhere. It seems extraordinary that this should be a risk but in a world of constrained resources, and politicians, like all of us, always seeking new challenges to trumpet and take on, the risk of not completing the historic task of eliminating malaria is all too real.
Thankfully this is well understood in key parts of the world, not least donor countries like the US, UK and France whose recent donations to the Global Fund and to the malaria campaign show an understanding of the need to press on. And endemic countries too like Rwanda and Namibia are all too aware of the vast gains to be made from investing in the fight against malaria, not just in saving lives, but in educational and economic productivity.
Straight ahead at the crossroads
2013 was nervously spoken of as a 'crossroads year' for the malaria campaign when the year started. There was real fear as to which direction the global community would take. This was exemplified by mosquito net distribution which surged between 2005-2010 only to decrease to 70million in 2012, well below the 150million needed to protect everyone at risk. Would countries step up with the big resource call of the year for the replenishment of the Global Fund to Fight AIDS, TB and Malaria? Although we have not reached the target of $15billion, the $12billion raised so far is a considerable achievement. The UK not only stepped in with a very strong donation of £1billion but has also played a critical role in helping the malaria campaign through the previous two difficult years.
Britain making Malaria No More
2013 has been a year of tremendous progress for the malaria campaign globally and locally. We are delighted with the UK cross party support for the malaria campaign. Parliamentarians can see the value of sustaining its prosecution, and the public appear to share our conviction that it is unacceptable in the twenty first century for children to die for want of treatment costing less than £1. Justine Greening, Secretary of State for International Development says:
"The fact that we have helped to almost halve the number of people dying from malaria shows that we are on the right path, and the UK will stay at the forefront of the global effort to eventually eliminate this dreadful disease."
Support for the malaria campaign has increased amongst the UK public from 52% to 72% in the last four years. And as you can see from our highlights businesses are getting involved too - Jack Wills are supporting the malaria campaign in all their stores, and Deutsche Bank staff have made fighting malaria one of their 2014 charity of the year focuses.
Over the past month Ant and Dec, amidst their banter on ITV's I'm A Celebrity... Get Me Out Of Here! have mentioned the malaria campaign to a multi-million audience once or more every show - we are fortunate enough to receive a 15p donation from every phone vote. And earlier this year we had the pleasure of working with Richard Curtis to make sure that when his moving film about two mums who lose their children to malaria, Mary and Martha was aired in the UK, there was plenty of publicity about the global need to save children's lives from malaria. The film was inspired by a real life mum, our Special Ambassador Jo Yirrell, who lost her son Harry to malaria. No-one can see it more clearly than someone so directly affected. Jo has shared her story in this extraordinary five minute film about Harry, Malaria No More UK and why we must see this campaign through.