Every child should have the chance to explore their potential. As a parent this is something I take for granted as our children climb trees, argue, paint and wobble along on their bikes.
Friday is the Day of the Girl - a moment to recognise that children, especially girls, despite their own enormous determination, often face insurmountable challenges to fulfilling their potential. They face wholly undeserved social, cultural and economic barriers. Although there are more obvious girl-specific barriers, in much of Africa malaria is one of the greatest single obstacles to the fulfilment of a girl's potential - and one of the cheapest to remedy. Not only is it one of the biggest killers of children under five (around half a million children a year in Africa), but for those who survive the bout of malaria, it can be recurrently debilitating for years afterwards.
Education is one of the most important interventions to support girls - about 50% of preventable school absenteeism in Africa is caused by malaria. In other words, even if we manage to get girls into school they still face a massive health risk to attaining a good education. And it's a risk that could be relatively cheaply reduced.
Malaria and Education
Last year my team visited a project we supported in Ghana and met 12 year old Esther, who said:
"A visitor to my class asked: 'Who has been affected by malaria?' and all of my friends in the class put up their hand. I have missed many days in class because of malaria and my brother too. But now we have mosquito nets and malaria is much less".
Click here to see to a short film featuring Esther and her 'visitor',our Special Ambassador, singer-songwriter Aloe Blacc
who has just become a dad himself.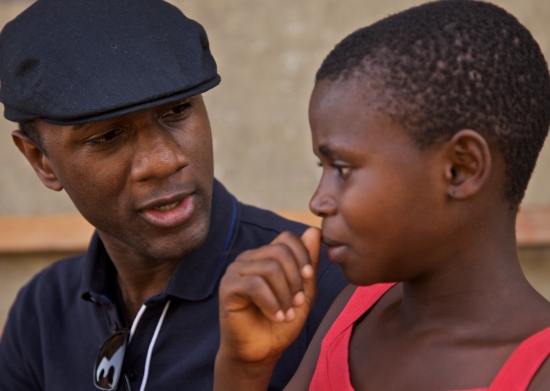 Aloe Blacc met Esther during his trip to Ghana with Malaria No More UK (c) Geoff Ward
As well as its enormous contribution to school absenteeism, malaria also causes up to 50% of deaths of girls and boys in African schools. I recently met Sarah Brown, a global advocate for women and children's health and education and she spoke of the need to tell policy-makers and others about the win/win potential of fighting malaria and promoting education:
"We all care deeply about the health and wellbeing of all children wherever they are in the world, and clearly girls are at the greatest disadvantage. To care about the most vulnerable children we have to raise our expectations and ensure that every child is at school and learning and thriving. In Africa that also means keeping up the winnable battle against malaria. Every day over 1,500 young lives are lost to malaria, and many more lose valuable school days".
Malaria campaign will help release potential
There is a beaming ray of hope around the malaria campaign. The last 10 years alone have seen historic progress with over 1.1million lives saved from malaria, mostly children. That is an extraordinary number of parents who have been spared the bottomless grief of losing a child.
As we continue to bring malaria down, we help end the vicious cycle of poverty that traps women and girls. Women make up 70% of the world's poor, and it is the wives and daughters who shoulder the burden when family members are sick, forfeiting their own livelihoods and education.
UK government shows ambitious leadership to save lives and unlock the potential of every child
One of the reasons I joined Malaria No More UK last year was because winning the malaria campaign not only saves countless lives, but is keyhole surgery to change the world. If we can defeat malaria, it will have such a knock-on effect on education, on the economy of the family - and entire countries. Jeff Sachs, the UN economist estimates malaria costs African economies $12 billion each year. For a family, a bout of malaria can be financially ruinous.
On 23 September, the UK secretary of state for international development, Justine Greening, announced a pledge of £1billion for the Global Fund, to help save lives from AIDS, TB and malaria. Greening, who has been a passionate advocate for the rights of women and girls during her year as secretary of state said:
"The UK's allocation to the Global Fund will save a life every three minutes for the next three years and will dramatically improve the lives of millions of people".
This UK support could provide 32million mosquito nets with the potential to protect over 64 million people. This will be particularly important for pregnant women who are at up to 3 times higher risk of developing severe, life-threatening malaria. And research has shown that the chance to collect a mosquito net significantly increases the number of mums attending ante-natal clinics. Once again the drive to defeat malaria has positive knock-on effects. For mums, for girls, for everyone.