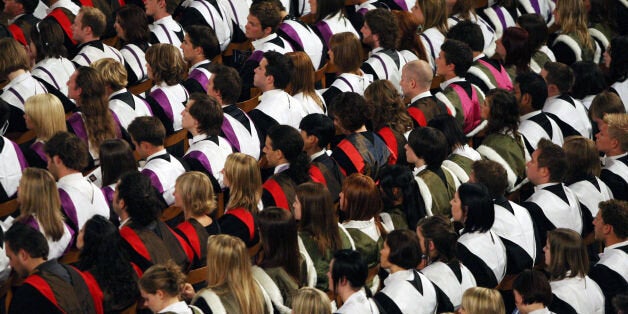 Tomorrow, thousands of young people will be receiving their A-Level results, and making important decisions about their future. Labour wants to ensure that all students can take the abilities as far as their talents allow.
Many will be hoping to get the grades to go to university, to develop their talents and learn new skills. When you see the faces of jubilant youngsters getting their results, you are looking at the next generation of doctors, scientists, engineers, playwrights, teachers, and architects.
As two politicians who never went to university, we have nevertheless benefited from those that did - we do so every time we visit our GP or dentist, when our children go to school or when we buy the latest gadget. Education is a collective good that benefits all of us.
But sadly, not all have equal access to education. Young people from less well-off backgrounds are being locked out of further studies. Last year the proportion of state school students slumped to 62% from 66% the year before. When Labour left office 71% of university-goers were state school students.
In this context it is disgraceful that the Conservative government abolished student grants -that gave young people low and middle income backgrounds a more level playing field, and risks more of Britain's talent not being developed to its full potential.
There is a pattern here. Five years ago the Conservative-led coalition government also abolished Education Maintenance Allowance for college students aged 16-18. Research by the IFS showed the policy was cost-effective and worked in improving the retention rate of 16 and 17 year olds in study.
In the globalised 21st Century economy, with technological change re-shaping entire industries and creating new ones, a skilled workforce has never been more important. But whether it's removing student support, cutting college funding or trebling university fees the Conservative government is making the wrong choices which damage Britain.
UK productivity already lags 30% behind our major competitors like France and Germany. Investing in education and skills is a key part of closing that gap and adding billions to the economy, as will the infrastructure and strategic business funding Labour has announced through a National Investment Bank.
An educated and skilled workforce also benefits corporate Britain, which has high levels of profitability. Businesses rely on our education system to deliver young workers with the skills that businesses need.
So to restore EMA and student grants, Labour would ask large profitable businesses to pay a little bit more. After 18 years of Conservative government, corporation tax was cut from 52% to 33%. Today is it scheduled to fall to half that level - the lowest of any major economy.
Raising corporation tax by less than 1.5% would fund the restoration of EMA, benefiting three-quarters of a million college students, and student grants for half a million at university. We must ensure that no one is left behind.
If Britain is to succeed, education must be open to all. Only Labour will deliver that.
Jeremy Corbyn is Leader of the Labour Party and MP for Islington North
Angela Rayner is the shadow education secretary and Labour MP for Ashton-under-Lyne