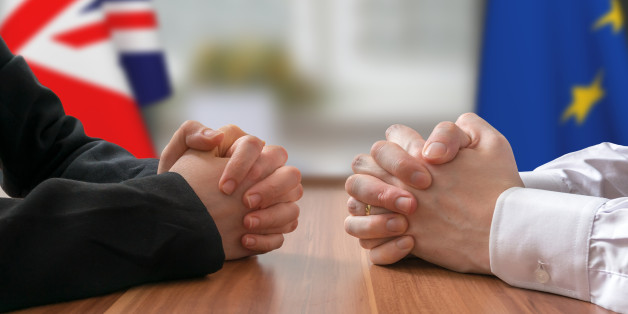 vchal via Getty Images
In light of huge uncertainty looming over the lives of millions, the European Parliament Petitions Committee of which I am a member has seen a significant increase in petitioners asking for their rights to be guaranteed before the UK and EU part ways in 2019.
This rang close to home. As you may know, my husband is Belgian and our son Natan is therefore a Belgo-Brit. At the moment I have the option to take Natan with me everywhere and he has been in the European Parliament countless times. He flies back and forth with me between the North East and Belgium, much to the joy of our family on both sides. But one question is on my mind on a daily basis - will this still be as easy come March 2019?
We tend to think that our own problems are always worse than others' and I must confess the uncertainty of having an bi-national family after Brexit has kept me up at night. These doubts were amplified when listening to so many petitions from both EU nationals who live in the UK, as well as Brits established in other member states, all of whom are asking for a simple guarantee - that they won't be separated from their loved ones.
Along with fellow North East Labour MEP Paul Brannen, we put a call out for real life stories of how Brexit has affected people. We received letters from families from other EU countries who moved to the UK in good faith and are now afraid of having to move and start all over. Brits who retired abroad wrote to us about their anxiety of not being able to see their children and grandchildren anymore, especially when they would need them most. European workers aired their concerns that the lack of clarity around their right to keep their jobs in the UK is already driving them out of the country. Their children, some as young as 10, being subjected to xenophobic verbal abuse after the referendum result. UK nationals who studied abroad and took advantage of fantastic EU programmes such as Erasmus are now worried at their limited prospects for a future career.
The list goes on... All of these doubts could be cast away in an instant, and the power is in the hands of the UK government who has done nothing but prolong the pain of millions.
EU officials in charge of Brexit have been clear-cut on this issue from the very beginning - citizens' rights need to be guaranteed before negotiating anything else. This is surely common sense, so why is it taking Theresa May and David Davis such a painfully long time to alleviate our concerns? Brexit isn't child's play of course, it's difficult and unprecedented, but this is an issue that must be prioritised and the outcome can only be one.
I'm sure we all have a good understanding of how the referendum vote has affected the lives of many EU and UK citizens, but the stories we received have opened my eyes to a whole new spectrum of issues to do with a post-Brexit future. So I encourage you to take a look and to share with those around you, so we can together show the human face of what Brexit means.
A new round of negotiations begins in Brussels this week and hopefully this time the UK government is prepared to guarantee our rights. Over a year on from the referendum, British and EU citizens alike are still living in limbo until a final decision is made, so a bit of reassurance will go a long way in making us feel like we aren't just bargaining chips.