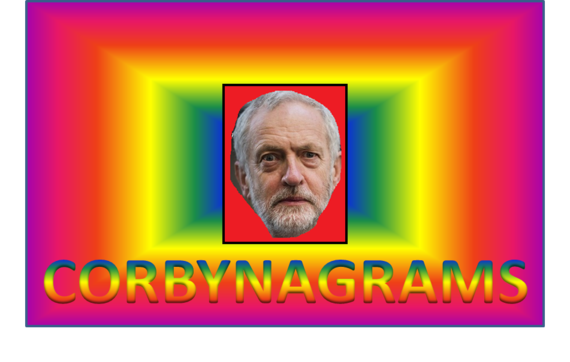 Are you stuck for a present for the politics fan in your life? Well, worry no more as we've found the perfect gift -Corbynagrams!
The aim of the game is to change Jeremy Corbyn quotes in such a way that they mean entirely different things to what he originally said. It's surprisingly easy and popular! Moving round the board to the left, you play as either David Cameron or Daily Mail Columnist Johnny LittleRich, picking up more points the more inventive your suggestions are!
Let's take a sample card. Mr Corbyn was accosted outside a production of "The Railway Children" on Goods Way, by a theatregoer who mistook him for one of the cast members from the 1970 film. Gently correcting her, Corbyn was heard to say "Well yes, I do look a bit like Bernard Cribbens".
For the seasoned Corbynagrammer this card presents a goldmine of opportunity. Do you go down a "cribbing" route, taking in the various definitions of "a theft, esp of another's writing or thoughts", "brothel", and "discard pile"? Or do you take advantage of the fact it was said behind a major railway station and reword it to be "I'm going to burn this crib (i.e. Kings Cross) down"? That would certainly win points on the "PaintCorbynAsATerroristSympathiseromometer", one of the game's key scoring mechanisms.
Once you've mastered the basics, why not reach for the stars by playing the BaldFacedLie Wildcard, converting "I'd like to say Merry Christmas" into "I refuse to say Merry Christmas"? Then take a Chance Card to see how low you think Jeremy's bowed this time. Literally hours of fun - Boxing Day will fly by like those RAF planes he's always slagging off!
Packaged in tasteful 1980s colours, to fit in with the image of Corbyn as a relic from the Thatcher era, this is a game which will impress and depress in equal measures. Buy it now before his time runs out!