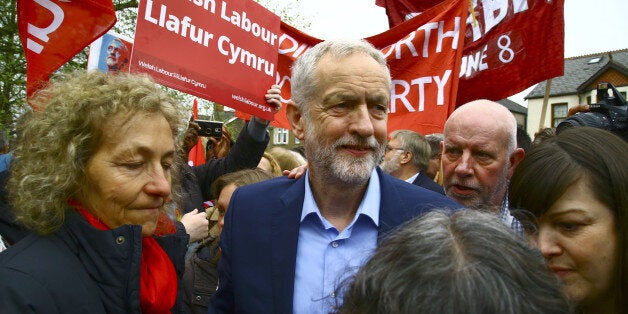 Flying start - two words that sum up the beginning of Labour's general election campaign. In five days, Jeremy Corbyn has shown he has the passion and the plan in place to transform Britain in the interests of the many.
Already, Corbyn has outperformed May significantly, dominating the news agenda and travelling across the country to lay out Labour's vision for a rebuilt and transformed Britain.
Since the election was called on Tuesday, Corbyn has visited Birmingham, Croydon, Swindon, Cardiff, Bristol, Manchester, Crewe and Warrington to announce his sweeping plans for investment in our economy, a better education system, and a transfer of wealth and power from the gilded elites to ordinary people.
Labour's determination to win has been noticed. Much of the media are becoming increasingly frustrated by May's refusal to defend her record. No TV debates, heavily stage managed events with audience members ordered to not speak to the press, and press shunned from campaign events. Contrast this to Jeremy Corbyn, who used his campaign launch to engage with media questions on his vision for Britain, and answered every question put to him - easy to do when you are standing up for everyone's interests, rather than vested interests.
As Theresa May travels on a helicopter between closed campaign events, Corbyn is meeting the people he will stand up for as Prime Minister. At a visit to a Sure Start centre on Friday, Corbyn set out his plan to put a stop to the Conservative's mismanagement of our education system and improve our children's futures by properly funding all schools - so pupils aren't forced to learn in class sizes of more than 40. And in true Corbyn style, he even took some time to read 'We Are Going on a Bear Hunt' to the very children being attacked by the government's cuts.
Corbyn has provided us with a timely reminder about the power gap in this country - and how a tiny group of elites have a stranglehold on Westminster, the press, business and the economy, and use that stranglehold to hoard wealth and cause everyone else to suffer. We get seven years of austerity that fails to balance the budget, and they get corporate tax cuts and inheritance tax cuts for the wealthiest. For all her inclusive rhetoric, May cannot dodge her way around those facts.
Both parties are yet to publish their manifestos, but the policies Labour has announced so far will protect our public services, grow our economy, and put more money in the pockets of middle and low earners.
There's six weeks to go, and a lot of ground to make up. But if Corbyn and Labour have started as they mean to go on, the contrast of the approaches of the two candidates to be Britain's next Prime Minster will become clearer and clearer. As June 8 nears, it will become ever more likely that the conventional wisdom that things can't be changed - that our country must be run in the interests of the powerful and super-rich - will be overturned. And then together, under a Labour government, we will build a fairer, more prosperous and more decent society.