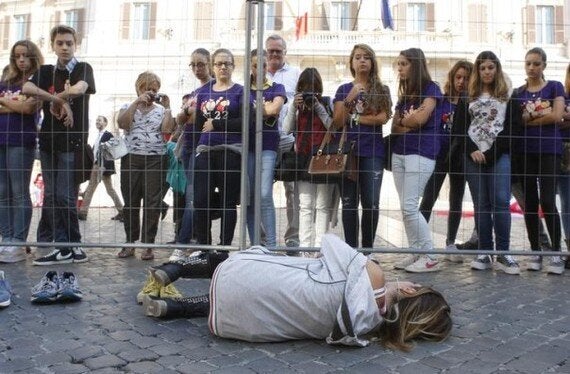 People look at an actress performing during the "15 22 performance" opposing violence against women in front of Chigi palace in Rome September 25, 2013. REUTERS/Remo Casilli
"I would drive into a tree just to shut her up." When I first read those lines of Alberto's story, I felt a chill running down my spine. I'd heard similar stories of violence and abuse many times before, but it was this particular one which made me understand what goes on in a violent man's mind when he loses control.
Alberto - he didn't want to give his full name - a metalworker in his mid-thirties from a town in northern Italy, wrote in an email that he would sometimes get so furious arguing with his wife in the car that he would feel compelled to do just that, to "drive into a tree" just to make her stop talking.
"When we argued I felt cornered, like I was about to lose everything," he went on. It turned out that it wasn't possible to meet him during my trip to Milan.
From the beginning of his 13-year-old relationship with his wife, Alberto had struggled to contain feelings of rage, usually ignited by a cross word or critical tone.
At the end of what he described as a "hellish summer" of verbal rows and physical violence towards his wife, he decided to seek help last year.
Not knowing where to find it, he turned to the Internet where he came across a group, "Uomini non più violenti Milano" (Men who are no longer violent).
The network of psychoanalysts, mental health workers, psychologists and volunteers offers therapy to men who are violent, or are afraid of becoming violent towards their wives, girlfriends and exes.
It has been active for more than a year and is part of Forum Lou Salomé, an association of female psychoanalysts which has been working on gender issues for over two decades.
"(We are trying to) address the situations of discomfort that drive a man's violent behaviour," said Chantal Podio, a psychoanalyst and one of the founders of "Uomini non piu violenti Milano".
Experts working in gender violence say there are only a few centres across Italy dedicated to helping violent men challenge and change their behaviour, though the scale of the problem deserves greater resources.
"I wouldn't have waited 13 years had I known about this programme before," Alberto said. "I used to think the only possible solutions to my problems were suicide or turning myself in to the police."
According to the most recent official statistics on gender violence in Italy, released in 2006, more than one in three women aged 16-70 has suffered some form of sexual or physical violence at least once in their lives.
Women's groups say that more than 100 Italian women are killed every year in acts of gender-based violence.
Although there has been no research into the impact of Italy's drawn-out financial crisis on personal relationships, experts say that situations which would not have ended in a physical fight had the economy been better are now triggering violence.
"Separations are getting more complicated nowadays, dividing up a home or finding another place to stay can become impossible," Alessandra Pauncz, a psychologist and the founder of Florence-based Centro Ascolto Uomini (CAM), the first centre in the country to work with violent men, told me.
She said violent men may admit they have been responsible for some sort of violent behaviour, but they tend to minimise it: "They see themselves as victims of their partners".
Giorgio's story is not too dissimilar from Alberto's. A construction worker in his mid-forties with a passion for fishing, he had been violent many times, not only with his partners but toward his daughter as well.
"I felt like I couldn't sustain a normal conversation without always having to impose my view. I couldn't take on even the most insignificant affront...I had to demonstrate the power I had over them," he wrote in an email which was sent to me by his therapist.
"I used to be one of those men who want to dominate women. I didn't see violence as violence, but as a legitimate and dutiful punishment.
Alberto and Giorgio are among what people working in the field say is a growing number of men who are voluntarily seeking help to end their violent behaviour.
Helping men who act violently is tackling gender violence at its roots, Roberto Poggi, a member of "Il Cerchio degli Uomini" (The Circle of Men), a Turin-based organisation of men working with violent men, told me.
"In the immediate aftermath of violence we're dealing with an emergency and so it is paramount to protect the woman, to give her medical care and to shield her from further violence," he argued.
"(But in the long run), gender violence is something that deeply concerns men because they are the ones committing it."
Poggi, a counsellor with several years' experience, said many of the men who have come to him for therapy had been taken aback by the independence of their female partners.
"It can be because they are working women, women with career aspirations, successful women," he said.
Other men refuse to accept their partner ending the relationship - and these were the ones more likely to explode into violence, Poggi said.
"The vulnerability of a man is born out of the consciousness that he's losing power in a relationship - and that he can't lose it because he is a man," he said. "This is the culture."
Chauvinism is so ingrained that the image of the Italian male has barely evolved beyond that of the charming ladies' man immortalised by actor Marcello Mastroianni in Federico Fellini's 1960s movie La Dolce Vita.
Several decades later Silvio Berlusconi, with his penchant, when he was prime minister, for promoting beautiful young women, and an unshakeable belief in his own sexual prowess, embodied a rich, powerful masculinity that many Italian men envied.
Such dominating male role models have perpetuated the perception that Italian women are, by contrast, fit for little more than the kitchen or the bedroom.
"We haven't been able to change this idea of the woman that we have in our country," Cecilia Guerra, deputy minister for the Equal Opportunities Commission, told me on the phone from Rome.
"It all begins in schools with textbooks portraying women always holding less prestigious jobs than men; we grow up in this culture."
At the same time, Guerra pointed out that there had been a shift in mentality with greater awareness of gender violence.
"People now know that when we talk about gender violence we are talking mainly about domestic violence," she said. "Before we used to think it was strictly related to rapes and that foreigners (immigrants in most cases) were responsible for it."
A long-awaited law on gender violence that toughens penalties for perpetrators and increases protection for victims was approved by the Italian Senate in October.
Legislators say the law will provide long-term support and funds to women's shelters and centres tackling violence. But it does not earmark money for initiatives to help violent men.
"I don't have a definitive answer on this. The norm refers specifically to anti-violence centres and women's shelters and I don't think it includes centres for violent men," Guerra said.
Some of the people working on male violence say they are struggling to get funding because their services do not fall directly into the women's services category, even though they are working on the same issue, only from a different perspective.
Men who have taken part in programmes provided by these centres lament the lack of an effective support system for others like them, saying it is sorely needed.
"This path that I'm on right now, it reminds me a little of the movie 'Sliding Doors'," Alberto wrote at the end of his testimony. "I see that I can choose another way, a completely different life. One that is an alternative to violence."
Related