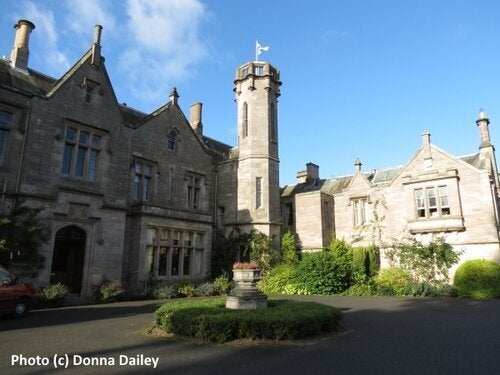 English whisky? We are in Scotland, right? To be precise we're at the Roxburghe Hotel, a country house hotel near Kelso and checking the bar menu for a drink before dinner. And there it is... an English whisky. And a Scottish vodka, a Bulgarian vodka, Indian, Japanese and Swedish whiskies, and a range of Scottish gins.
This is a seriously good bar menu, I tell the barman. He turns out to be the Bar Manager, Stuart Mackenzie, who's also a Whisky Ambassador. He regales us with tales about the whiskies they stock, how he's built up the bar list since he's been at the Roxburghe, the difficulties of balancing the old with the new... and how customers return, as there's always something original and unusual to try. If he's disappointed when we only order two fino sherries, he manages to hide it well.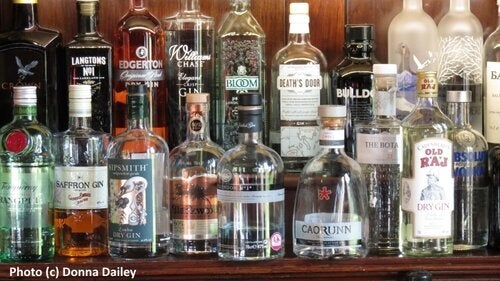 In fact the sherries go well with the amuse-bouches that arrive while we're reading the menu. One is a black pudding bon-bon, so combines two of my favourite things, and the other was basically brie on a biscuit though they called it something fancier than that and it tasted gorgeous.
It's our 10th wedding anniversary so we go for it: Scotch rib-eye steak for me and game of the day, grouse, for my wife. She asks how it's served. 'We serve it whole,' says the waitress, 'but the chef can slice it for you afterwards, if you prefer.' She does prefer, and after the presentation of the work of art at the table the plate is whisked away to reappear with the grouse expertly sliced within seconds, it seems.
As starters we'd both had the scallops from Berwick, served with an unusual selection of contrasting flavours: cauliflower, golden raisins and olive tapenade. They work together brilliantly with the plump and juicy scallops for a variety of tastes and textures. Dessert was also a unanimous decision, after the meaty mains: Classic Albert Roux Lemon Tart. And classic it was, the perfect lemon tart.
The Roxburghe also has an unusual wine list, including some from the Duke's own cellars. We opted for a Château Méaume Bordeaux Supérieur, which the menu assures us the winemaker supplies only to his own brother and to the Duke of Roxburghe. Lucky Duke and brother, I say, as it was a fruitily smooth Bordeaux and available at a house-wine price.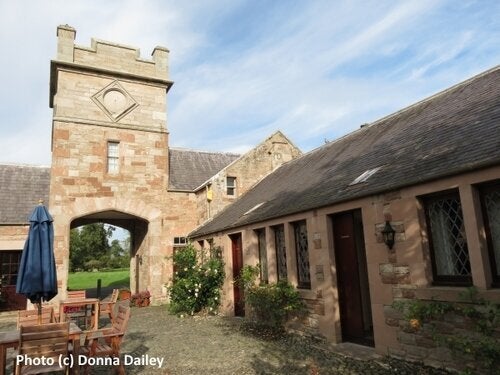 Our room at the Roxburghe for our anniversary treat was actually a split-level cottage in a cobbled courtyard (above and below) where roses climbed the walls and the chef's herb garden was right next door. Downstairs was a living room adorned with paintings and porcelain (plus flat-screen TV and free WiFi!), and upstairs a large bedroom with a 4-poster canopy bed and views over the grounds.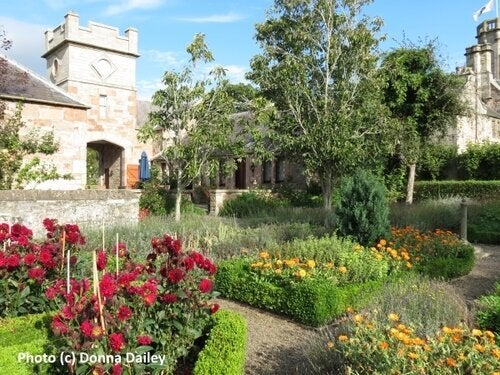 Next day when we visited nearby Floors Castle (below) we learned that the Duke of Roxburghe is the 2nd biggest private landowner in Scotland, after the Duke of Buccleuch. Floors Castle, six miles from the hotel on the far side of Kelso, is the Duke's family home. It's described as Scotland's largest inhabited castle, but the story behind it is definitely an intimate family one.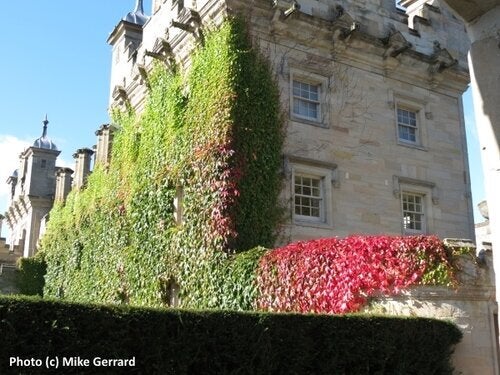 The castle was built in 1721 for the First Duke of Roxburghe, and was inherited by the present Duke in 1974 when his father died at the age of 61. The new Duke, the 10th, was only 19 years old and suddenly responsible for the estate which now employs 170 people, owns 250 properties and about 56,000 acres of land. The castle itself has 154 rooms, 365 windows, two paintings by Matisse, two by Augustus John and one by Pierre Bonnard. Plus an original first draft of a Burns poem, 'On Seeing a Wounded Hare Limp by Me'.
All this we learn on a leisurely self-guided tour through the castle, each room staffed by friendly guides who all manage the difficult task of telling oft-repeated stories as if for the first time. There's humour, history, tragedy and tales of European royalty. There's even an American aristocratic involvement. It's a tartan version of Downton Abbey. In fact as we'd entered through the front door we'd definitely felt that we could be arriving at Downton Abbey, although Mr Carson would surely have frowned on our jeans and trainers.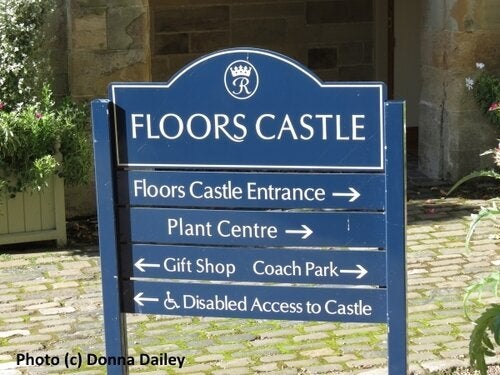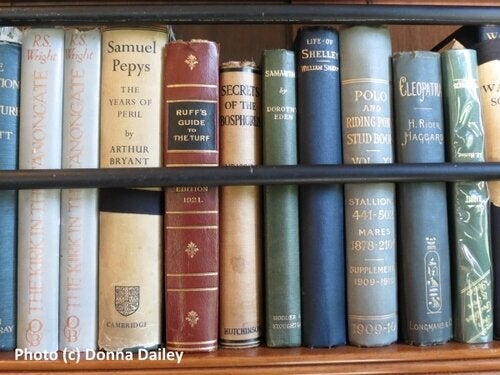 Part of the Roxburghe Hotel's Library.