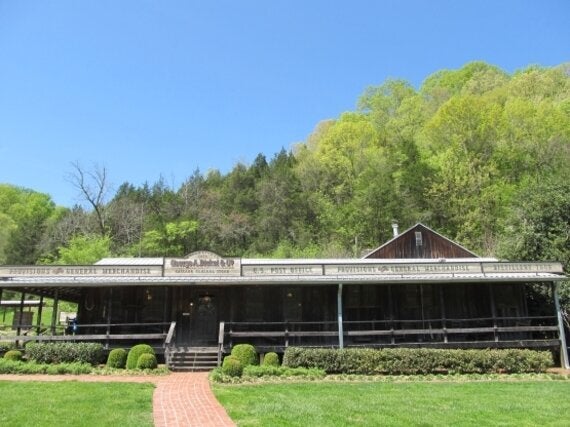 The George Dickel Distillery in Cascade Hollow, Tennessee
Heading to the Southern USA in pursuit of distilleries to visit, it's easy to get confused. And that's before you've even had a drink. American bourbon and whiskey are different. Bourbon doesn't have to be made in Bourbon County, or even in Kentucky. You can make bourbon in Tennessee, or even in Texas if you abide by the rules. Tennessee is more noted for its whiskey, though. And in the USA they do spell it whiskey except for the people who spell it whisky.
But what's most puzzling of all is that some of the big names in Tennessee whiskey, like George Dickel and the mighty Jack Daniel's, are both in dry counties. You can make whiskey in a dry county. Visitors can sample it as part of a distillery visit, as you're buying a ticket for the visit and not buying the whiskey. But you cannot buy alcohol in a dry county, making the visitor shops at the end of a tour rather less tempting. You can spend your money on a George Dickel t-shirt or a Jack Daniel's fridge magnet, but not on the delicious product itself.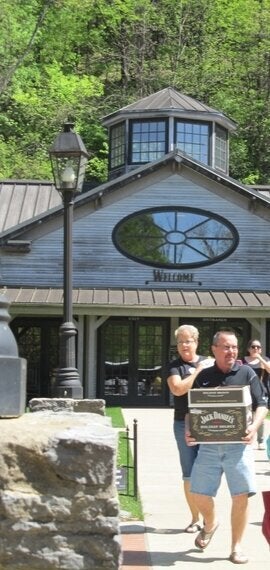 When I arrive at the Jack Daniel's Lynchburg distillery, which is about the size of a small European nation, I see a man staggering out of the front door carrying a case of Jack Daniel's. I first assume he's one happy customer till I remember the dry county rules and realise he must have bought a hell of a lot of fridge magnets and baseball caps.
Jack Daniel's is the biggest selling American whiskey in the world, and every drop is made here in Lynchburg. It's been that way since 1865 when a 15-year-old boy called Jasper 'Jack' Daniel, who came from immigrant families from Wales, Scotland and Ireland, decided to move his still. He was the youngest of ten children, and had been sent out to work by his father at the age of ten. He worked for a Lutheran Minister, Reverend Dan Call, one of whose skills was the distilling of sour mash whiskey. Young Jack quickly picked up the necessary skills, and at the age of 13 bought the Reverend Call's business.
Jack moved his still to a natural spring which pumped out several hundred gallons a minute of water that had been filtered through limestone. It still does, providing enough water for all the Jack Daniel's in the world, over 12 million cases a year.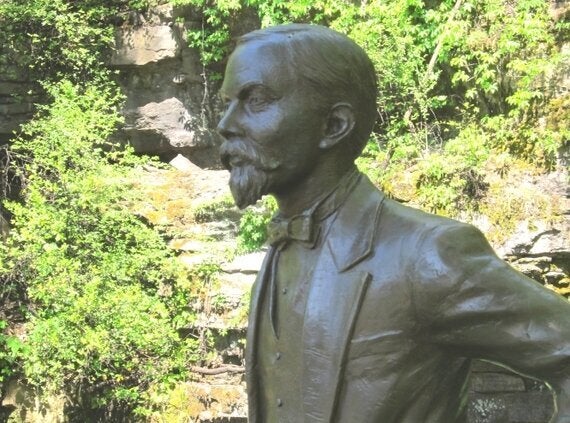 Jack Daniel was one smart young man, and his distillery business now pays $4 million in tax revenue every week. It also attracts a quarter of a million visitors a year. Because of that the tour is rather brisk and business-like, as buses shuttle people around the 2,000-acre facility, but is still thoroughly enjoyable and leaves plenty of time to savour the concentrated taste of the Jack Daniel's Single Barrel, the slightly sweeter Old #7 (the best-selling whiskey in the world) and the mellower Gentleman Jack, a whisky filtered twice through charcoal for a smooth and light finish, aimed at people who already enjoy beer and wine and are curious to try what whiskey has to offer.
In contract to Jack Daniel's is the homey delight of the George Dickel distillery. It's located in Cascade Hollow, and is everything that the name conjures up - in the middle of the peaceful Tennessee countryside, surrounded by woodlands and hills, and with an idyllic stream gently running through. The nearest town is Normandy, with a population of 141.
'The distillery covers 600 acres of land,' says our laid-back guide, John, who also happens to be Dickel's Master Distiller. 'There's no hunting on the distillery grounds so in the hunting season we're a refuge for wild turkeys and deer, as they know where it's safe to go.'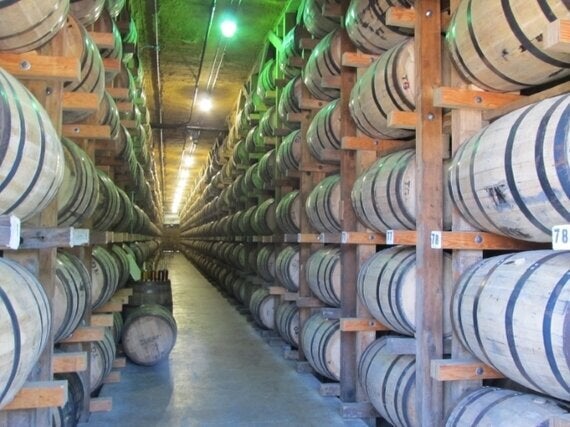 Barrels in the George Dickel Warehouse
George Dickel was a German immigrant who came to Nashville and started out as a boot and shoe maker. He made lots of boots and shoes but didn't make much money, though, so in 1870 he decided instead to make whiskey. He established the Cascade Distillery, just up the road, and though it might appear to be madness to have a distillery in a dry county, the site was chosen because of the pure water source. Better to make good whiskey in a dry county than bad whisky elsewhere. Dickel also decided to use the Scottish spelling of whisky rather than whiskey, as he believed his spirit was every bit as good as Scottish whisky, the benchmark at the time. He wanted to appeal to the discerning rather than the moonshine market.
The whisky is filtered through charcoal that's made on the premises, and even today they only employ 26 people, including the office staff.
'Everyone has to be versatile.' John tells us. 'Every bottle of Dickel whisky in the world is made here. Last year we sold about 130,000 cases, so just over 1.5 million bottles. We're into quality not quantity. Last year we started exporting to Canada and Australia but not yet to the UK.
'At our distillery it's a person at each step of the process. Six people work every day in the distillery. Build a distillery today and you can run everything from a computer. You could run a distillery from an iPad. But we like people to make the decisions. It costs more to do it our way but we like to keep the traditions. I liken the process to food. If your food is heated in a microwave, that's like having your whisky made by computer. To have it hand-made as we do is like having your meal personally prepared by a gourmet chef. There's going to be no comparison in the end result.
'We just built our first new warehouse since 1967,' he adds. 'It's an exciting time to be in the American whiskey industry!'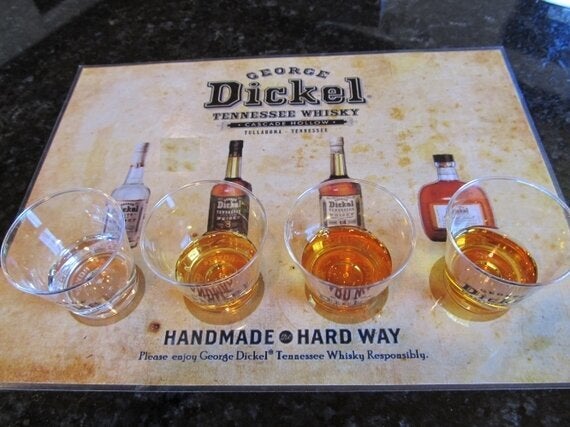 Tasting Whisky at the George Dickel Distillery
And it's an exciting time to be touring Tennessee whiskey distilleries, whether it be the industrial scale of Jack Daniel's or the folksy style of George Dickel down in Cascade Hollow, where you can't buy whiskey but you can mail a postcard saying 'Wish you were here?'
Visiting the Distilleries
Visiting Tennessee Whiskey Country