For the first time in the 70-year history of the UN, Secretary-General Ban Ki-moon has brought together world leaders and the humanitarian community for the World Humanitarian Summit in Istanbul, with the aim of making bold commitments to reduce the impact of the unprecedented wars and disasters we are seeing today.
One of the greatest humanitarian challenges we face is providing education for children affected by conflict and crises. Today one in four of the world's school-aged children - nearly half a billion - live in countries affected by crises. Around 75 million of these children and youth are either already missing out on their education, receiving poor quality schooling or at risk of dropping out of school altogether, depriving them of the skills they need to build safe, strong communities and economies when they reach adulthood.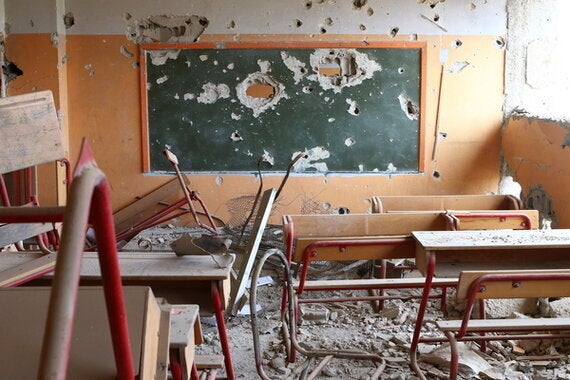 On 8 January 2016 a primary school in Hujjaira, Rural Damascus is damaged due to continuous clashes in the area. Even though the situation in Hujjaira is calmer now, students cannot return to their damaged school. In Syria, one in four schools are damaged, destroyed or occupied for military purposes or to host displaced families. An estimated over two million children are out of school.
This week Unicef and partners announced the launch of the Education Cannot Wait Fund. The fund aims to reach more than 13.6 million children and youth living in crisis situations, such as conflict, natural disasters and disease outbreaks, with quality education over the next five years, and 75 million children and youth in desperate need of education by 2030. It's an ambitious target, but one we must do everything in our power to achieve.
On average less than 2 percent of humanitarian aid goes towards funding education. Moreover, education systems equipped to cope with protracted crises cannot be built on the foundations of short-term - and unpredictable - appeals. Education Cannot Wait, which has a funding target of $3.85 billion over five years, aims to bridge the gap between humanitarian interventions during crises and long-term development afterwards, through predictable funding.
But the challenge goes beyond just funding. Unicef is also calling for action to make sure children are safe and protected in schools and hospitals. New analysis shows that every day four schools or hospitals are attacked or taken over by armed forces or groups. Governments, including our own, must urgently protect schools, and we're calling on the Foreign Secretary to sign the Safe Schools Declaration.
As a member of the United Nations Security Council, with a widely respected military and a leading role in training foreign armies, the UK commands a great deal of influence on the world stage. Our nation's record on protecting civilians in conflict is a source of pride, so too our investments as a leading humanitarian donor. Given the devastating immediate impact on students and teachers, and the longer term damage still to be done by generations of children missing out on years of an education, we should be compelled to lead efforts to protect schools from attacks and military use. But whilst fifty-one other countries have endorsed an international Safe Schools Declaration - making a clear political commitment to protect education in armed conflict - the UK Government has so far refused to join them.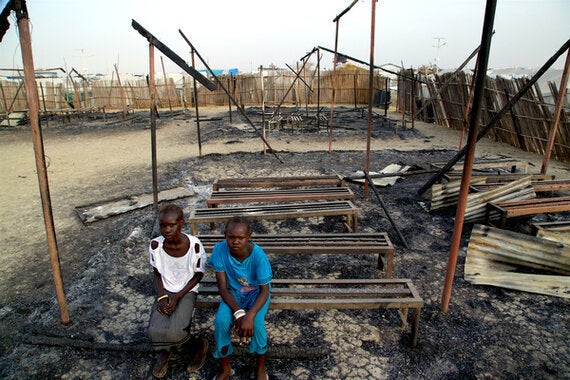 On 3 March 2016 in South Sudan, Chubat (right), 12, sits with her friend in the burned ruins of her school in Malakal Protection of Civilian site. The UNICEF supported primary school was burnt down in fighting on 17-18 February 2016, that left at least 18 people dead.
470 children attended grades 1 through 6. The school had five classrooms and seven teachers who taught English, Social Science, Christian Religious Education, and Mathematics. Due to the lack of space in the PoC, the same classrooms were used for CFS activities in the afternoon.
In 2016, UNICEF launched the second phase of the Back to Learning initiative, targeting almost 600,000 children across the country. South Sudan has one of the largest number of children not attending school in the world.
Signing up to the Declaration may not bring an immediate end to attacks such as those we have recently witnessed, but the UK committing its support to protect education in armed conflict can mark a significant step towards the stigmatisation of such attacks. Such change is achievable, as we have seen by the significant decline in the use of landmines and cluster munitions as accepted tactics of war. Given the UK's influence and international leadership, the strong statement of signing the Safe Schools Declaration can inspire global change in norms and standards -encouraging compliance with existing laws to protect schools in armed conflict, increasing accountability, and changing how fighting forces act even in the midst of war.
At a time when we are seeing increasingly numbers of violent attacks on schools it is time for the UK to continue our long tradition of leading the way in matters relating to international humanitarian law. We cannot stand by and say that there is nothing we can do. Through taking a stand on the world stage and signing up to the Safe Schools Declaration, we can help make sure that schools are always playgrounds and places of learning children, not battlegrounds.
Unicef UK is urging the UK Government to sign up to the Safe Schools Declaration, sending a clear message to the world that schools must not be attacked or occupied for military purposes. Ask your MP to keep schools safe during conflict http://ow.ly/4nmjC6