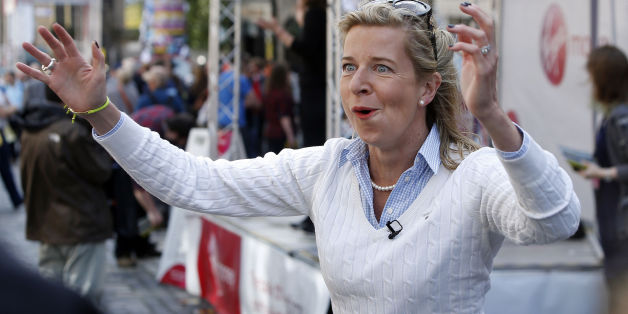 Danny Lawson/PA Wire
What on earth is Katie Hopkins doing?
No, not just "what" is she doing in terms of saying something outrageous (again) - part of her modus operandi to drive traffic - but in this case, why is she fraternising with far-right extremists and Holocaust deniers down in the Mediterranean and re-sharing their content on social media?
And why is the MailOnline happy to give her a platform to do so?
I'm referring to a series of articles Ms Hopkins plans to write from the Mediterranean this week about the refugee crisis. This is the same former Apprentice star who wrote in The Sun in 2015 that "I'd use gunships to stop migrants".
Some context - Italy has been struggling to cope with increased numbers of migrants and refugees landing on its shores, as the focus switches to Libya as the main route for refugees and migrants to reach Europe across the Mediterranean.
Over 2,500 people have drowned on this migration route this year alone (more than 5,000 last year), as the Turkish route shrinks to a trickle, thanks to a deal between the EU and Turkey to return those arriving in Greece.
Apparently incensed by what they view as 'taxi services' they claim humanitarian NGOs are providing to drowning people, far-right activists in the guise of a group called 'Defend Europe' have managed to crowd-fund close to €200,000 and charter a 422-tonne vessel to block and harass these NGOs.
Defend Europe is comprised of far-right 'Identitiarians', a network of young European extremists with large social media followings and a history of direct action stunts. The media often give them a soft ride, claiming they are 'far-right hipsters', but they are anything but 'cuddly'.
They've clambered up the Brandenburg Gate and National Theatre in Vienna to display banners with phrases such as "Secure Borders Secure Future"; occupied mosques; blockaded roads around the Calais Jungle; disrupted plays put on by refugee actors; and clashed on the streets with leftist demonstrators.
Make no mistake, though - despite their appearances and glib talk of protecting European culture and identity, and "remigration" of refugees, Muslims and immigrants - in reality they hold deeply anti-Muslim and anti-immigrant views and, in many cases, have links to notorious far-right groups as well as being actively supported by white supremacists worldwide, including former KKK leader (and infamous antisemite) David Duke and many alt-right activists in the USA.
How did Ms Hopkins react to Defend Europe's hiring of a boat (owned by a convicted fraudster) and entering into the Mediterranean with, it claimed in its early postings, the expressed aim of 'blocking' NGO ships?
She retweeted one its tweets and one of its banners and said she was looking forward to meeting its crew in Sicily.
Then pictures surfaced on social media showing that Hopkins had already met with Peter Sweden in Sicily. Sweden is a so-called journalist who has previously tweeted antisemitic and Holocaust denying statements. A veteran politician, Filip Dewinter, from the far-right Flemish Block (which has links to Nazi collaboration in World War Two) is aboard the C-Star, Defend Europe's chartered ship, which may also have armed guards on board.
We have profiled other key Identitarian leaders who are likely to be on the ship, including Martin Sellner from Austria, Daniel Fiß from Germany (who has links to the anti-Muslim street movement, PEGIDA, and is a former member of the neo-Nazi National Democratic Party) and the French Identitarian leader, Clement Galant, whose group released a fairly extreme video in 2013.
So, to repeat the question at the introduction, what is the MailOnline doing to give such a platform (via Ms Hopkins) to these far-right extremists and will even its readers be comfortable with that?
Follow HOPE not hate's 'Crisis in the Mediterranean' campaign and sign its petition to the MailOnline here