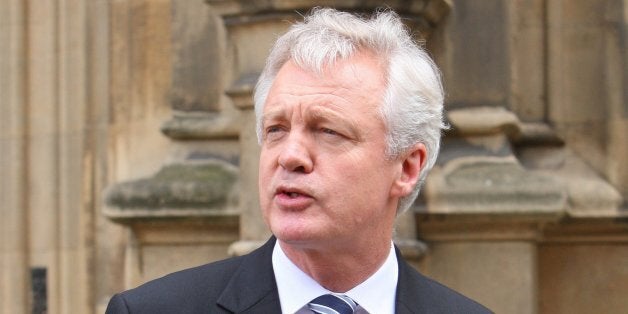 Not for the first time, David Davis is causing a bit of a panic among the authorities.
I'm told that the Clerk of the Commons and government whips are chasing him to swear in as an MP before he even thinks of making a Big Speech on the Queen's Speech this afternoon.
Under Parliamentary rules, no MP can speak in the debate on what's known as The Loyal Address unless they have first been sworn in for the Parliament.
If they do speak in a debate without having gone through the all-important bible-holding bit of procedure, then they are expelled from the Commons. And an instant by-election is triggered.
At least that's the message being sent to DD's office by jittery officials who expect him to weigh in this afternoon on the government's (now delayed) plans for a British 'Bill of Rights'.
"They are all terrified he will do accidentally what he once did deliberately - cause a by-election in the name of protecting civil liberties," one insider tells me.
Given that he's keen to go ahead with his speech today, it looks like Davis will indeed swear in during the short window before the Commons resumes to discuss the Loyal Address at 2.30pm. [Update: He did indeed swear in, all on time. Panic over]
DD, as he's known to colleagues, is one of the 'Runnymeade Tories' who fear that the scrapping of the Human Rights Act would mark an historic break with Britain's global reputation on the issue, by severing its link to the European Convention on Human Rights.
As it happens, it was Davis's own human rights campaigning that ensured he wasn't around in Westminster last week to swear in with other MPs. He was in the United States working on the case to free Shaker Aamer, a British resident held in Guantanamo Bay.
Davis effectively gave up government office when he quit as shadow home secretary and as an MP back in 2008 to fight a by-election protesting at the then Labour Government's plans for detention without charge of terror suspects.
He won the by-election in his Yorkshire seat of Haltemprice and Howden convincingly, but was not readmitted to the shadow Cabinet or government by David Cameron.
In fact, this is one irony of his current position. If he hadn't resigned seven years ago, Davis would almost certainly have been home secretary rather than Theresa May.
And as home secretary, he would have been in an even stronger position to resist any 'Bill of Rights' going into the Tory manifesto as a bargaining chip.
Instead of helping lead a guerrilla operation to stymie and delay the legislation, the former SAS reservist could have strangled it at birth.
Popular in the Community