As we celebrate International Women's Day this coming Sunday, we often turn to women at the top of the corporate tree as role models. I want to tell you about an ordinary woman from Rwanda instead. For me, Marie Consolee embodies the spirit of International Women's Day.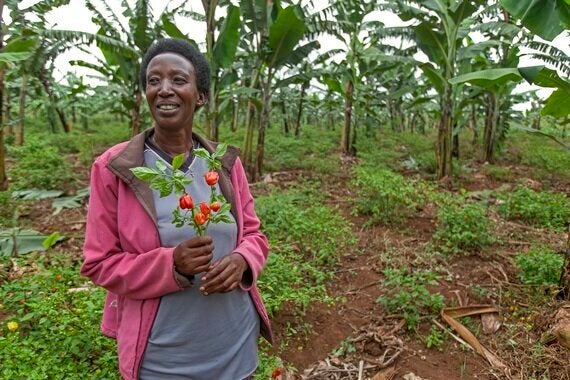 Marie Consolee on her farm in Rwanda. Photo: Georgina Goodwin
Rwanda has a higher proportion of women in parliament than any other country in the world (64%). The African Development Bank estimates that women there run 41% of all businesses. And yet, according to the UNDP, half the women in Rwanda still think it is acceptable for a husband to beat his wife.
So the question is: how do we empower women in societies that, despite progress, continue to be dominated by men? A growing body of evidence suggests the key to success is to work with women in groups rather than as individuals. Women find power in the group as they turn to each other for support. A formal group structure gives women with little or no education -used to following the dictates of a father, brother or husband - the chance to speak up and take on leadership roles such as group chairwoman, treasurer or secretary. A savings group also gives women the chance to learn how to manage their finances by saving money together and learning basic business skills. Empowered by their experiences, many go on to set up grassroots micro-businesses and take on leadership roles in the wider community.
My colleagues from Hand in Hand in Afghanistan recently gave me a very literal example of female group empowerment: when a group member's husband tried to use her share of the savings fund for his own purposes, the group got together and forced him to return the money. Other examples are less dramatic, but no less inspiring.
I first met Marie Consolee last year during a moving visit to Rwanda. She had lost her husband, child and livelihood during the genocide but was rebuilding her life as a local farmer and respected member of her community.
This year I was lucky enough to meet her again. The past months had not been easy for this softly spoken and extraordinary woman. Illness meant she was unable to manage her chili pepper and banana plantations properly. Her income had dipped from US $465 (320,000 RWF) to US $270(188,000 RWF) per month.Yet the support of the group and the benefits of business training meant this year has been a setback for Marie Consolee but not a defeat. "The trainer taught me to not be discouraged, to think as an entrepreneur, ahead of others," she told me. Now she is investing in drought-resistant varieties of chilli pepper, along with a water pipe, to see her through if she becomes too sick to water her crops once more.
As a member of the village Mvurankuvure committee Marie Consolee cannot give up: people look to her for advice and inspiration."I am now a counsellor and advisor on how to start a small business to people in this village and beyond. I am a role model. At local meetings neighbours and government officials want to hear how I changed my life and run my own business," she says. What better way could there be to change attitudes towards women than Marie Consolee- and thousands just like her - gaining confidence and capital, and setting an example to the next generation? "My son is proud of what I am doing as an entrepreneur. He says he wants to be like me, and work for himself," she says.
On International Women's Day there's no need to look up the corporate tree for inspiration. Instead, look to the grassroots.
Hand in Hand Eastern Africa and CARE Rwanda are co-operating to empower some 80,000 Rwandans, mostly women, to work their way out of poverty by running their own sustainable businesses. The three-year, US $3.2 million partnership is grounded in our shared belief in the power of entrepreneurship to fight poverty.
Related