Rwanda is in everybody's thoughts this month as we remember the 800,000 people who died in the genocide twenty years ago. As well as the horrific human cost, the genocide also left Rwanda an economic basket case.
Today the economic picture could not be more different with growth averaging 8.1% between 2001 - 2012. On the flip side however almost 45% of Rwandans still live below the poverty line.
In these two dramatically contrasting statistics there is hope. If you look at poverty differently then you will see grassroots entrepreneurs full of ideas and potential. A booming economy means that with the right help to turn skills and potential into jobs, people can discover a way up - and out.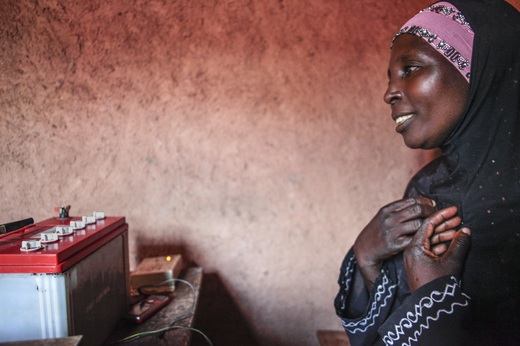 Maida Mushimiyimana, who lost everything in the 1994 genocide in Rwanda and now runs a booming mobile phone charging business. Photo: Georgina Goodwin
Promoting social cohesion
A job is so much more than a means to earn money. As the World Bank put it, "Jobs bring together people from different ethnic and social backgrounds".
As a Kenyan, ethnicity is part of my life. There are over forty tribes here in Kenya and our recent political history has shown that we cannot take peaceful cohabitation between them for granted. But, time and again, I have seen how our work to support grassroots entrepreneurs has the power to bring everyone together.
The World Bank supports this experience saying: jobs and employment provide alternatives to confrontation and can help displaced people reintegrate back into society.
In the aftermath of the genocide in Rwanda, there were some 800,000 displaced people who had lost their network of family and friends. Twenty years on, some of these survivors still lead isolated, insular lives, growing bananas and maize to survive, with some occasional work in the fields to earn a little money and supplement their diet. Living in remote rural communities without electricity or developed infrastructure, it is difficult if not impossible for them to access the skills and finance needed to do business and work their way out of this poverty trap.
My organization, Hand in Hand Eastern Africa has just launched a joint project with CARE Rwanda to provide 80,000 people with the skills they need to start their own businesses, increase their income and lift themselves and their families out of poverty. For the people I met on a recent visit, the program has not just increased their income, but also changed their place in society.
I'd like you to meet one such woman, Marie Consolee from Rwanda's Eastern Province.
Meet Marie Consolee - genocide survivor, business woman and role model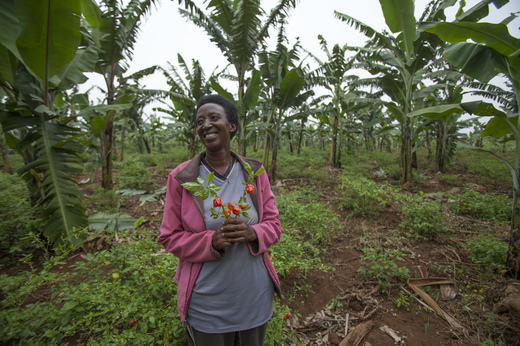 Marie Consolee Mukabaranga, genocide survivor, business woman and role model
Photo: Georgina Goodwin
The genocide took Marie Consolee's husband, child and job. For almost 20 years, it also took hope away.
Before the genocide, Marie was a teacher in Northern Province. Afterwards, she withdrew to the tiny hamlet of Kiziguro in Eastern Rwanda, with her remaining son and newly orphaned nieces. The plan was to settle into a quiet, isolated life living off a small plot of land she'd inherited from her mother. In practice, the family found themselves begging for food from neighbors. Occasional day labor in the fields meanwhile brought in a handful of francs a day - enough, most months, to total about 30,000 Rwandan francs (US $40).
What changed?
In 2009 Marie joined a local CARE savings group (village/voluntary saving and loan group) and, gradually, everything changed. First she found a new network of friends - she was no longer alone. Then, supported by new-found friendship, the members of the group began to learn how to manage the little money they had. "Instead of spending 500 RWF (US $0.70) on sugar, I would spend just 300 RWF (US $0.40) and so find the 200 RWF (US $0.30) I needed each week for the group savings fund," says Marie Consolee.
Nine months later, Marie was among the first to apply for a loan. Knowing that chili peppers always sold for a good price, she borrowed 50,000 RWF and bought her first seedlings. Today, having diversified to grow chillies and bananas, her annual income has increased to 3,840,000 RWF (US £5,520) and during the peak season, she employs as many as 16 neighbors.
Doing business is not just a way out of poverty. Some argue that jobs are not just what we do; they also become who we are. Marie Consolee would certainly agree - I can still hear the pride in her voice when she said: "I am no longer begging for things or money. I can get what I need on my own."