I never made it to Damascus to finish my studies and graduate.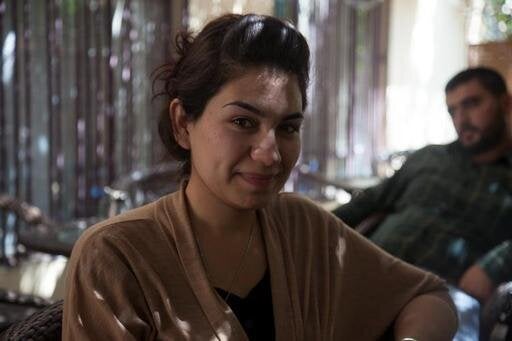 The terrifying war that had erupted since I started meant that there was no way I could guarantee what would happen if I made the ten-hour journey from my home town back to the capital.
Maybe I will be kidnapped, or killed? I was hearing stories of people dying making that journey; being killed in explosions or simply 'disappearing'- we still don't know where some people are.
Being safe was more important to me than graduating and having the certificate.
That was a decision that I had to make at that time but there was no way I was giving up on my education. I mean I was bored having to stay at home. I'm an active person! I was so frustrated that I was upset and crying every day. I knew I had to do something, and so me and my family decided to go to Sulaimaniyah in Iraq. At least from there, while it wasn't my home, I could pursue studying.
That's what we thought anyway.
I tried for two years to get the agreement from all of the relevant officials so that I could study. Why it is so difficult? I do not know. In my country we really want other people to come and study - we show them the very best things our land has to offer if they do.
I had two years of visiting the heads of the university and going to Erbil to fill out form after form. People were asking me why I was working so persistently to make this happen. Why? I want to study! It was mad to me that they would rather have me cause them trouble with meeting after meeting than simply let me study.
I was working just by myself on the papers - my family had gone back to our home in Syria after a short time. Now I laugh about it but at that time I was crying every day. I faced a lot of really frustrating moments.
I guess that the head of the university was fed up because he eventually allowed me in. His first word when he saw me was 'Oh my God- you just got old with this university- you are an old woman!' After all that struggle when I was told I was accepted it was like a dream.
It is my right but they made it like a dream for me.
And now, now I am studying fine art. My aim is to know what painting really is and to be really good. I would love to be a full time artist. That is where I have to put my energies.
I miss my family so much but I can't dwell on it. I have purpose here and they have purpose there. Where they are in my home town there is no power, no water and everything is expensive. My father is an engineer and our family has a small building company constructing buildings, roads and schools. There are ten families that are able to live, support their families and stay there because of my father's business.
It's harder to make the journey home to see them now. When we first traveled to Iraq we were able to enter with relative ease simply with our IDs. But since 2013, tens of thousands of refugees have made that same journey in to Iraq and so they have started to control and restrict the borders more because it was beginning to get messy. I saw them, my family, for the first time in two years last September after a bold move to go to the border by myself after the university and UN failed to give me papers to allow my crossing. Again, through sheer determination (and possibly luck) I made it.
When I was near to home I couldn't breathe! It was unbelievable.
I didn't tell my family I was coming in case I couldn't make the journey, and I didn't want my Mum to be worried about me. My brother's wife opened the door when I arrived and screamed, 'what are you doing here?! How did you get here?!' My father, my mother- everyone started crying. They thought I was crazy. I was so happy.
I am back in northern Iraq now.
Education is important to me. If you don't do what you're able to when you're young then when will you do it? There is war everywhere and now I can't travel or study anything else and so I am here and I am determined. The war-torn road to Damascus shall not stop me from pursuing my rights.
Being as strong as possible is the only way to exist.
This post first appeared on the Christian Aid Collective - www.christianaidcollective.org/
Image copyright Christian Aid