The first time I went to Orlando, I thought a £200 flight from London was incredible.
That was 11 years ago, and naturally inflation over that period means prices should get more expensive.
But thankfully not by much it seems.
With my last week's holiday of 2013 looming and a desire not to waste it, I landed a round trip to Sanford, Florida for £268.
Not only that it was on Thomson's impressive new Boeing Dreamliner, complete with tinted windows, ambient lighting and extra leg room.
£134 to go 4,000 miles in relative comfort? That's what I call a bargain.
(In case you're wondering, said travel company didn't pay a penny towards my trip).
There's little wonder Orlando is one of the most popular travel destinations for Brits. The sunshine is a natural attraction, as is the endless array of restaurants and events.
If you're one of the thousands of repeat visitors that yo-yo between Blighty and the Sunshine State each year, then this is hardly a revelation.
However, if you have yet to take the plunge, here's the lowdown on the top attractions at Walt Disney World at the moment.
Shopping, Dining and Movies
Downtown Disney is a great destination for buying trinkets, toys, gifts and boosting your calorie intake. For me the heart was removed when Virgin closed their Megastore a few years ago. However, with a new bowling alley and dining section, among many other fine shops and attractions, things are looking up.
The AMC cinema is also a great diversion, especially if you go early.
I saw new Joseph Gordon-Levitt movie Don Jon for $7 (about four quid), and Gravity (in 3D with state-of-the-art sound) for $12. Plush seats are a bonus, as is the fact you can dine and watch a film should you want to.
Breakfast at The Earl of Sandwich kept me going until a blowout at Planet Hollywood - glorious burger, fries and milk shake for $25.
(I spent much of my week-long trip existing on one meal a day. Given notoriously large American portions, that's all you need).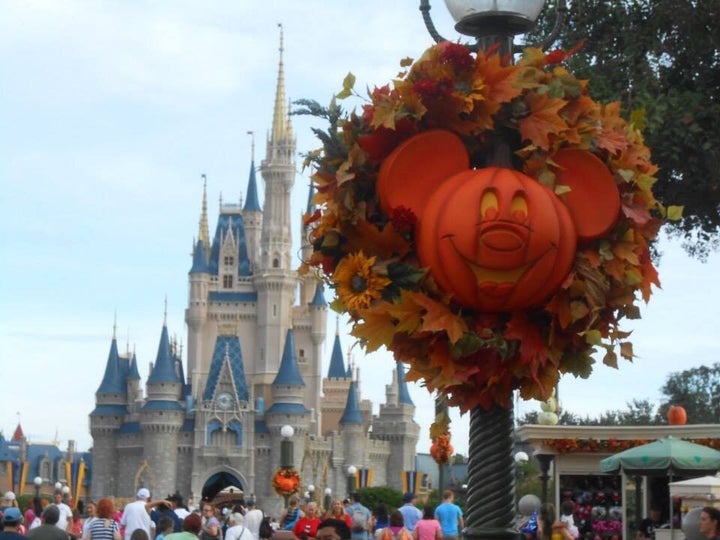 Magic Kingdom, Orlando; photo: Rachel Crow
Getting around Disney World can be an ordeal if you don't drive. So it's a good job the fleet of courtesy buses can whip you from your resort hotel to Downtown Disney in next to no time.
Okay, you may be miffed if you're lucky enough to be staying at the Grand Floridian Resort and Spa and every return bus seems to be for Typhoon Lagoon, but that's the same with any queue. The other line always moves faster.
The Best Place to Stay in Orlando?
'My' hotel is easily the best on Disney property in terms of elegance. The Grand Floridian Resort and Spa is the Ritz of Mouseland, with superb rooms, exceptionally comfy beds, a lobby that has to be seen to be believed (complete with nightly band and daily pianist), as well as affordable groceries and everyday essentials.
Added extras include nightly films on the beach, and glorious pools for all ages.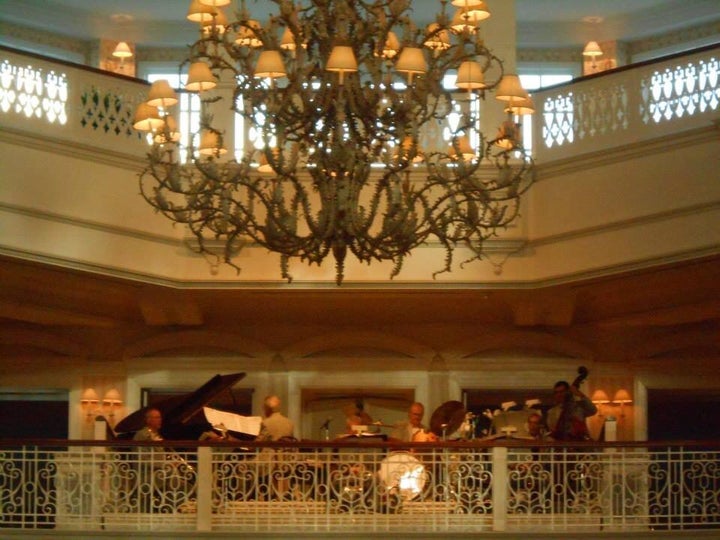 Grand Floridian's band; photo: Rachel Crow
Okay, it's one of the priciest residences on Disney property, but if you're tying the knot, celebrating an anniversary, or just fancy pushing the boat out and staying in one of the world's most opulent hotels, then this is the place to go.
I was stunned by the quality of service at the 'Grand Flo'.
Not just the hotel itself, but the extra mile the staff went to ensure my holiday was as good as possible.
Example: when it turned out my pre-booked coach would arrive too late to get me to Sanford Airport in time, the management offered superb advice and assistance without too much nail-biting drama.
Even if the cost takes your breath away, it's worth having a look round during a Monorail trip from neighbouring residences such as Contemporary or Polynesian Resorts.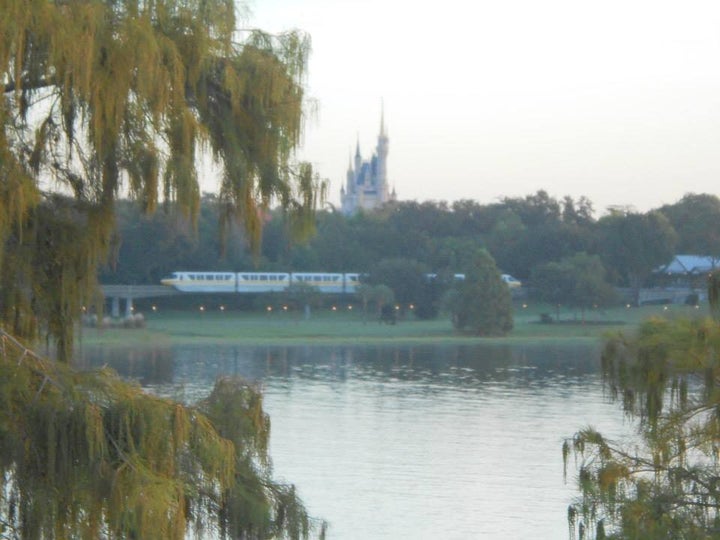 Disney Monorail; photo: Rachel Crow
Magic Kingdom is still the jewel in the crown of Disney's Floridian theme park empire.
It's not my favourite, probably because I'm not a five-year-old kid or their doting parent, but there's enough other stuff to entertain, from gravity-bothering Splash Mountain, to the Monsters Inc interactive stand-up show.
Nightly fireworks displays are always a treat, though there are times when it's so loud it sounds like an attack on the Death Star. Hey, I'm of that age.
Pirates of the Caribbean might be one of Disney's oldest attractions, but despite the addition of Johnny Depp' s rogue buccaneer Jack Sparrow over the past decade, it feels in need of a spruce-up, even if it's just that mangy old dog holding the keys.
However, it's still a superb way to spend a few minutes, and for me a lot more entertaining than the later Pirates movies.
Animal Kingdom shows little sign of losing its appeal. Crowd pleasers such as Expedition Everest continue to have a magnetic pull for punters, though having done the roller coaster a few times, I opted for Finding Nemo: The Musical instead.
For the most part it's good fun, with some catchy numbers and likeable characters, though there is a disconnect between the sub-aquatic protagonists and the puppeteers/singers.
Not that the auditorium full of kids, families and pensioners seemed to mind, though the very young were wailing at the loud noises and scenes of mild fish-based peril.
Animal Kingdom's jungle trek safari is great fun, though a sub-plot involved a disembodied radio voice seeking help was omitted from our version.
After several trips over the years, it still proves compelling entertainment, not least because of the exotic wildlife. (No, not the pasty faced ones who had been flash-burned because they overdid it on day one).
One of my favourite elements of Disney is Epcot. Whether wandering around its World Showcase, or riding on the ever popular hang glider simulator Soarin', this is the theme park for more mature fans.
Yes, the kids will love it, but for those who prefer to take things a little easier, this is a must-see destination.
And if you come in the autumn/fall, the Food and Wine Festival is a must.
Pottering around the World Showcase snacking on nibbles from assorted countries, or sampling their tipples, you'll have a great time.
(I went three nights running and it felt like a different experience each time).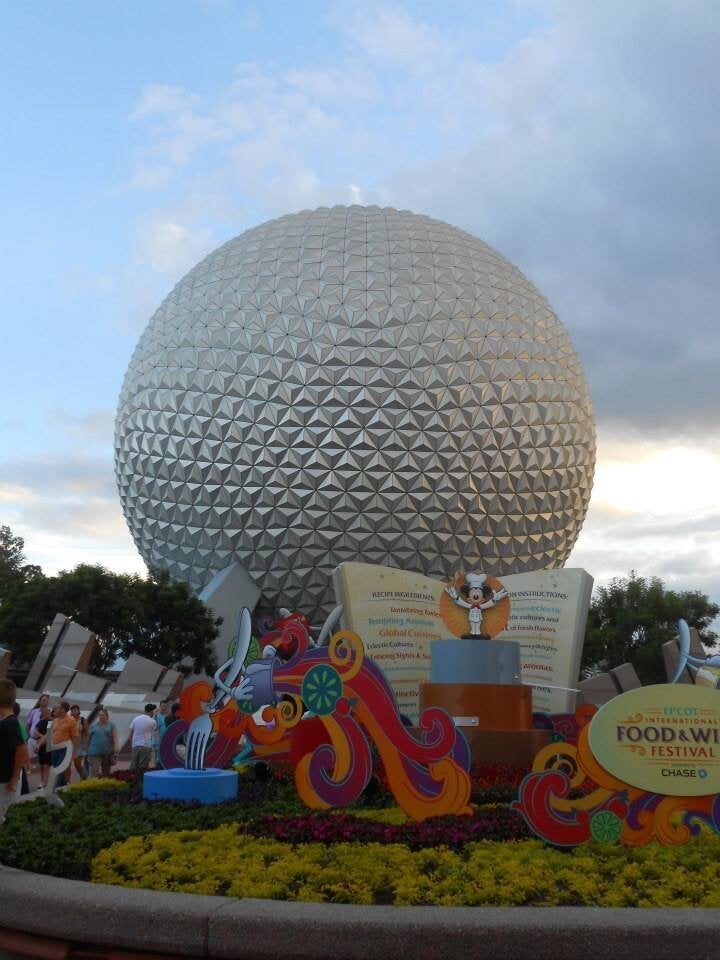 Epcot; photo: Rachel Crow
The fact some great bands play the Eat to the Beat area gives it that extra something.
For half an hour with somea local friends, a frozen Margarita and the stunningly good Air Supply, I was in heaven.
Another favourite park is Hollywood Studios. Bursting with great attractions such as Toymania (one of the greatest in Orlando); the drop ride Twilight Zone Tower of Terror (best done after dark); the unmissable Indiana Jones stunt show, and the ever likeable American Idol Experience.
I went to the launch of the latter a few years ago and it never ceases to entertain.
As for food, the 1950s-style Diner is a personal favourite, but as it had been a few years since my last trip, I was happy to give the Sci-Fi Diner another go.
A superb burger, fries and milk shake for £13 was a bargain, while the drive-in ambience and cheesy sci-fi movie trailers and ads were enormous fun.
I'd sampled assorted Floridian water parks over the years, but Typhoon Lagoon was a first, and it soon became a 'new' favourite.
Whether relaxing on loungers at the artificial beach, or catching my breath in the lazy river, it was a great way to spend a few hours.
I also enjoyed one of the best hot dogs of my life which didn't cost a packet.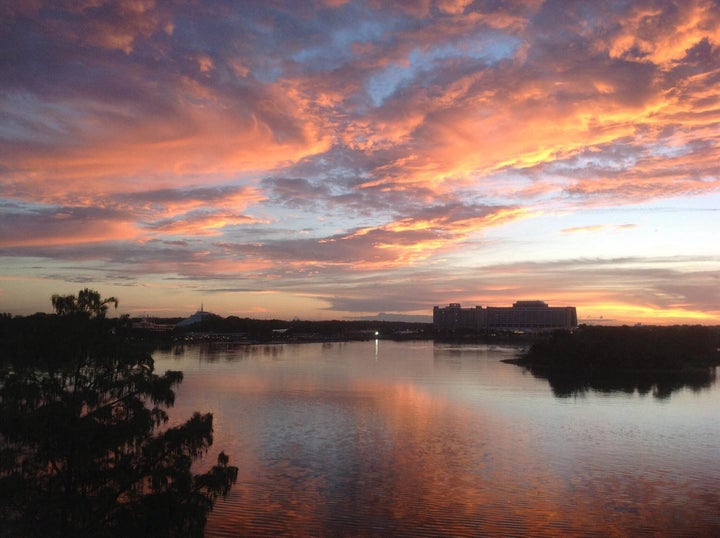 The view from the Grand Floridian; photo: Roger Crow
Every holiday's last night deserves a decent meal, and having tried the Grand Flo's superb Citricos a few years ago on a Press trip, I fancied something different.
So my wife and I went to the Contemporary Resort for a final blow out at the California Grill on the top floor.
Some newcomers might think Disney is synonymous with burger and fries. Yes, there are plenty of those available, but they also do a great job of catering for those with a more refined palate.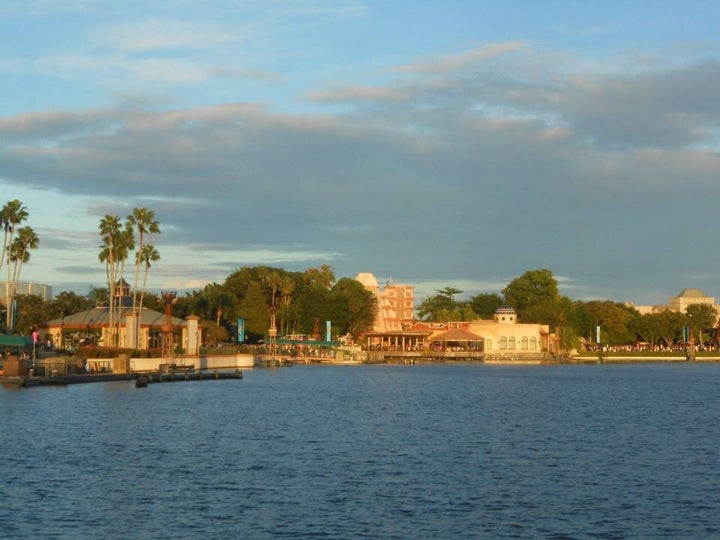 For California Grill you need to book early as seats sell out fast; little wonder as the view of Mickey's kingdom is stunning, especially post-9pm when the fireworks enthral diners of all ages.
Thanks to a strong exchange rate, we had a great meal for two for around $100 (£60).
My biggest problem during the final hours, aside from ensuring my 2.5kg case came in at 5kg for the return journey, was the thought of a long, hard winter counting the days until I could return.
Roger Crow was a guest of Disney's Grand Floridian Resort and Spa
Seven nights in Orlando from £1,871pp INCLUDES Disney Dining plan*
Seven nights in Orlando with Travel City Direct, including scheduled flights with Virgin Atlantic from London Gatwick direct to Orlando, accommodation at Grand Floridian Resort & Spa with Disney Dining plan and car hire included.
Prices are per person based on two adults travelling and sharing a Garden View Room, and include all applicable taxes and fuel surcharges which are subject to change. Prices are based on a departure on 09 January 2014.
Terms and conditions apply; prices are based on mid-week departure and are subject to change. To book: Travel City Direct or call 0844 557 6965
*In order to receive Free Disney Dine offer, adults must purchase 14 for 7 tickets. These are £285 each.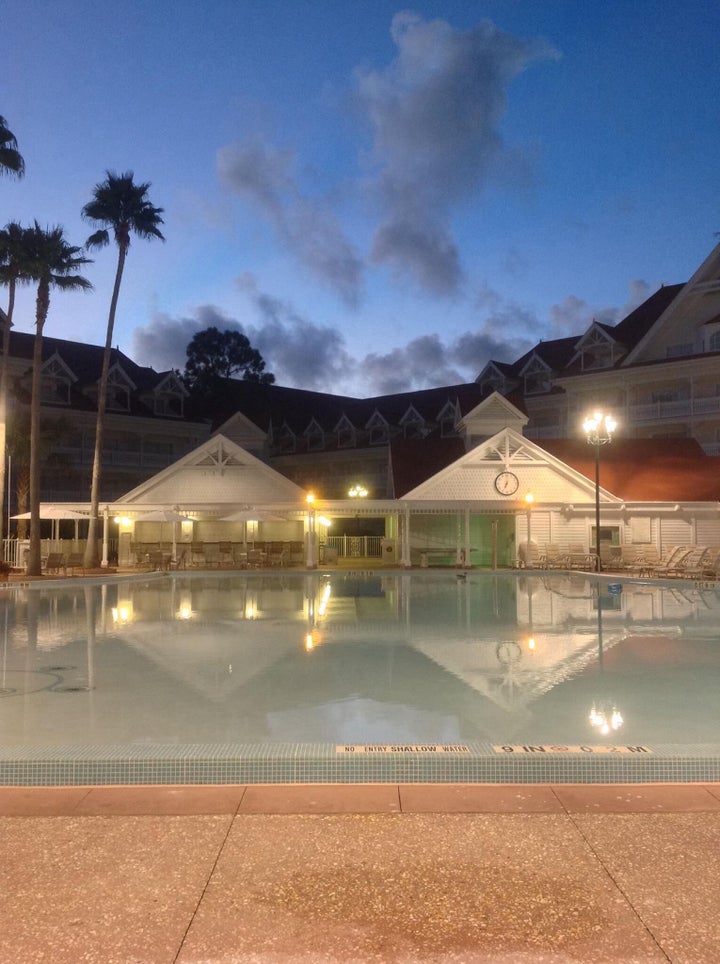 Grand Floridian pool; photo: Roger Crow