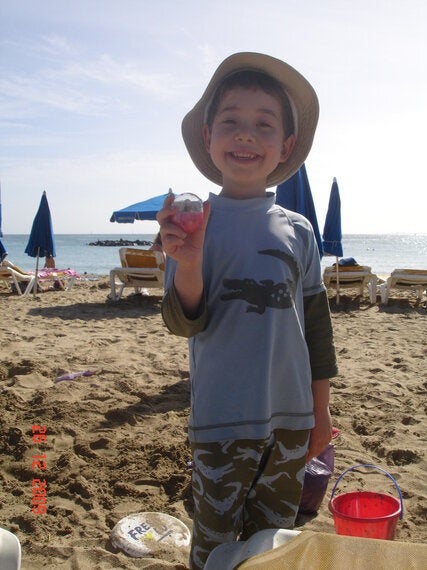 So, the Prime Minister has chosen Lanzarote for his holiday break - how very wise of him. Despite its "lanzagrotty" associations, this Canary Island is perfect for families and has loads to do. We have spent many excellent family breaks in Playa Blanca, on the south of the island, exactly the place the Camerons are said to be staying. For once we can give the PM our full support for a decision well made.
Lanzarote's negative connotations come from the more famous parts of the island, particularly Puerto del Carmen. This is the main tourist place but the Camerons are right to skip it, unless they want to look at tourist shop after tourist junk shop all selling the same tat! At night, this can be a particularly unwelcoming place, especially for those with young families (toddlers - and their parents - may not find the drunks too appealing).
Playa Blanca, however, is gorgeous, with beautiful beaches and views across the Atlantic to Isla de Lobos and Fuerteventura (which they could visit by ferry). The Papagayo beaches just to the east of the resort are lovely for swimming in (or snorkelling).
Lanzarote is not like the other Canary Islands or the Spanish costas. It was saved by a local artist/architect called Cesar Manrique who forbade the construction of any high rise building. His influence is everywhere and there is in fact only one building higher than three storeys on the Island: that was built in Arrecife when Manrique was in the USA for a couple of years.
It's a lovely island to look at and also a great place to relax, but few parents of young children get to do this on holiday, so I'm guessing the Camerons will soon be out and about. Mind you, if they have chosen to stay at the 5 star Princess Yaiza (not something we have ever managed, but we know some people who have...), then the kids can be entertained while they get some time to themselves (security permitting).
You can book tours but I suspect that the Camerons (and entourage) would prefer to do their own thing and go at their own pace. Car hire is reasonably cheap and petrol crazily so compared with UK. You can always negotiate too, and remember to ask for a free map - it's absurd to pay five or six Euros to buy one in a shop (even if you're on a whopping salary).
Driving in Lanzarote is easy. We can only dream about having road surfaces in UK like they have. Most are beautifully smooth. The drivers are generally fine but, of course, there is the occasional madman who not only tailgates but also thinks that 100 kph really means 100 mph.
Holidaymakers in Playa Blanca are spoilt by the good weather, beaches and delightful promenade right beside the sea (there is excellent access for disabled holidaymakers or those with buggies by the way). Our kids have always loved walking alongside the water, and taking the opportunity to pop into the many and varied shops on the way - as well as purchasing an ice cream or two.
A 25 minute walk to the left will bring you to the Rubicon Marina where there are some upmarket shops and stalls. A 20 minute stroll to the right will take you past the Harbour but not much more unless you want to swim in the sea. There are also dozens of good restaurants, although it's worth a trip to nearby El Golfo (a lovely drive past the lava fields) or Playa Quemada (where you can eat on the beach) one or two days as well.
With a car you can tour the north one day and the south on another, but no one should try to do the whole Island in one go.
Going south, one absolute MUST, especially with kids, is the Timanfya National Park and the Fire Mountains. If you are travelling with kids, they may want a camel ride, but whether you stop for this or not, you should definitely get the free coach tour around the moonscape. This is absolutely fantastic, as the landscape is incredible and you won't have seen anything like it.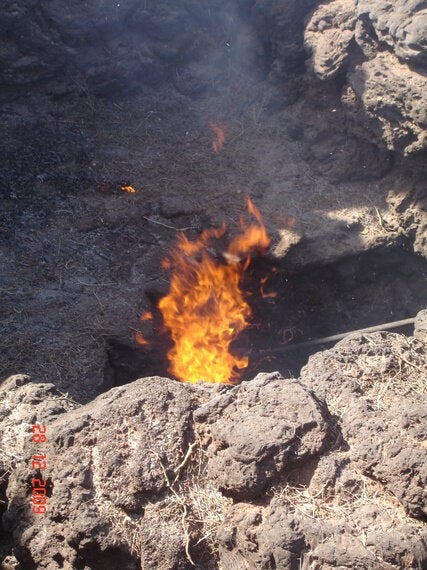 Don't forget to watch the guys doing their party tricks showing the heat which still lurks from the underground volcanic heat. There is also a restaurant which uses the heat to cook.
If the Camerons go north, the other "must do" is the Cactus Garden at Guatiza. It may not sound too exciting, but the place (a Manrique creation of course) is amazing, and our kids enjoyed it as much as us. I do realise that walking round a whole load of cactuses doesn't sound exciting, but trust me, they are fabulous.
Just a short while north of the Cactus Gardens are the atmospheric underground caves at Cueva de los Verdes. We really enjoyed this labyrinth of caves where locals used to hide when the Island was invaded by pirates. They are definitely worth visiting (and are also good for cooling down on a hot day).
Other suggestions would be the seaside village/town of Arrieta where you can enjoy a fish lunch at one of the many restaurants overlooking the sea. On your way back from this, you can actually visit Cesar Manrique's House where you can not only enjoy his art collection and work, but also see how he designed and built his own house using the natural material of the lava that came from various eruptions of the many volcanoes. Mind you, young kids may not find this too enthralling (the volcanoes and beaches are better!).
Lanzarote is a great place for a family-friendly holiday, at any time of year and even at peak times (yes, those of us with children can only get to these places when it's not term-time). It has got more expensive in recent years due to the strength of the Euro against the pound, but it is still good value for a sunny break. And grotty it certainly is not.
Sarah Ebner is a journalist who writes a family travel blog, Family Travel Times, with her two children, aged 12 and 8.
Pictures supplied by Sarah Ebner.