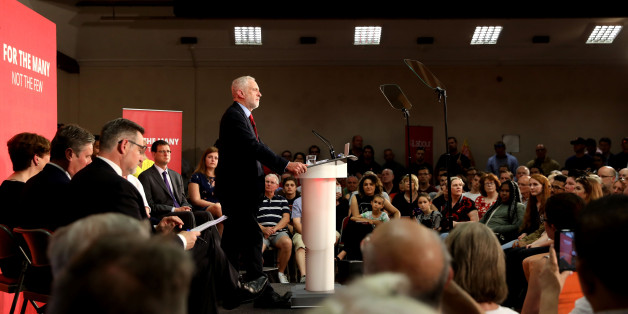 Dan Kitwood via Getty Images
On Thursday, Jeremy Corbyn delivered his speech on Labour's Brexit plan. He outlined his vision for a Britain outside the EU, led by a Labour Government, in Basildon - my hometown. Often referred to as a 'bell-weather' seat, which votes for whichever Party is likely to form a Government, Basildon and East Thurrock has been represented by the Tories since 2010. It is an area, made up of working people struggling under austerity, which would hugely benefit from the policies of a Labour Government.
In the referendum, 69% of Basildon residents voted to leave the European Union. It is an area that has not so much felt the positive impacts of EU membership, such as the diversity brought to big cities or university towns; nor the community investment funds which other areas have benefitted from. Rather, EU legislation which made it easier for businesses to export jobs has left communities like Basildon behind. Manufacturing, once the backbone of the local economy, has nearly diminished. Both my father and my grandfather worked at the tractor factory - once a stable and secure source of employment for 4,000 local workers. Now young people leaving school are more likely to be offered a zero hours contract on the minimum wage in the service - if they are offered a job at all.
Under another Tory Government, a Britain outside the EU would make that situation worse, not better. They have no serious plan to invest in manufacturing, or regulate exploitative employment practises. Labour however, is prioritising peoples' livelihoods in its plans for post-Brexit Britain. On Thursday Jeremy Corbyn outlined the choice on Brexit: "between a jobs-first Labour Brexit and a reckless Tory Brexit". Corbyn accused Theresa May of wanting to turn the country into "a low-wage offshore tax haven", driving down working conditions and delivering tax breaks to big corporations.
Labour's plan to invest in jobs to grow the economy, and raise the minimum wage to £10 per hour would benefit millions. What's more, the Party has outlined plans to invest in skills and apprenticeships, and establish a National Transformation Fund to invest £250billion in infrastructure.
A Labour Government would benefit other aspects of people's lives, too; in housing, transport and education. In Basildon, a commuter town just 30 minutes from London, many low and middle earners will be better off as a result of a publicly owned railway that will inevitably make travel cheaper.
Former council estates, like the one I grew up on, are now proliferated by private landlords. Thatcher's legacy of selling off stock has left the likes of my Mum on a waiting list for the last five years. Only Labour is offering a real solution to the housing crisis, with a plan to build one million more affordable homes; half of which will be council housing.
According to the School Cuts website, Basildon's schools are set to lose more than £3.5million under the Conservatives plans. Not only would Labour reverse this, but would go further still by offering all primary school children a free school meal and making adult education and tuition fees free - allowing people of all ages to retrain and upskill at no extra cost.
Thursday's speech by Jeremy Corbyn outlined a future of prosperity for Britain's working people. Labour's offer is a stark contrast to the seven years of suffering endured by falling living standards, failing industry and frugal public services. That is why people in Basildon, and other towns like it will likely be considered a change of Government.