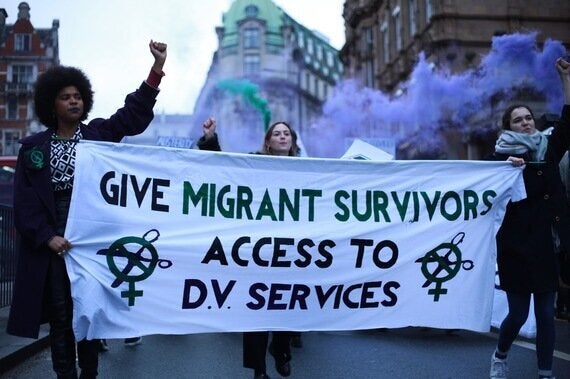 Credit: Guen Murroni (London, Waterloo Bridge)
Domestic violence services are bridges to safety for survivors forced to live in a world of isolation and fear. These services provide a lifeline for non-binary people and women who would otherwise be trapped in violent relationships, or left to swim alone in dangerous waters to try to reach safety.
Yesterday, non-binary people and women in London, Bristol, Newcastle and Glasgow blocked bridges to symbolise exactly what the government is doing to survivors of domestic violence.
Our domestic violence services are in crisis. Huge cuts to the funding that central government gives to local authorities has resulted in councils trying to save money wherever they can: life saving support services have been put on the line to save money. Many specialist services have closed. Phones are not being answered, waiting lists are long and survivors at the point of leaving - when we know they are at the highest risk of being murdered - are being turned away from refuges because there is simply no space for them. Women's Aid statistics show that 2 in 3 women who approach refuges for help are now being turned away. For Black and Minority Ethnic (BME) women, that figure rises to 4 in 5.
Black, brown and migrant women face a higher risk of domestic homicide. Hostile immigration control measures directly contribute to this by blocking all bridges to safety for migrant survivors fleeing violence. One example is the Immigration Bill 2014, which forces private landlords to run immigration checks on tenants, leaving undocumented migrants unable to access safe housing. Refuge spaces are funded through housing benefit, so migrant non-binary people and women with 'no recourse to public funds' - a common restriction placed on migrants - have no access to refuges. They also have no access to much of the other vital state support that can provide a bridge to safety, like social housing, benefits and healthcare.
Specialist services that support BME survivors have been hardest hit by cuts and closures. This is despite evidence that survivors need specialist services that understand their lived experience of abuse: a 2015 report by Imkaan showed that 9 in 10 BME survivors prefer to receive support from a specialist BME organisation. With little money to go around, councils are increasingly favouring a "one size fits all" approach - but whilst this might save money, it doesn't meet survivors' needs. When 4 out of 5 BME survivors who seek support from a refuge are being turned away, it's clear that cuts, closures and hostile immigration measures are blocking black, brown and migrant survivors' bridges to safety.
Theresa May recently announced £20 million in funding for domestic violence refuges - but in the current climate, this is nothing more than a sticking plaster over a haemorrhage. Support services have been destroyed by austerity, and this comparatively tiny pot of money is too small to make a difference. This is the latest in a series of chaotic, short term funding announcements (this one covering just 2017-18), when what we need is a long term plan for how the government is going to support survivors. A stark example of the chaotic nature of this kind of funding is Northamptonshire, where all of the life saving refuges are currently facing closure, despite being saved at the last moment last year by temporary government funding. How can services be expected to save lives when they are forced to constantly fight for their own survival?
Sisters Uncut are saying enough is enough. We demand a secure, long term plan to support all domestic violence survivors, regardless of immigration status, with specialist services for black and brown, disabled and LGBT+ survivors.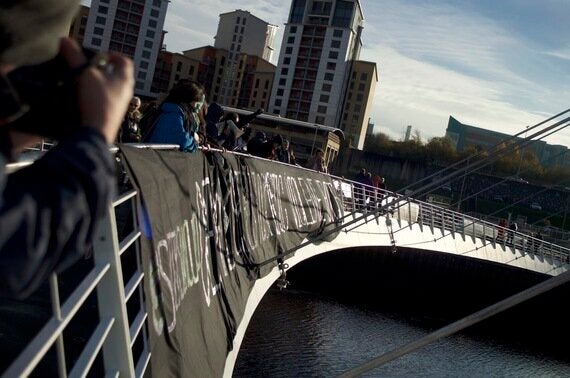 Credit: Newcastle Sisters Uncut (Millennium Bridge, Newcastle)
Popular in the Community