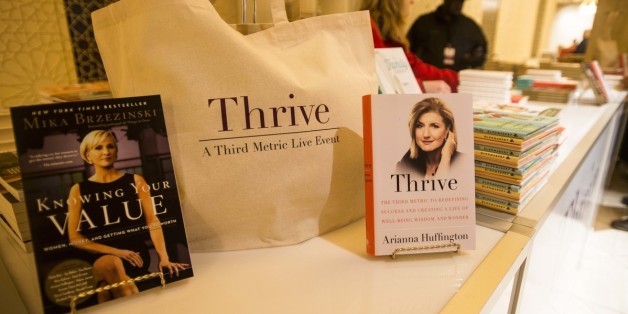 Huffington Post
It had recipe for disaster imprinted all over it. A muggy afternoon in London, my elderly mother and youngest child in tow, shopping for an upgrade to lace-up shoes and a rather cute burnt-orange rain jacket. Hanging over one arm was a plastic bag full of new children's clothes, in my other hand car keys and a blackberry repeatedly bleeping red-alert with emails screaming for attention.
"Turn around, sweetheart," I asked my hot-and-bothered seven-year-old, as he stared at himself glumly in the mirror, "I need to see how the jacket fits at the back."
I glanced at my mother who looked distinctly short-changed at how promised 'quality time' with her distracted daughter and grumpy grand-son had morphed into an increasingly tedious shopping trip. "What do you think, is it too big?" I asked tentatively, the realisation kicking in that nobody was having a good time.
"No, it's fine," she responded wryly, "but I'm wondering... where is your handbag?"
What happened next is what Arianna Huffington would describe as my 'fight or flight moment'. I felt my blood pressure shoot from pretty-bored to Himalayan-heights: every ounce of blood in my body raced to my head and then drained into my sandals. As I looked at the empty space under my shoulder where my bag should have been, what I remember most is how dry my throat suddenly became. I've worked in war zones, and on some extremely stressful investigations. I've been inside prisons and interviewed people in extreme circumstances. I've worked undercover, had death threats and operated around the clock with very little sleep. I've gone on stage in front of thousands, on air in front of millions and kept my head while things go awry as they often do in live broadcasting. Yet in that moment I lost all sense of the sane.
I frantically searched the floor around me, I retraced my steps at tornado speed around the store; my son and mother staring at me aghast. I ran out of the store in a manner my son would later describe as "mama forgot herself behind". I was determined to catch the pick-pocket who had taken my bag, legged it out of the store and was about to speed away in a waiting car. Outside remained only calm and muggy. I raced back in and alerted the shop manager, security guard and anyone who would listen. All the while I was calculating my losses - an iPad full of three years worth of work, a reporter's notebook crammed with ideas, a precious wallet with cards, cash and important ID, beloved sunglasses bought from New Zealand and a half-read copy of Huffington's Thrive. I took my flushed face and palpitating body back to my mother and child who was asking if he could "please take the 'yucky' orange jacket off". My mother held an expression of half-bemusement, half-disgust as she uttered quietly; "Could you have left it in your car?"
I am too ashamed to spell out how this sorry tale came to its conclusion. My son summarised it well when telling his father later that "Mama ran out of the shop looking for an imaginary thief, who had taken her imaginary bag and driven away in his imaginary car."
It took a full hour after the retrieval of said-bag-from-car before my body resumed close to normal temperature. A week on, I recount this story to shed light on how one working-mother can multi-task her way to hell.
Arianna Huffington may call it a mini rude-awakening. She had her own, cracked a cheekbone after exhaustion and launched her Third Metric revolution. Her fourteenth book Thrive explores what happens when we do too much, put ourselves last, and everything and everyone else first. She rips apart our culture of sleep deprivation, digital connectivity, the fall-out from stress and corporate burnout amongst the several other dysfunctional ways that we live and work. Needless to say it struck a chord with me; in the UK it is long overdue and captures a zeitgeist.
I'll be interviewing her tonight at The School of Life, a cultural enterprise with wellbeing at its heart where I hold my own classes in matters related to emotional intelligence. As part of my long rehabilitation into normality, while still working as a TV reporter and writer, I've recently become a life coach and am training to be a psychotherapist.
Living a better quality of life after wake-up call has followed wake-up call requires real commitment. I fear there may be a few more before I truly awaken.
Tazeen's next class at The School of Life is on 12 June