My first time in NY I had a terrible row. A director of Mallett at that time - it was 1996 - on arrival I was daunted by my first experience of serious jet lag. It was stupid o'clock in the morning, as far as I was concerned, when I sat down to dinner with my then boss Lanto Synge. He had spent the day working on the Mallett stand at the International show at the Armory at 67th and Park Avenue. He was tired and I was exhausted. We then proceeded to have a shouting match about the legacy of an American clothes designer called Bill Blass. He had been an enthusiastic client and we were debating whether his eclectic taste should be a guide for us in business, or whether we should invest in classics. We did not talk to each for a couple of days afterwards and Giles, now CEO of Mallett, had to intervene to make peace. It was all very absurd, but it makes a point. Foreign cities are always a mixture of the times you have spent there and the current moment; the former colours, but does not define, the present. I am back in NY for the Masterpiece exhibitor advice days. We fly over every year for a few days to support our US dealers with their plans for their stands at the fair and to hold an event for the US decorators who form a supporting committee.
The morning flight from Heathrow into JFK is my favourite. Everyone you talk to has their own patent plan, and will cheerfully drone on about how great it is to arrive at 4pm or 11pm at night. Every regular traveller likes to adhere to their own preferred methodology; my theory is that daylight is good. The more daylight you get the less jet lag you suffer. I don't know if my theory has any scientific legitimacy but there it is. Checking in to the hotel around lunchtime, I head out to the very local brasserie called 900 in West Broadway. Two things happen there, almost at once. First, a large woman and a small grey-haired man carrying a guitar enter and set up. She calls for cachaca and starts singing, drinking and berating the eaters for not drinking enough cachaca. She sings in the manner of Astrud Gilberto and it is quite, but only quite, entertaining. In the meantime, I have been served the nastiest most rubbery mozzarella I have ever eaten. The second thing that happens is that it starts to rain. This it does in an almost biblical fashion. Torrents cascade from the sky, more like a bucket being emptied than rain. Though the music is weak and the food weaker, I decide to order a glass of dark rose and settle in rather than face the elements. As I mused over my indifferent entertainment, I reflected that NY is full of friends and memories and delights still to be encountered.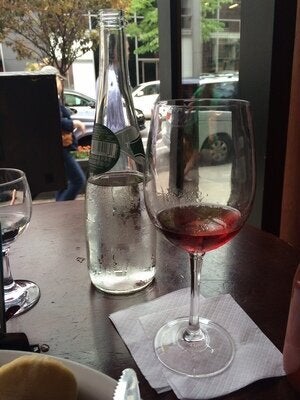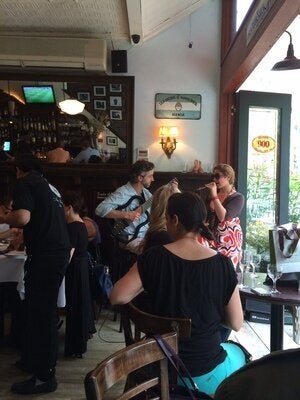 The rain stopped and my glass emptied and I ventured out into the city. My mission for the rest of the day was to fix my sunglasses. I had sat on them on the plane and the frame was totally bent out of shape. I found a little corner shop and a friendly chap came up and immediately offered to help. He turned them over and contemplated them from a number of angles and then whisked them off behind a curtain for deeper reflection. He returned very shortly saying that the lenses were now broken as well, having survived the earlier squash. With no sense of irony he offered to replace the lenses, and fix the glasses, but said that I would have to return in a couple of days. I mused for an instant, debating internally whether these ancient but beloved Persol glasses should be consigned to history or restored. I plumped for conservation so an expensive process was agreed to. I do not understand even now how somehow I was beguiled into paying for the lens incident in the back room, but there you go!
Sunday brought a trip to the Frieze art fair via the ferry. It is held on Randall's Island and, with blue skies and warm spring weather, the boat trip along the east river was wonderful. The fair consists of long serpentine aisles of contemporary art. By Sunday, the fair was nearly over and the gallery principals had all gone leaving their juniors to deal with the occasional client and the plethora of non-buying enthusiasts. It is remarkable how much trouble and distance the aficionados of contemporary art will go to to observe the latest creations of the modern masters and their apprentices. Frieze is only one part of this week. There is another fair called Pulse and a design fair called Collective. Most of the galleries in Chelsea and beyond hold shows or host parties and events. But towering above and over all are the monster sales at Christie's and Sotheby's. I began at Sotheby's and they indeed had an impressive offering ranged around their 10th floor - but in terms of both famous names and volume of works the array at Christie's was astonishing. There seemed to be major works by everyone one had ever heard of, and many one had not. This created for them an eye-watering sale total for the week of $975 million, and the post-war and contemporary sale made a world-record for a single sale $745m. By contrast, Sotheby's achieved totals for the week around $450 million. Mind you, $450m is still a remarkable total, and only the Christie's result makes one question it.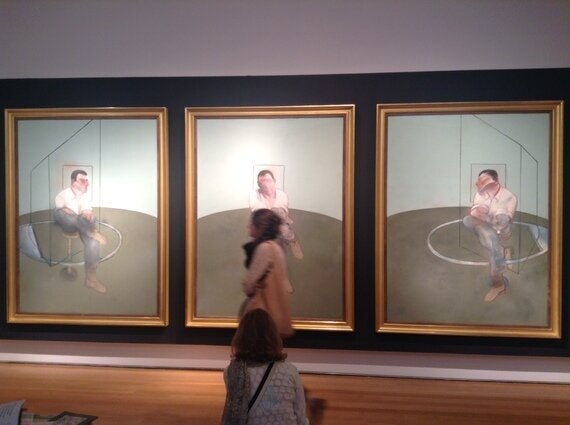 The decorator Jamie Drake, who has previously had a stand at Masterpiece, hosted the supporters' drinks party at his uber-cool apartment in Chelsea. The dealers and the press gathered and speeches were duly made. The surprising thing was seeing Jamie smoke. Somehow one is so psychologically conditioned by the rule of "no smoking" in the USA, that seeing anyone actually doing it inside is somehow shocking. Silly, really as it was, after all, in his own home. We were his guests. It was not a question of disapproving, it was simply surprising. The apartment is an essay in comfortable contemporary design and the way he had articulated the space around a cunning storage block in the centre was inspiring. The support that Masterpiece gets from its American friends in the design and dealing trades is remarkable and we felt elated as we left. Around the corner a few of us dined at 'The Red Cat', where we had cocktails and shared some of the fun from the previous couple of hours.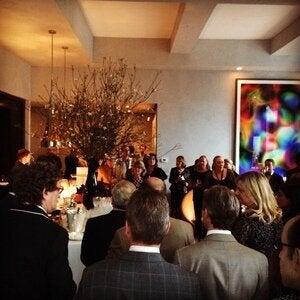 The Mallett showrooms looked particularly inviting as we arrived for our consultations. Over 10% of Masterpiece exhibitors come from the USA and it is very important to offer them all the support we offer our European dealers. The days pass as we discuss carpets and wall finishes, PR and the website. Having these meetings allows one to share in the dealers' excitement about what they are bringing and how they will show it. Henry, my ex-colleague from Mallett sweetly takes me out to lunch at the Charlot. It is a small bistro a few blocks down from Mallett and it is nearly 3pm before we sit down as he has been dealing with clients in the shop since midday. He is excited, positive and optimistic about the future. That is the way we dealers are. A sniff of business and all our woes are forgotten; sadly if you go a week without success, all becomes doom and gloom. But I get Henry on an up day and as we sip away at our blush rose and consume our sea bass with clams and mussels, the joys of a warm spring day in Manhattan washed over us and warmed our spirits.