"ModiMania" had undoubtedly reached British shores last week as India's Prime Minister Narendra Modi started his historic first visit. London's famous landmarks were draped in India's colours, along with a Red Arrows salute and an unprecedented 60,000 people packed in for a Wembley Stadium address on Friday evening.
I had the honour of helping manage the press box at Wembley where the world's newspapers had shuffled in from the morning to grab the best spot for Modi's speech. As the evening darkness closed in, the predominantly British Indian crowd roared with excitement when Prime Minister Cameron finally ascended the stage alongside Modi. A noticeably eery silence, however, fell upon the press unit. Journalists paused and looked up from their notebook scribbling and laptop clacking. They knew they were about to see something special.
Although the Indian Prime Minister's speech delivered the usual flair and dramatic oratory expected, it was David Cameron's opener that most resonated with me. He spoke of the long, great Indo-British narrative, and how this Indian diaspora have contributed so much to British society. He spoke of how our Britain recently elected the most number of Indian-origin MPs in history, and how he believed it won't be long before a British-Indian moves into Downing Street.
But, could this really ever be a possibility?
Our Prime Minister recognised the affinity people here have to the development of their motherland, but ultimately those votes will fall into ballot boxes here. Their futures are here. And with no election on the horizon, and no specific policy agenda to push, we heard a genuine David Cameron speaking of his own aspirations for this expatriate community.
The assimilation of Indian culture in the UK started long before chicken tikka masala was brought to kitchen tables and an obsession with cricket was drawn out on park pitches. On Armistice Day, last week, we paid tribute to those who fought with Britain, including the 2.3 million Indian volunteers. Indeed 89,000 Hindus, Sikhs and Muslims lost their lives fighting for Britain to remain independent, before India herself was independent. The foundation to build deep ties to British society was therefore laid almost a century ago.
Only two decades later, the British government relaxed entry rights for displaced Indians under the 1962 Commonwealth Immigrants Act, positioning them to become the UK's largest minority group 50 years later, at 2.5% of the population. My own mother and father came on a boat as children from India and Kenya respectively, only to meet in London many years later.
These first movers went to work in factories, schools, newspaper shops and post offices. They paved the way for the second generation to aspire to become the doctors, entrepreneurs and civic leaders that are now the cornerstone of our society.
Not dissimilar to that of Modi who started life selling tea in railway stations - a chaiwalla, his story ties very much into that of the British Indian narrative where many touched down in Britain penniless. They imported dreams and aspirations for a better life, one in which community building and the pursuit of affluence were natural values to have. Natural British values to have.
Temples and mosques have long been the de facto town halls of the 'Big Society' and British Asian businesses contribute 6% to the UK GDP, while making up only 4% of the population. It is little wonder that David Cameron said
"it's people like the British Indians that put the great into Great Britain."
However, entering the public consciousness has not been ubiquitous. Asians and especially Indians are less represented in global and British media than any other major group and there is an overall lack of presence in sports. Whether this should have an affect, politically, remains to be seen.
What we do know is that the BME (black and ethnic minority) community have been becoming increasingly mobilised and attuned to issues affecting the civic endeavour. Projects such as Operation Black Vote and the Runnymede Trust have been pivotal catalysts in fostering greater community engagement. The passionate and wide-ranging views on caste discrimination from the Indian community in 2013, is one such example.
The British Indian vote turnout has been steadily rising each election to over 75%. But crucially, it is not skewed to one wing of the political spectrum like the minority community in America. Where in the 2012 US Presidential elections, 73% of asian minorities voted for the Democrats, in Britain, the 2015 vote was split between Conservatives and Labour by 38% and 50%, respectively.
In addition, both political parties now regularly select ethnic candidates in winnable seats, breaking the pattern of a near-one-party monopoly between 1987 and 2005. Voters in seats with a predominantly white electorate also now welcome ethnic candidates representing them in Parliament as proven by 10 new ethnic MPs being elected so in 2015.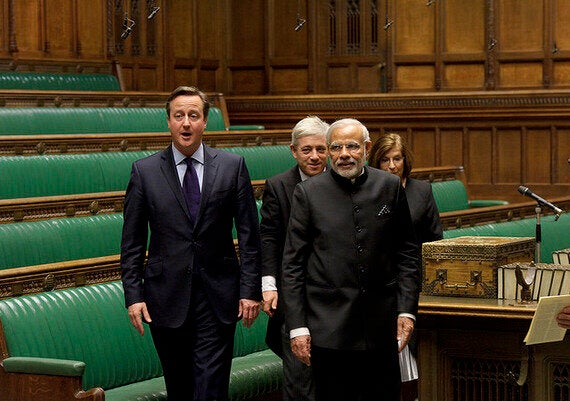 PM Modi having a tour of the Houses of Parliament last week. Credit: UK Parliament
In the years to come, the visit by Modi and stated aspirations of Cameron may prove to be the impetus which drove greater Indian representation at the higher echelons of British society. The former's visit brought out the collective force of the community with over 450 diverse partner organisations coming together in unity for the Wembley address. It is telling that the largest speech of Prime Minister Cameron's career in the UK was to a British Indian audience.
I would add to Cameron's comments by saying that there are many things that make Great Britain great. We've already seen a woman Prime Minister, a first for many western nations, and even a Jewish Prime Minister in Benjamin Disraeli. British Indians have never felt more established than at this moment, and it is a great celebration of our vibrant democracy that should one aspire to the highest office in the land, the broader society would be in full support. What was an impossible pipe-dream to the displaced migrants in the 1960s, could perhaps be a near-distant reality.