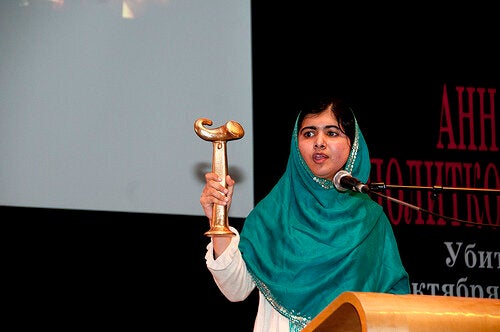 The RAW Anna Politkovskaya Award is given annually to a woman human rights defender from a conflict zone in the world who, like the award's namesake, stands up for the victims, often at great personal risk. In a ceremony at London's Southbank Centre, the award for 2013 was given to the young champion of education rights, Malala Yousafzai.
On October 7 2006 Anna Politkovskaya, Russia's most famous journalist and outspoken critic of the Putin regime, was assassinated outside her apartment in Moscow. The award named after her is given out annually on the anniversary of her murder.
Anna wrote relentlessly from the war in Chechnya, exposing the brutal treatment of civilians there by both the Russian forces and Moscow-supported Chechen officials. These reports won Anna no friends in the Kremlin and meant she worked in almost constant fear for her life.
Anna survived several attempts on her life including abduction, a mock execution by the Russian Army and an attempt to poison her but such was the power of Anna's writing that the attempts continued until Anna was killed.
Such was Anna's profile that when she was murdered, both the then-President George W. Bush and Prime Minister Tony Blair issued public statements condemning the killing and urged the Russian authorities to find her killers. Justice for Anna though remains elusive. A second trial is currently underway in Russia on gunmen accused of being involved in Anna's murder but the perpetrators for the crime have never been identified.
To honour Anna and other women like her in the world, RAW in War (Reach All Women in WAR) created the Anna Politkovskaya Award. RAW is an international human rights NGO supporting women human rights defenders, and female victims of war and conflict around the world.
Sadly the rota call of previous Anna Politkovskaya award winners does not make for happy reading. The first winner of the award was Natalia Estemirova, a close friend and colleague of Anna's who worked in Chechnya collecting testimonies from civilians tortured by the Russian forces. In July 2009 Natalia was kidnapped and murdered.
Last year's winner was the American journalist Marie Colvin, probably the most noted war correspondent of her generation. She was the victim of a targeted killing for reporting from Homs in Syria on the atrocities against civilians, defying the ban on foreign journalists imposed by the Syrian government.
It's not much better for the extraordinary women who won the award in the years in-between. Malali Joya, the winner of the award in 2008, has been pursuing the warlords in Afghanistan, demanding they face justice for the crimes they committed against civilians, in particular women. She has survived several assassination attempts.
In 2010 the award was given to Halima Bashir, a doctor in Darfur/Sudan. During the conflict in Darfur, Halima treated the victims of gang rape, including children, committed by the Janjaweed militia. She gave detailed witness statements to UN representatives of the perpetrators. As a result, she was abducted by Sudanese soldiers, held hostage and gang-raped for three days. In spite of this horrific experience, Halima still testified against the Sudanese President Omar Al-Bashir before the International Criminal Court.
Malala Yousafzai walks bravely in their footsteps. Last year Malala was shot by the Taliban in an attempted assassination following a blog she wrote for the BBC website (under a pseudonym) on her life under Taliban rule and the need for education for girls.
That she, like all the previous recipients of this award, has shown extraordinary courage is beyond doubt and she spoke eloquently about the special dangers facing women in conflict zones in her acceptance speech.
"Women are more courageous than soldiers. It is more dangerous to be a woman than a soldier, in conflict. This war is being waged against women who are our mothers, our sisters and our daughters. This needs to cease and it needs to cease now.... I believe in the powerful woman. Our strength should not be judged by our bodies."
A recurring theme in Malala's extraordinarily mature speech was the need for collective action. "Individual voices are powerless but collectively we have the power to struggle, to raise our voices and prevail."
Displaying oratory skills way beyond her years, Malala moved most of the audience to tears as she spoke passionately of her convictions. "Nothing is more important to me than the right of every child to be educated."
And like all the previous recipients of the award, Malala espoused the need for peaceful solutions. "We must fight not with guns and bombs but with pens and books. The power of pens and books will always defeat guns and bombs. Knowledge always defeats ignorance."
That Malala speaks with wisdom and a spirit beyond her years has been noted many times before. But as this 16 year-old girl concluded her speech with "There is a long journey [ahead] for me" one could only hope and pray that it is also a safe one.
Related