A day after the Paris terrorist attacks which resulted in at least 129 deaths and left hundreds injured, Britain First held a national conference in Sheffield where they passed a policy to ban the "religion of Islam within the United Kingdom" and all its associated practices.
On Saturday, in a private room in the Sitwell Arms Hotel, two miles off the M1 motorway and eight miles from Chesterfield, 50-odd "patriots" - most party members, a few first-timers - met to hear party leader Paul Golding and deputy leader Jayda Fransen's vision for Britain's future.
As well as banning Islam (and a host of other policies), the party wanted to make it an act of "treason" to implement any policy that led to significant "numbers of foreigners entering the country"; withdraw from the United Nations; ban the media from using the word "racism", and abolish the BBC.
With an earlier venue booking cancelled by the Chesterfield Borough Council due to "the risk of public disorder", no chances were taken to ensure the new one wasn't compromised. Attendees passed through two security controlled re-direction points before being given the conference address.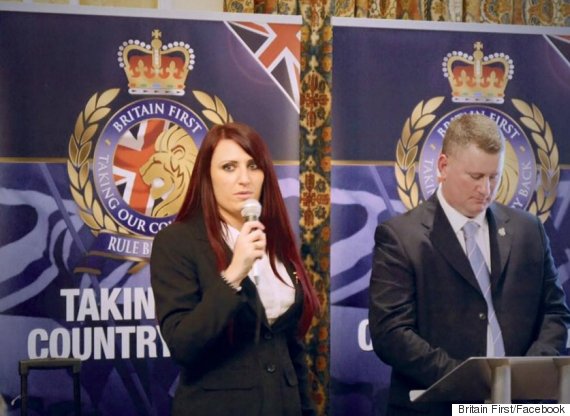 Britain First deputy leader Jayda Fransen and leader Paul Golding at the party's annual conference
Supporters were told to meet at the Days Inn Hotel, Welcome Break, some 12 miles outside of Sheffield, before being re-directed to a car park off Main Road, Reinshaw - some 3.6 miles away - and told to "look out for the British flags". There they were told to proceed some five minutes down the road to an 18th-century former coaching Inn where they lined-up to be photographed, frisked and searched, "for your safety as well as ours".
At 12.30pm, an hour after members first met at Welcome Break, Golding took the microphone at a lectern between two plastic chandeliers and a disco ball and announced that the bar was open, and in the back-corner of the room, with blue and rust-coloured paisley carpet and matching drapes, Britain First merchandise was available to purchase.
Some thirty minutes later, Fransen - boardroom-ready in a navy blue suit jacket and skirt - opened the conference as her personal security guard, Ben, watched on, an arms-length away. Flag bearers, in black suit and tie, with matching grey cheesecutter caps, held the Union Jack and St George's Cross flags aloft, the golden tips of their poles almost scrapping the ceiling. A prayer was said for those killed overnight in Paris, then a video was shown of "our soldiers" in Afghanistan. Amazing Grace played. A minute's silence was later observed.
"It's ironic", Golding said, taking the microphone, that the Paris attacks happened at a time when Marine Le Pen, the president of France's far-right Front National party, is being prosecuted. Le Pen is accused of inciting racial hatred over comments in which she compared Muslims praying in the streets to the Nazi occupation.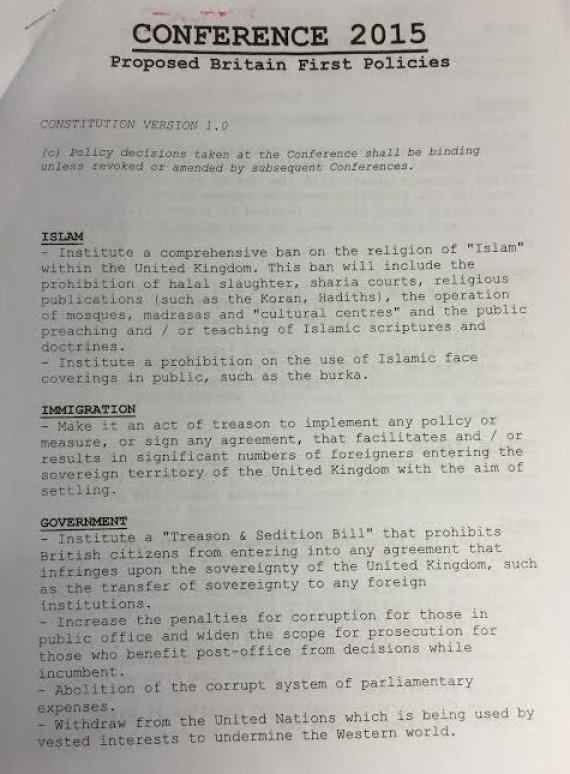 Policies passed at the Britain First conference including banning Islam in the UK
The first order of business was to vote on Britain First policies. Members were handed miniature Union Jack flags by Golding's mother to raise if in favour of the motion, or to simply wave if their "British spirit" simply compelled them.
Golding explained that in the conference notes the first word of each policy should read introduce, but spellcheck had changed it to "institute".
The first policy read: "Institute a comprehensive ban on the religion of "Islam" within the United Kingdom." The ban, the conference notes explained, was to include the "prohibition" of halal slaughter, sharia courts, religious publications (such as the Koran, Hadiths) the operation of mosques, madrasas and "cultural centres" and the public preaching and/or teaching of Islamic scriptures and doctrines. A subsequent policy "institute" (sic) a ban on the use of Islamic face coverings in public, such as the burka.
Members were invited to speak to the policy - timed on Golding's phone to a deadline of one minute - and a former abattoir worker, who identified himself in part as "Rat Weasel" spoke of halal slaughtering practices being cruel. Had he not stunned an animal before slitting its throat, he could have been jailed. The same rules should apply to slaughtermen in halal abattoirs, he said, before returning to his pint. Earlier, while being interviewed about grooming gangs in Rotherham, Fransen had said buying halal products was "supporting terrorism". A first-timer, and mother of one, nervously spoke of Muslim shopkeepers; haphazard parking outside mosque's blocking people's driveways, areas known as "halal street", and of a relative who had lost a leg in the Second World War, who some 70-years-ago had predicted the next war would be in the Middle East. A man also suggested a policy on "assimilation" to deal with the "viper nests" that had already sprung up around the UK.
The motions were passed.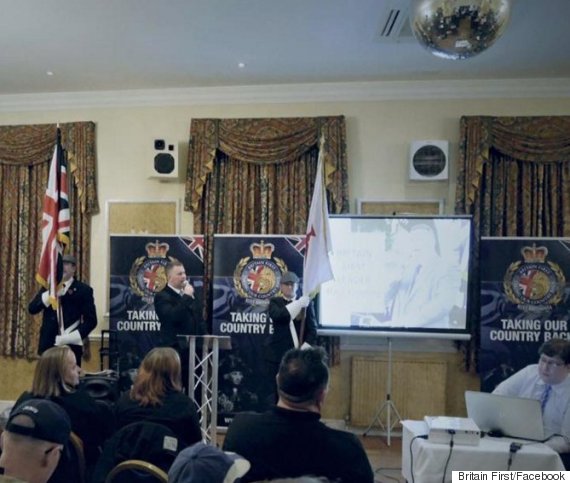 Flag bearers stand at the front of the room as Golding addresses his supporters
The second policy concerned immigration. Britain First wanted to make it an act of "treason" to implement any policy or measure, or sign any agreement that leads to "significant numbers" of foreigners entering the UK with the aim of settling. One attendee took issue with the word "significant", but Fransen, who has studied law but isn't actually a lawyer, eased his concerns by explaining the policies would later be finessed. Golding said that "Blair (former Prime Minister Tony Blair) and his mates gloat about" how they used to travel around with their "welcoming parties".
Flags were raised. The motion passed.
The Government was next. The party approved a 'Treason and Sedition Bill' prohibiting British citizens from entering into any agreement that "infringes upon the sovereignty" of the UK, such as the transfer of sovereignty to any foreign institutes. It also voted to increase the penalties for corruption for those in public office and to "abolish the corrupt system" of parliamentary expenses, "so Lords can't charge to clean their moat".
The party approved the UK's withdrawal from the United Nations "which is being used by vested interests to undermine the Western world", according to the policy. Golding told the conference they were "faceless bureaucrats".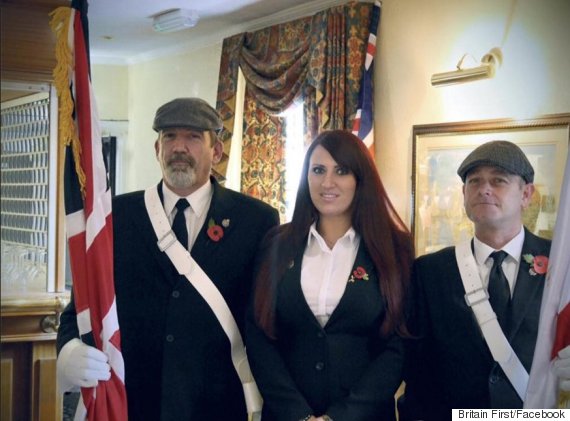 Fransen poses for a picture with the flag bearers
An "NHS Protection Bill" was approved to protect it from privatisation. One party goer argued that since Brit's had to pay for health care when travelling abroad, foreigners should pay for their own health care when they required it in the UK.
Golding outlined several policies around the economy, including banning the sale of domestic companies to foreign entities and creating a bank of Britain. He also tried to detail another policy which was "difficult to explain", concerning debt. The motions were passed.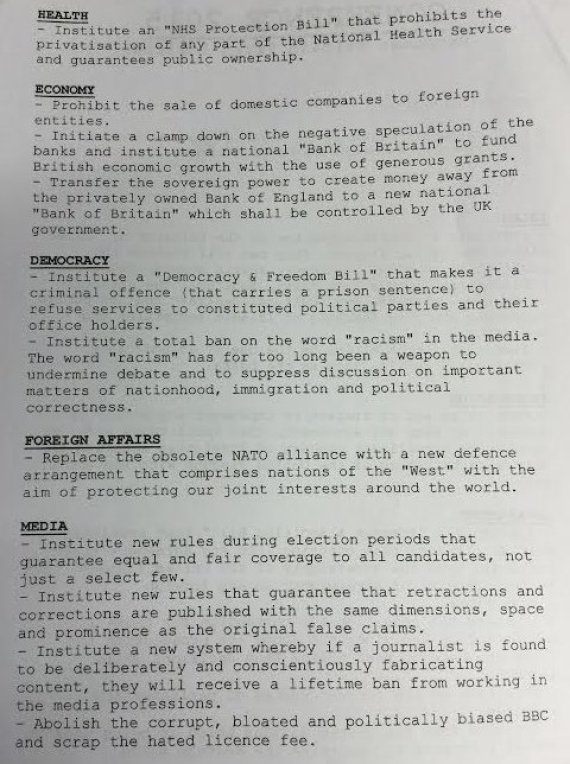 Further policies included banning the media from using the word "racism"
In the interests of building the party's supporter base, a 'Democracy and Freedom Bill' was passed to make it a criminal offence to "refuse services to constituted political parties and their office holders". Golding spoke of the difficulties the party faced simply booking venues and opening bank accounts. He was looking to start a Northern Ireland party to combat this.
The one policy to cause some derision was the banning of the word "racism" within the media. But it passed anyway.
The policy reads: "Institute a total ban on the word 'racism' in the media. The word 'racism' has for too long been used a (sic) weapon to undermine debate and to suppress discussion on important matters of nationhood, immigration and political correctness."
SEE ALSO
Golding earlier explained that Fransen was against its inclusion. She noted the party's own website had a section called 'Racism'. Several supporters pointed out it was "unworkable", that the word would simply be replaced with a different word "and we would be called that word". Golding told his followers the word racism, and the weight of history behind it, was the "truncheon" that comes down on the party every time it tried to enter debate. An analogy offered by the Britain First leader: "If we were in prison racism would be the bars."
Nato was next. The party voted to replace the "obsolete" Nato alliance with a new "defence arrangement that comprises nations of the West with the aim of protecting our joint interests around the world".
The final policies concerned the media, which the party thinks doesn't treat it fairly. The group recently pulled out of BBC documentary part way through filming claiming the broadcaster would "distort and misrepresent the footage and the interviews so as to make us look bad".
Policies passed concerning the media: A new rule during election periods "that guarantee equal and fair coverage to all candidates"; making retractions and corrections have the same "dimensions, space and prominence as the original false claims"; banning journalists for life from working in the media if they're found to be "deliberately and conscientiously fabricating" content (like they often do when reporting on Britain First, the conference was told). The "corrupt, bloated and politically biased" BBC was to be scrapped, along with the "hated" licence fee. It was noted during these policies, passed quickly as a lunch of sandwiches and wedges was being served, that the man behind the BBC documentary "was engaged to a Muslim".
Fransen was later re-elected as deputy leader for three more years.
Britain First reacts to the Kos refugee crisis
"Another great place messed up by foreigners."

"They are SCUM, stay and fight for your country, not RUN."

"This is just temporary ... They will end up in England or Sweden living off benefits."

"This isn't asylum! Notice the majority of migrants are men of fighting age! They don't look malnourished or badly treated! It's an invasion army!"

"Push them back into the sea!"

"We need to follow Russia's example and make all Muslim's unwelcome in the west. They are evil people who need driving out of our lands by force. God hates Muslims. They are a wicked people. It's time for their extinction."

"What is this country coming to? It's a joke. Our nans and granddads who were in the war would be turning in their graves."

"Just deport them."

"These vermin turn EVERYWHERE into a hellhole, not just Kos!"

"To me this is a universal problem for the Western Nations, but our mostly socialist leaders fail to see the problem."

"Wow it's like being in Chatham, Kent. Lived there all my life I think I've emigrated to another country when I come out my front door there's so many immigrants."

"Why would anyone WANT to go to Greece ???? What have they given to the world ? Apart from "Zorba the Greek", and Millions of UNWANTED Muslims ???? Oh, and Kebabs, that NO ONE in their right mind would even THINK of eating, unless they were drunk !!! They are doing their best, to get kicked out of the E.U. and are not even doing much of a job of THAT !!!!!!"

"This is going to happen in all EU countries... We have to to get out of the EU now !!!"

"This is disgusting. Give them no food, no water and no rights then send the lot of them packing back on a boat to where they came from."

"Take & put them in boats & send them back to where they come from, countries all over Europe are not responsible for them, leaving trash & garbage all them washing their clothes in the ocean, when people swim in it & no country owes them anything."

"What the world needs is another Crusade, to take out Islam off every Islamic country and take over as Christians Jews And Buddhists.islam, as a Cult must cease to exist, they commit one terrorist act, We Destroy 20 Mosques ( with them inside of course)., the treshlohld is 1/20 , but we can always increase it to 1/1000."

"The world has gone mad, they come for money nothing else, before the EU and the benefits system we had no issues, do not be conned these are not refugees, these are economic migrants after all they can get, return them to Africa."

"I'd be more worried how many of them are Isis scum ready to destroy humanity..."

"They could've picked a bigger island but no they use their no sense and go for one of the smallest."

"I wouldn't want to spend my hard earned money only to be confronted with hoards of sad poor people. How long will they remain sitting on the pavements? When their Kos handouts run out and they see what they perceive to be wealthy tourists what will they do? there doesn't seem to be any control over the migrants movements and they appear to be everywhere, its very bad for business!"

"Is anyone scared? As I am, every European country will become Islamic."

"I feel very sorry for the locals, it's turned into a living hell. Foreigners will stop going, which is terribly sad. The whole of Europe will be looking like this very soon."