TEDxBrum was an extraordinary event held on Saturday 11th June 2016. Fuelled by a 70-strong team of volunteers the event epitomised 'people power' and...
imin started life as an app, the app. The one place where people could find and book any physical activity they wanted: a lunchtime squash court on the way to uni; a running group for later that afternoon; a last-minute game of football before leaving work, all from one single app.
Innovation is often misunderstood by small business owners. Many have a limited view of what the word means. Mention of the subject often conjures up ...
Headhunters are trying to talk to more women about senior roles. But one recently told me that the overwhelming majority of women he approaches cannot, or will not, make time to talk. Most of the men, meanwhile, will. And we wonder why men outnumber women in leadership roles.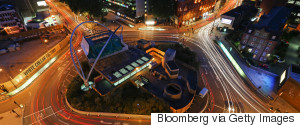 We matched developers and designers with people who understood the problems they were trying to solve - public servants, experts and academics, ordinary people who'd experienced first hand services they wanted to improve. We fed them lasagne and supplied them with post-it notes and wifi. Quite a few of them didn't sleep.
Over the next few weeks, we'll be sharing blogs from inspiring innovators, who are using tech to change the world - from the charity helping sight impaired kids use public transport independently, to the start-up that have created an app to help parents suffering from postnatal depression... It's not about celebrating the technology by itself, it's about celebrating the humans and how they're using technology to achieve something great.
The new designs see four subjects that might be seen as twee, transformed into a much more contemporary reincarnation - the same vision as five years ago. This time I opened up the brief to both country and city life, choosing two icons from each - a bird, deer, red telephone box and black cab.
It was in 1900 that Lord Kelvin, renowned British scientist and the toast of the establishment, addressed a group of physicists at the British Associa...
Exam season is upon us again, and as the nation's teenagers and young adults look forward to a sweaty summer of swotting up and settling down to a gru...
To try to address some of these challenges, we designed the NHS Innovation Accelerator (NIA) last year. Like many ideas it was taken from another sector. Accelerators aim to support the growth and spread of technologies, in the past developing solutions such as AirBnB and Dropbox. Microsoft, IBM and MIT all have accelerators, and now we do too.
Scandi style is limited to only being great if you want a quick Ikea fix for a student flat or a lower budget rental apartment, but this way of designing in real terms reflects no creativity, comfort or drama at all.