The four-year-old girl whose mother, father and grandmother were gunned down in a shooting in the French Alps this week has spoken to police.
French Prosecutor Eric Maillaud said on Friday Zeena should come back to the UK soon - but her seven-year-old sister, Zainab, who also survived the attack, is still in a medically induced coma.
Iraqi-born Saad al-Hilli, 50, was gunned down in his car alongside his dentist wife, named by neighbours as Iqbal, alongside a woman believed to be her mother.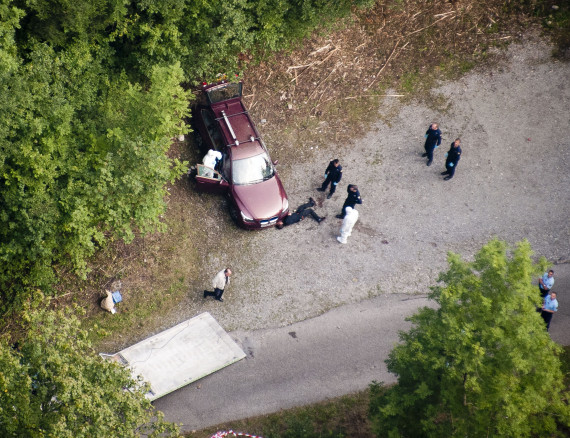 Members of the media survey the area in which the al-Hillis family were killed
A cyclist named as Sylvain Mollier was also killed in the incident. A British cyclist overtaken by Mr Mollier said he saw a green 4x4 and a motorbike.
"There were some people who wanted to definitely kill and who were absolutely not scared of killing," Maillaud told journalists. "The little girl was terrorised, she was in the vehicle, she rushed under her mother's legs and she heard but she didn't see anything."
Maillaud also said Mr Al-Hilli had gone to the police in Britain to deny reports there was a family feud between two brothers over money.
"He turned up again this morning and he said 'no, I don't have a conflict with my brother'."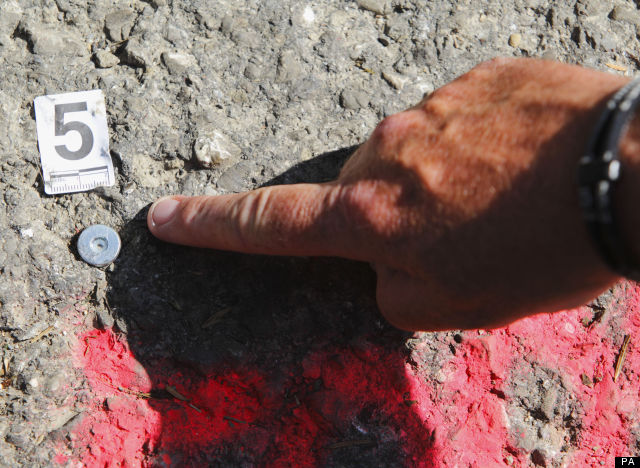 A mark on the road near the killings is inspected
He refused to identify the weapon used, arguing that the police did not want to reveal everything they know to the killers.
But he did tell reporters that 25 bullet cartridges had now been recovered from the scene. Earlier the police had only referred to 15.
On Thursday a neighbour of the couple gave a clue to the family's killing on live radio. Jack Saltman told the Richard Bacon show on Radio 5 Live yesterday: "I know one little thing which I am not prepared to speak (about) at the moment. I will tell the police about it.
"It was something Saad said to me before he went, but at this stage I do not feel I can disclose that, but I will tell the police exactly what he told me before he left."
Another of the family's neighbours in the upmarket village of Claygate in Surrey said he was going to alert police to something Mr al-Hilli said to him before travelling to the Le Solitaire du Lac campsite in Saint-Jorioz, close to the Swiss border.
According to a family friend, known as James, Mr al-Hilli said his family moved to the UK in the 1970s after Saddam Hussein's Ba'ath party looked "unfavourably" on their mechanical engineering business.
It was reported in the Daily Mail that Mr al-Hilli was known to the security services and was put under Metropolitan Police Special Branch surveillance during the second Gulf war.
He also revealed that British police were now directly involved in the hunt for the killers.
"It's a Franco-British investigation," he said.
SEE ALSO: