A 62-year-old woman has come forward alleging Jimmy Savile repeatedly had sex with her when she was only 15.
The woman claims to have met the BBC DJ at a Manchester disco in 1966 and he invited her to his flat in Higher Broughton, Salford, where they regularly met and had sex.
The victim, from Wythenshawe, south Manchester, said on one occasion Savile was disappointed he had changed out of her school uniform. By the time she turned 18 he wanted nothing more to do with her. Jimmy Savile poses as a doctor for the cameras. There are now reports he used his charity work in hospital to find young patients to abuse.
The mother of two wants Savile, who died last year aged 84, to be stripped of his knighthood.
She said: "To hear him still described as Sir Jimmy Savile and still celebrated for his charity work is a slap in the face to those of us he used.
"I was 15 when we started, but 15 in 1966 was probably like nine today. I had a flat chest and was only starting puberty.
"By the time I turned 18 and was more like a women, he lost interest and denied even knowing me." Jimmy Savile's headstone has been removed and carted away to be used as landfill amidst the claims
She is one of a growing number of victims, now around 60 in total, to have come forward and whose case is being investigated by police.
Police believe the veteran DJ, TV presenter and charity campaigner may have been abusing victims for decades.
The BBC and other bodies could be sued by victims if it can be shown they were negligent in allowing Savile to prey on his young victims.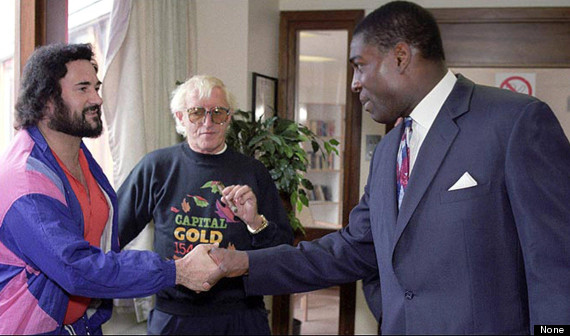 Jimmy Savile did a lot of charity work at Broadmoor. Here he is introducing boxing legend, Frank Bruno, to notorious serial-killer, Peter Sutcliffe in 1991
The revelations about Savile's private life were made in an ITV documentary a fortnight ago.
Solicitor Caroline Chandler, who is representing the claimant from Wythenshawe, said: "Many people are now coming forward in the North West to make complaints. Jimmy Savile, who used to live and work in Manchester, was idolised by many young girls.
"The growing number of claims is alarming and victims who suffered such abuse should report their abuse to the police in an effort to at least tell someone in authority what has been going on, even though their alleged abuser is no longer alive." Police are probing as many as 340 lines of inquiry since a documentary aired allegations against the presenter
Former High Court judge Dame Janet Smith will lead the BBC's internal inquiry into the sex abuse claims.
There is also a Department of Health investigation into Savile's conduct during his charity work at three hospitals - Stoke Mandeville, Broadmoor and Leeds General Infirmary. Jimmy Savile: Other celebrities could be accused of sex abuse around the time allegations were made about the presenter
Labour has called for an independent inquiry as the fall-out from the Savile revelations continues.
BBC director general George Entwistle and former corporation stalwart Esther Rantzen have become involved as questions are asked about who knew of the rumours about Savile, what and when they heard about them, and whether enough was done to stop him.
SEE ALSO:
See pictures of fans queuing in the rain to catch a glimpse of Savile's coffin
Auction of Sir Jimmy Savile's memorabilia
Updated 18:35 9 October 2012: headstone information