Islamic radicalists based in Britain are reportedly preparing to issue a fatwa on Malala Yousafzai.
According to controversial cleric Anjem Choudary, the fatwa will be announced at Islamabad's Red Mosque later this month, The Telegraph reported.
The 15-year-old, who was shot in the head by Taliban gunmen for the "crime" of promoting education for girls, will be denounced as an apostate and accused of turning her back on Islam.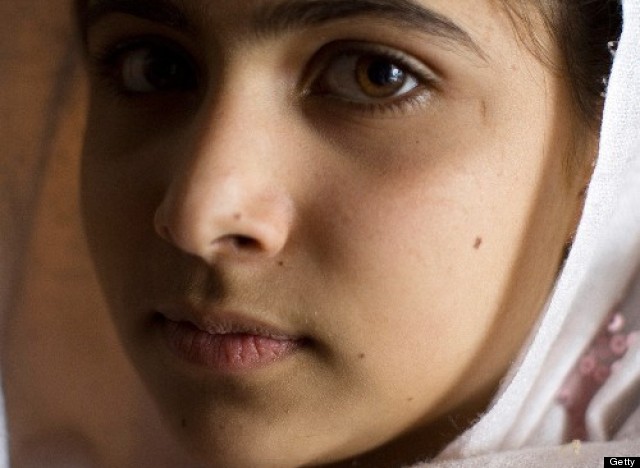 Malala Yousafzai was shot in the head by Taliban gunmen
While this ordinarily carries the death sentence, Choudary says he is not calling for Malala's demise.
The former solicitor believes the schoolgirl is being used as a propaganda tool by the US and Pakistan, he told the newspaper.
Choudary, who lives in Ilford, London, is a co-founder of Islamist organisation al-Muhajiroun, which has staged several anti-Western demonstrations.
He told The Daily Star: "If someone apostatises like this woman did by allying with the Americans and saying her favourite person is (Barack) Obama and that she does not want the Sharia or hijab and wants to live under a secular state, she has put herself in a very precarious situation.
"It is no surprise what happened to her in Pakistan. Malala is mature Islamically, she is not immature, she has reached that period we say is adulthood."
The event at which the fatwa is due to be announced will take place on November 30 and is billed as "Sharia4Pakistan". Anjem Choudary is the co-founder of Islamist organisation al-Muhajiroun
Featuring a video address from al-Muhajiroun's co-founder Omar Bakri, it is titled: "Declaration of Fatwa on Malala Yousafzai."
Bakri told the paper: "The only solution is the implementation of the Sharia. She (Malala) should face justice in an Islamic court.
"We are going to renew the Fatwa against the man-made law and systems in Pakistan – this is why women like this young girl are rejecting Islam. The system is not being implemented properly."
Malala was flown to Britain for specialist treatment at Birmingham's Queen Elizabeth Hospital after escaping death by inches when the bullet "grazed" her brain on 9 October.
Celebrities including Madonna and Angelina Jolie have publicly thrown their support behind the teenager and there are growing calls for her to be considered for the Nobel Peace Prize. Malala has received thousands of gifts and messages of support
Last weekend the president of Pakistan was presented with a petition with more than one million signatories, urging him to make education available to all children, irrespective of gender.
The huge document was delivered to Asif Ali Zardari on Saturday by former British prime minister Gordon Brown, in his role as UN Special Envoy for Global Education.
Mr Brown declared Saturday "Malala Day", in tribute to the teenager who was attacked by a Taliban gunman as she made her way home from school in north west Pakistan.
United Nations secretary-general Ban Ki-moon backed Mr Brown's campaign. In a video message on the UN's website, he said: "Malala Yousafzai is a global symbol of every girl's right to an education.
SEE ALSO:
The same week, Malala's father issued a statement of thanks on behalf of his daughter.
Ziauddin Yousafzai said: "She wants me to tell everyone how grateful she is and is amazed that men, women and children from across the world are interested in her well-being.
"We deeply feel the heart-touching good wishes of the people across the world of all caste, colour and creed."
Malala was only 11 when she started documenting how difficult it was to get an education: "I dreamt of a country where education would prevail," she wrote.
Her anonymous blog, first published by BBC Urdu, documented Taliban atrocities committed in Pakistan's Swat Valley and saw the schoolgirl receive international praise.