Over the past 12 months, HuffPost UK Culture has brought you the latest from the theatre world, from headline grabbing West End openings to the offerings of small stages alike.
What a dramatic year - 2012 saw the youngest ever playwright win the Best Play award at the Evening Standard Theatre Award, a theatre legend 'heckle' a young star, and the stage reunion of Blackadder and Baldrick after a decade apart.
And throughout it all, some truly remarkable stories have been told in the theatre: the intriguing world of quantum physics, the essence of Shakespeare with nudity and violence, stunning outdoor acrobatics in Belfast, Jeff Wayne's world at war and poignant social commentary on topics such as class, feminism, post-traumatic stress disorder and child abuse.
Here are our theatrical highlights of 2012:
Gross und Klein, by Botho Strauss
Barbican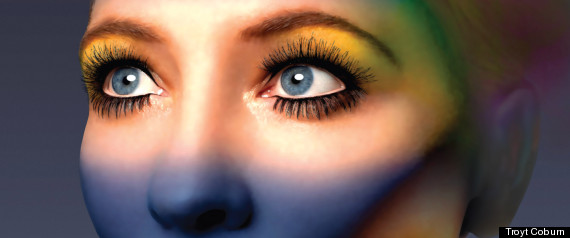 Hollywood hit the Barbican theatre earlier this year, as Cate Blanchett brought her interpretation of Lotte Kotte to London in Gross und Klein (Big and Small). Blanchett's intense performance saw her writhing on stage arguing with God, as her character embarked on a surreal and nightmarish quest for inner peace, following a controlling and abusive marriage.
Blanchett's exploits won her a nomination for Best Actress at the Evening Standard Theatre Awards 2012, only to lose out to Hattie Morahan's interpretation of Nora in Ibsen's classic A Doll's House.
HuffPost UK Review: "Played out in a dream-like, Alice-in-wonderland-style narrative of disjointed scenes, we are treated to plenty of post-modern rhetoric, reminscent of Samuel Beckett's Waiting for Godot."
Posh, by Laura Wade
Duke of York's Theatre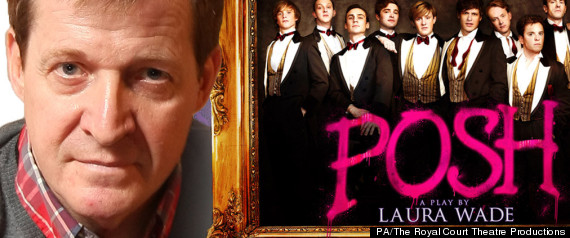 Following the massive success of Laura Wade's Posh at the Royal Court Theatre, the satirical play was treated to a second run in the West End. Earning another round of rave reviews, the play's run also featured a topical debate chaired by Alastair Campbell.
Posh sees a group of over-privileged public schoolboys lamenting the days when opportunity and career progression need only be gained by a phone call from Daddy. With talks of a possible film version of the play, we may be seeing the Posh debate continue.
HuffPost UK Review: "Ten young men who have only ever heard the word 'yes' in their lives – Wade explores what happens when confronted with a firm 'no'."
A Doll's House, by Henrik Ibsen
Young Vic


Hattie Morahan triumphed with her interpretation of Ibsen's trapped housewife Nora in A Doll's House, one of the first plays portraying feminism and women's individual identity. Battling off competition from fellow nominees, including Cate Blanchett, Morahan won the Evening Standard Theatre Award for Best Actress.
A Doll's House will be returning to the Young Vic's stage in April 2013.
HuffPost UK Review: "Morahan thrives as the flighty and exuberant Nora… a woman traversing the cliff edge of social disgrace, conveying an inner moral strength with infectious passion."
Love and Information, by Caryl Churchill
Royal Court Theatre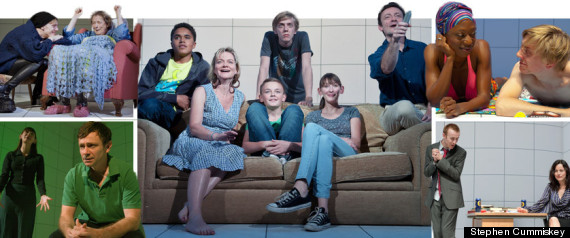 100 lives, 100 characters, one play. If anyone could pull off such an undertaking, it is renowned playwright Caryl Churchill. Love and Information saw a series of quickfire sketches showing punchy poastcards of British society, a glimpse into lives, summing up thoughts, feelings, triumphs and obstacles that we can all relate to.
Churchill earned herself a nomination for Best Play at the Evening Standard Theatre Awards and followed Love and Information with the equally snappy play Ding Dong The Wicked.
HuffPost UK Review: "The form of the play speaks volumes about the fast turnover of modern life – our jobs, our homes, relationships, media – a pervading sense of impermanence many people feel."
A Chorus of Disapproval, by Alan Ayckbourn
Harold Pinter Theatre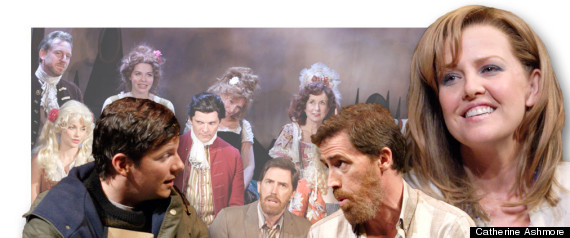 Rob Brydon made his West End debut with a fresh version of Alan Ayckbourn's play of small-town amateur dramatics A Chorus of Disapproval.
Directed by the award-winning Trevor Nunn, the 'play within a play' was a hit with critics and audiences, mainly due to Brydon's endearing and comic turn as the naïve and exasperated theatre director Dafydd.
HuffPost UK Review: "Cheeky and kitsch, A Chorus of Disapproval is in the nostalgic vein of the Carry On films and Confessions of a Window Cleaner, with greed, lust and betrayal in the provinces."
Forests, based on texts by William Shakespeare
Barbican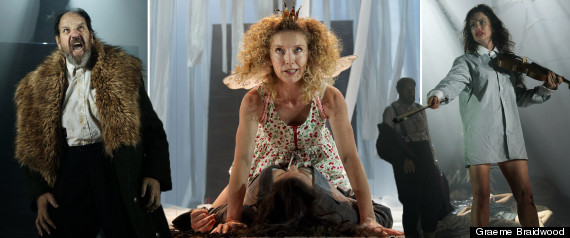 Sex, nudity and violence – the perfect recipe for a Shakespearian outing with bite.
Controversial director Calixto Bieito brought the essence of Shakespeare to the Barbican theatre in Forests - shocking some, enthralling most.
From the prancing sprites of A Midsummer Night's Dream to the blood and gore of King Lear's cliffs of Dover, Bieito covered the full creative spectrum of our favourite bard.
HuffPost UK Review: "Shakespeare's work is full of death and rape - why should we be shocked to see it graphically brought to life? Perhaps we have lived with cosy, academic readings of Shakespeare for far too long."
Constellations, by Nick Payne
Duke of York's Theatre
The 29-year-old writer of Constellations, Nick Payne, made the record books by becoming the youngest ever playwright to win the Best Play award at the Evening Standard Theatre Awards 2012, joining the ranks with Tennessee Williams and Harold Pinter.
Payne's moving play Constellations combines a classic love story with physics, theories of multiple universes, the ethical conundrum of euthanasia and the metaphorical world of bees.
With just two actors (Sally Hawkins and Rafe Spall), Constellations explores love, life and death, showing us the delicate nature of a blossoming relationship and the agony of making the unbearable decisions over death.
Unleashed, by the Young People of Barbican Guildhall Creative Learning and Boy Blue Entertainment
Barbican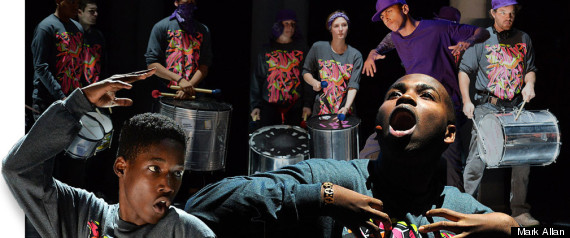 Following the damage caused by a small minority of criminals during the capital's riots in 2011, the traumatised youth of London found their voice once again with Unleashed. Mixing poetry, music, dance and film, a consortium of London youth art projects expressed their fears, hopes and dreams.
Touching on a myriad of other issues, such as postcode wars, gang membership and the vacuum of opportunities, Unleashed received standing ovations in its short run at the Barbican.
HuffPost UK Review: "Five star reviews don't come around very often. Neither do huge young casts that combine balanced social commentary and high standards of performance - an eclectic vision as bold and clear as Danny Boyle's Olympic Games opening ceremony"
We Are Most Amused, The Prince's Trust
Royal Albert Hall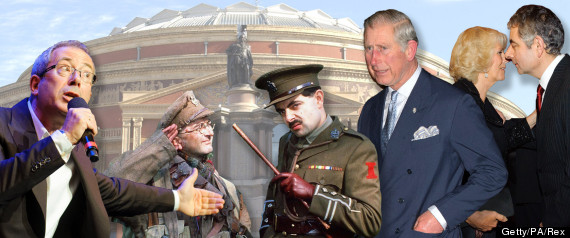 A galaxy of comedy stars turned out for the annual Prince's Trust gala event, We Are Most Amused, to help raise money for the Prince's youth charity. Joan Rivers shocked, Ben Elton moaned, Jimmy Carr mused, but most notable was the return of Blackadder on the Royal Albert Hall stage.
Rowan Atkinson appeared as greedy banker Blackadder, oblivious to the financial crisis, alongside sidekick Tony Robinson as Baldrick, appearing before a Leveson-style interrogation.
HuffPost UK Review: "With Blackadderisms aplenty, we are treated to lines reminiscent of the fabulous comedy series, including: 'Like the naked man standing next to a combine harvester, I haven't got a sausage.'"
Jeff Wayne's War of the Worlds,The Next Generation
Wembley Arena
Monstrous musical aliens marched their way across the UK in December 2012 with the revival of Jeff Wayne's War of the Worlds in The New Generation. Recorded 34 years ago, the electric disco tunes, inspired by the H.G. Wells science fiction story, took the charts by storm in the 1970s.
Not only is each performance of The New Generation conducted by the composer himself, but also features fire spurting tripods and performers striding the stage, coping with the annihilation of the human race. A standout performance comes from West End star Kerry Ellis and Jason Donovan with their duet The Spirit of Man. Liam Neeson brings his own Hollywood presence as Wells' protagonist in a 3D holographic stage projection.
Jeff Wayne's War of the Worlds will be showing in Germany in January 2013.
Read Jeff's thoughts on his musical revival: A Journey Through My Musical Version of 'War of the Worlds'
The 24 Musicals Celebrity Gala
The Old Vic

Kevin Spacey and friends embarked upon their annual fundraising event to raise money for the Old Vic Theatre Trust: the 24 Hour Musicals Celebrity Gala.
Previous years saw the event take place in the form of straight plays, but with the Old Vic's staging of musical Kiss Me Kate, the event this year featured the challenge of writing, rehearsing and performing four mini-musicals in the space of just 24 hours.
With familiar names from the showbiz world, including Anthony Head, Meera Syal and Freddie Fox, Spacey's team set to work to produce their creative masterpieces. The first performance saw comedy piece Step In Time; an enraged Celia Imrie struggling to accept her son's (Freddie Fox) love of cougar Anne Reid. Living Everyday was a touching portrait of grief, We Should Talk showed a laugh-out-loud look at a mid-life crisis, and Go And Play was a nostalgic dedication to thespians of the theatre.
Jeff Goldblum made a special appearance alongside Kevin Spacey – read our interview with Jeff here.
Flick through all of HuffPost UK's theatre reviews in 2012:
HuffPost UK Theatre Reviews