Police have previously been called to the home of Oscar Pistorius because of incidents "of a domestic nature," a spokesperson confirmed.
Brigadier Denise Beukes also said police were "very surprised" by a previous suggestion that Pistorius had fired the shots after hearing a burglar.
Beukes told reporters near the scene: "These allegations did not come from us."
Pistorius will be charged with murder when he appears before magistrates after a woman, believed to be his girlfriend Reeva Steenkamp, was shot dead at his home in Pretoria, South Africa.
His court appearance has been delayed until Friday. Pistorius on his way to court Sister of Olympic athlete Oscar Pistorius, Aimee, left, leaves the Mamelodi Hospital, east of Pretoria where Pistorius was being examined
The six-time gold medallist was being held at Pretoria Central Prison, South African news channel eNCA has reported and police have recovered a 9mm pistol from the scene. He was pictured leaving the police station this morning, wearing a grey hooded top and flanked by security.
Brigadier Denise Beukes also said they will be opposing bail on grounds "which will be disclosed in court this afternoon."
"No other suspects are involved," a police spokesperson said.
"There are witnesses. We are talking about neighbours and things that happened earlier in the evening, things that took place before."
According to the BBC's Jon Williams, eyewitnesses heard an 'altercation' on Wednesday evening, before the shots were fired. A forensics van leaves the guarded compound where Pistorius lives
30-year-old Steenkamp was shot twice in the head and in the arm in the early hours of Thursday morning at the sprinter's home, it has been reported, but the exact circumstances surrounding the incident remain unclear. The Associated Press has reported that the woman was shot four times.
A neighbour called police and when they arrived at the house they found paramedics already in attendance. The woman was declared dead at the scene and a hearse was later seen taking the body away, ITV reports. Oscar and Reeva at a recent event
Henke Pistorius, Oscar's father, told SABC radio news: "I don't know nothing. It will be extremely obnoxious and rude to speculate. I don't know the facts.
"If anyone makes a statement, it will have to be Oscar. He's sad at the moment."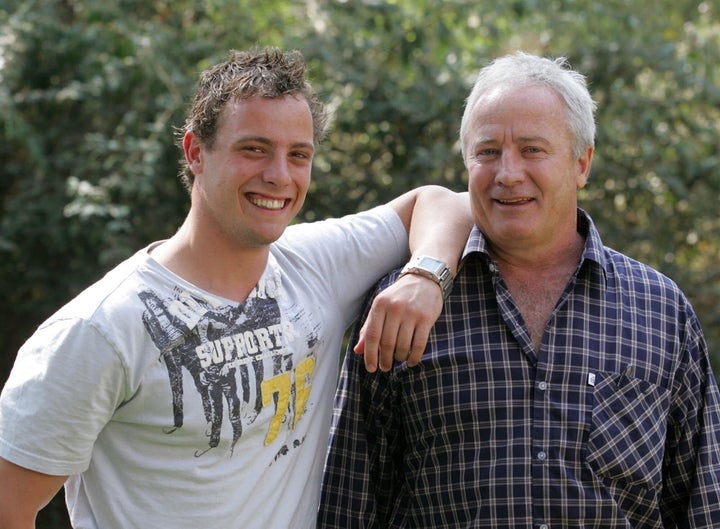 The Paralympic gold medallist was extremely conscious about his safety whilst in his native South Africa and reportedly kept a pistol by his bed and a machine gun by his window. According to official figures, 13 in 100 people own a gun in South Africa.
According to United Nations research, the country has one of the highest firearm-related homicide rates in the world, second only to Colombia at the time.
According to Pistorius' lawyer, Oscar is "doing fine, but he's very emotional," reported journalist Barry Bateman in South Africa.
Police said in a statement: "we can't comment on his emotional well-being, but he is traumatised after losing someone close to him." Pistorius celebrates winning Gold in the Men's 400m in London
Pistorius is regarded as a sporting hero by many after being the first double amputee to compete in the Olympics. Along with his sporting achievements he also worked as a male model and was named one of the sexiest men alive by People Magazine.
Pistorius is known as the Blade Runner because of the ground-breaking prosthetics he uses for racing.
He made history at the London 2012 Olympics when he became the first amputee sprinter to compete in the able-bodied Games, running in the 400m and 4x400m relay.