Baroness Thatcher's coffin was taken to Westminster on Tuesday as the former prime minister paid her final visit to Parliament.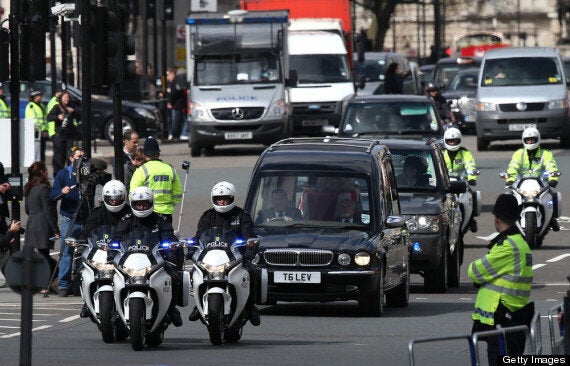 Baroness Thatcher's coffin is taken from north London to Westminster
A short private service to receive the body into the chapel was being led by the Dean of Westminster and attended by members of the Thatcher family, senior figures from both Houses and members of staff who worked closely with Britain's first woman prime minister.
After the service, MPs, peers and parliamentary staff will be allowed into the chapel to pay their respects to the woman who dominated Westminster as prime minister from 1979-90 and served as an MP and peer for more than half a century from 1959 until her death aged 87 last week.
In contrast to the elaborate military procession and cathedral service planned for tomorrow, Lady Thatcher's return to the scene of so many triumphs and battles was a simple and low-key ceremony.
Her coffin, topped by a large bouquet of white flowers, was lifted from the hearse and carried into Parliament by four pall-bearers in black ties.
The road immediately outside Parliament was closed to traffic and pedestrians for the arrival of the hearse.
Lady Thatcher herself had asked for her final farewell to Westminster to be a private affair.
After former colleagues and staff have paid their respects this evening, the Speaker's Chaplain, the Rev Rose Hudson-Wilkin will keep vigil in the chapel through the night.
As Lady Thatcher's body lies at rest in the crypt chapel, MPs will in the evening take part in a potentially bitter debate in the Commons about her legacy. The coffin is carried into the Houses of Parliament
The debate was triggered by Respect MP George Galloway who, along with Labour veteran Dennis Skinner, objected on Monday to a business motion which would see Wednesday's session of Prime Minister's Questions cancelled so that David Cameron and other MPs can attend the funeral service.
The pair's cry of "object" means the proposed change in sitting time will now be voted on after a debate lasting up to three hours this evening.
Outspoken left-winger Mr Galloway made clear he aims to use the occasion to air a "disrespectful" assessment of Lady Thatcher's record in power, which he said had been excluded from last week's tributes in the Commons.
"People think the canonisation of Lady Thatcher has gone on long enough," said the Respect MP.
"The muffling of the chimes of Big Ben is a step too far and now Mr Cameron will miss Prime Minister's Questions for four weeks. It is unconscionable."
Argentina's ambassador to London has declined an invitation to attend tomorrow's funeral, Downing Street revealed.
No 10 invited ambassador Alicia Castro to the proceedings but did not extend an invitation to president Cristina Fernandez de Kirchner.
The prime minister's official spokesman said the decision to refuse was a "matter for the Argentine ambassador".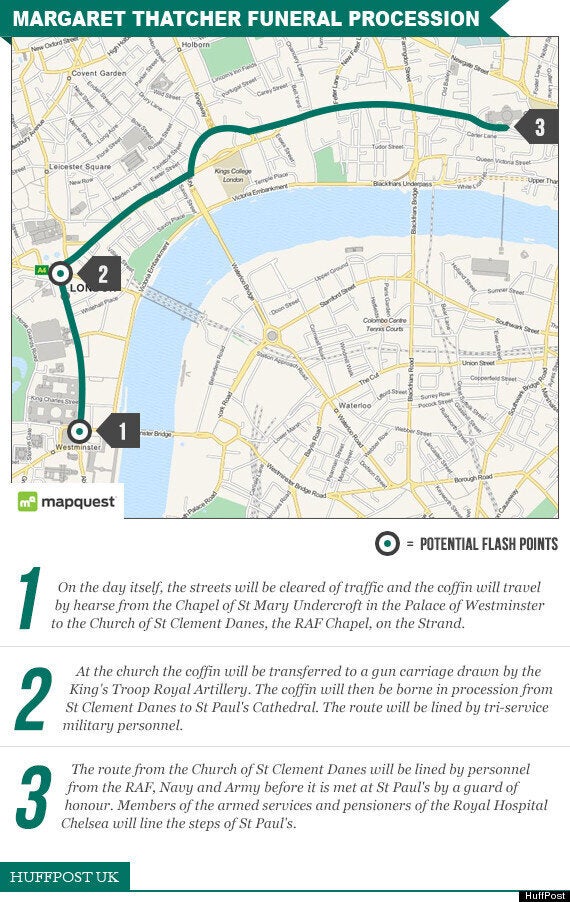 It comes amid increased attention on the international guestlist for the ceremony, particularly attendees from the United States.
Downing Street insisted that David Cameron was not disappointed with Washington's decision not to send currently serving senior politicians to the ceremonial funeral.
Barack Obama's official presidential delegation will be led by George Shultz and James Baker, who both served as secretaries of state during the Thatcher era.
Former US vice-president Dick Cheney and ex-secretary of state Henry Kissinger are also due to attend the funeral at St Paul's Cathedral in a personal capacity.
Meanwhile, French media reported that President Francois Hollande will be represented by Elisabeth Guigou, a close adviser to Francois Mitterrand while Lady Thatcher was in office, rather than a serving member of his administration.
Mrs Guigou, an MP for Mr Hollande's Socialist Party and a cabinet minister in the 1990s, now chairs the French Parliament's foreign affairs committee.
Asked about the absence of serving members of the Obama administration from tomorrow's funeral, Mr Cameron's official spokesman said: "I think the fact that the official US delegation includes two former secretaries of state with whom she had a very close personal working relationship is testament to the esteem with which she was held."
Also on the list of attendees announced today are Crown Prince Pavlos and Princess Marie-Chantal of Greece.
In the wake of the terror attack on the Boston marathon in the US yesterday, No 10 said arrangements for major events "are permanently kept under review as a matter of course".