David Cameron faces a fresh assault on his authority from a group of rebel Tory MPs attempting to force a Commons vote over a referendum on the UK's European Union membership.
Downing Street insisted the PM was "relaxed" about the move, and even hinted that Mr Cameron may be prepared to tolerate ministers lining up behind an amendment tabled by eurosceptics who want legislation on the EU referendum before the general election.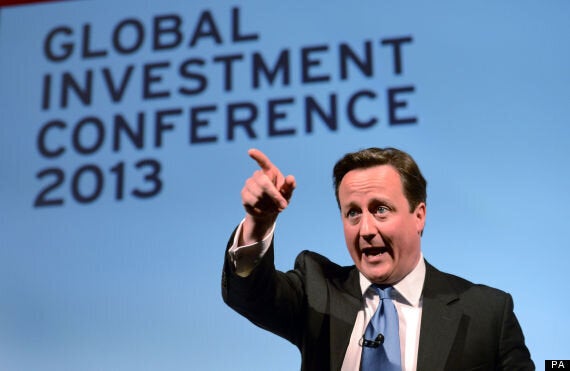 David Cameron believes it is "possible" to push through changes to the EU
Meanwhile, London Mayor Boris Johnson suggested that leaving the EU would be a "shot in the arm" for Britain's democracy and dismissed as "nonsense" claims that departure could cost up to three million jobs.
Following a series of high-profile interventions from Tory grandees calling for British exit, the prospect of a parliamentary rebellion was seen in Westminster as a fresh blow to Mr Cameron's authority, already undermined by Ukip's successes in last week's council elections.
But the PM's official spokesman insisted that Mr Cameron had "always said he is very happy to look at all ways of strengthening his commitment to an in/out referendum in the next Parliament".
Asked whether the prime minister would be "relaxed" about ministers supporting the amendment he said: "You are fast-forwarding to a vote next week. The prime minister is relaxed about that, I think the implication of that is clear."
The amendment, tabled by Tory MPs John Baron and Peter Bone, does not demand legislation on a referendum, but "respectfully regrets" that no bill was included in yesterday's Queen's Speech, which set out the Government's legislative agenda for the coming year.
The prime minister earlier defended his approach of seeking fundamental reform and holding a referendum on membership before the end of 2017 as "logical, sensible, practical".
In a speech in central London Cameron lashed out at Tory "pessimists" demanding immediate withdrawal from the European Union following a series of interventions by party grandees calling for a British exit.
The prime minister said he believed it was "possible" to push through changes to the EU.
"I am faced as I do so, if you like, by two groups of pessimists," he said.
"There are some pro-European pessimists who say, 'you have to, in Europe, simply sign up to every single thing that anyone in the EU suggests. You sign every treaty, you sign everything - there is no alternative'.
"I think they are completely wrong.
"The second group of pessimists say there is no prospect of reforming the EU, you simply have to leave. I think they are wrong too.
"I think it is possible to change and reform this organisation and change and reform Britain's relationship with it."
Bone's amendment to the Commons motion on the Queen's Speech could result in a significant rebellion by Tory MPs if it is selected for a vote.
He insisted he did not doubt the prime minister's commitment to stage a referendum if the Tories won the next general election, but said including legislation in this session of Parliament would help ensure the vote went ahead even if Cameron was not returned to No 10.
"What I am doing is helping the prime minister. The one reason he could not bring it forward is because of the Liberal Democrats.
"I would expect the Lib Dems to vote against this and the Tories to vote for it, that will strengthen the hand of the prime minister.
"The idea that this can wait until the general election is not good enough. If Labour won the general election they would not bring it in."
Bone claimed to have already secured the backing of a number of Tory MPs for his amendment, including former leadership contender David Davis.
Big names from the Conservative past have also highlighted divisions over Europe, with former Cabinet minister Michael Portillo following ex-chancellor Lord Lawson in calling for the UK to leave the EU.
London mayor Boris Johnson told reporters that the views expressed by Portillo and Lord Lawson were "interesting" and said that leaving the EU could be a "shot in the arm" for British democracy although he said he remained in favour of remaining part of the union.
He said: "My view has always been narrowly in favour of staying in, particularly for protecting British interests in the single market to avoid us being discriminated against.
"I now think that there is a real opportunity to get a better deal from Europe and that is what we need to do.
"And that is why the idea of a renegotiation with Europe is a very good one.
"I think you need to have a renegotiation of the way the whole thing is run.
"It follows from our desire to have a renegotiation that we must also be prepared if that negotiation does not go well to say 'OK, well, fair enough. We can't get the terms we think are suitable, then we will walk away'."
Johnson dismissed as "nonsense" the idea that three million jobs would be lost if Britain left the EU.
"If we're honest, democratically, it would be rather a shot in the arm because people would suddenly feel yes we are running our own destiny again, our politics is entirely independent," he said. "British electors can choose the people who are taking decisions that affect their lives.
"That would be a very important benefit."
However, he stressed the government would have to ensure that UK businesses did not suffer from losing trade in Europe.
Tory MP Nadine Dorries said she was signing the rebel amendment on her first day back in the party, after having the whip suspended for six months.
She declined to say how many other Conservatives would back the vote, but said it would be "more than it would have been a week ago" before the council elections.
Ms Dorries told BBC News: "I think it is absolutely right that we should have a referendum as soon as possible. I know that the position is that we should be renegotiating. Actually, people were given a clear choice when they were given a choice to go into the EU - it was a yes or no to go in. I think people deserve that choice to come out, and they deserve it soon."
Asked if the Tories were "running scared" of Ukip, Dorries said: "If David Cameron wanted to shoot Ukip's fox, the way to do it would be to come out right now and say, 'I'm going to promise the British people a referendum on Europe between now and the next general election'. If he did that, he would take away the reason for Ukip to exist.
"So if he was running scared from Ukip, if he thought Ukip was an issue, that's what he'd do. That is actually what people want.
"Many of us - myself included - really think that the time has come for us to stop bailing out southern European countries, to stop sending this huge amount of money to Europe every day, to look after our own and our own country and to keep that £53 million and spend it here, and to create jobs by trading with and looking towards the rest of the world."
Cameron has been struggling to rein in his party over Europe after Ukip put in a strong showing in local elections.
Tory John Baron, who tabled the amendment along with Bone, organised a letter signed by dozens of Conservative MPs demanding referendum legislation but was told that the nature of the coalition government meant that was not possible.
Former chancellor Lord Lamont became the latest Tory big beast to call for Britain to withdraw from the EU if its membership cannot be renegotiated to put it on a purely commercial basis.
Lord Lamont told BBC Radio 4's World At One: "I basically agree with Nigel Lawson, with one reservation. I think that the economic advantages of the EU are vastly over-stated. I think we could manage on our own, as Switzerland - much more integrated with the EU than we are - does.
"The only point on which I would disagree with him is that I think it is perfectly logical, and reasonable actually, to make one final attempt to renegotiate our relationship.
"When I say 'renegotiate', I think it has to be fundamental and very far-reaching. Basically, I would want to be out of almost everything other than just having a commercial relationship with Europe.
"Europe has changed and become more and more a political union, a political organisation. There's a mismatch with Britain. It's inconsistent with our parliamentary accountability and democracy. I don't think we are at all happy with it."
Lord Lamont suggested that a renegotiation on this scale might be available to Britain.
"I think you've got to remember, when people say we've no cards, that for a country as big as Britain to withdraw from the EU is actually quite damaging to the prestige of the EU, so I think we ought to go for it," he said.
"I don't think it's a cynical thing to renegotiate but I think it ought to be root-and-branch and ought to be basically a commercial arrangement and nothing else. I think we should opt out of almost everything else."
Baron told the Press Association that a vote on the amendment would be dependent on it being selected by Speaker John Bercow, but said he was hopeful it would be debated next Wednesday.
The amendment simply states that the House "respectfully regrets that an EU referendum bill was not included in the Queen's Speech". Even if passed by a majority of MPs, it would not have the effect of forcing the Government to table a bill.
Baron said: "The objective is to keep the government focused on this issue. It would send a clear message that we are not going away and that there is a large body of opinion inside and outside this place that believes that legislation is right for a EU referendum."
Although Cameron has presented a "credible" plan for a referendum in 2017, the level of public distrust of politicians' promises on Europe means it may not be "believable" to some of the electorate, said Baron.
"Legislation in this Parliament is more believable than a manifesto promise," he said.
Baron declined to say how many of the 100 Tory MPs who signed his letter would back the amendment next week.
As the names of those signing have not been released, it is possible that some of the MPs involved may not wish to take a public stance by rebelling in a vote.