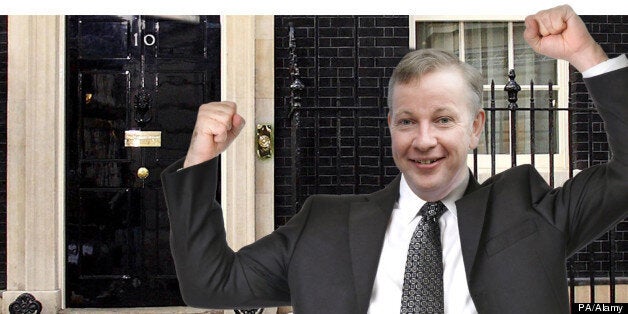 Enter Education Secretary Michael Gove, the man of the moment.
As recently as the weekend he delighted euro-sceptics (and stole the headlines) by saying he would vote to quit the EU 'tomorrow.'
Although he has previously dismissed leadership speculation by saying he's not up to the job, even Nick Clegg couldn't resist joining in on Thursday morning.
Asked about Gove's jibe that Clegg was under threat from a campaign to install Vince Cable at the head of the Lib Dems, the Deputy Prime Minister said: "Of course, he knows a thing or two about leadership ambitions."
The previous night Gove said he wanted to be "the heir to Blair", praising the former Labour Prime Minister's record in office.
The latest edition of the New Statesman also has Gove filling the boots of George Osborne, picturing him outside Number 10 as part of a "dream ticket" alongside Prime Minister Boris Johnson.
But could it be Gove himself positioning for the top job?
The 45-year-old former Times journalist (his wife still writes for the paper) is currently the second most popular Cabinet Minister with grass-roots Tories, behind only Iain Duncan Smith, who has already had a crack at leadership.
He has become known for his ruthless reforms to schools, which have made him a hate figure for teaching unions but delighted traditional Tories.
Gove's first major announcement as Education Secretary was to scrap school rebuilding projects across the country, while his free schools revolution has been one of the coalition's most divisive policies.
More children should learn Latin, he believes, and he has called critical teachers "Marxist".
He certainly knows how to guarantee press coverage for his speeches.
An attack on a teacher for using 'Mr Men' characters to teach about 1930s Germany might have been questionable, but it grabbed the headlines.
So did his list, read out in a speech at a leading public school, of famous people who had been privately-educated.
As you might expect from a former journalist, he is charming when he meets the press, even those who have been fiercely critical of him.
But don't get on the wrong side of him. The anonymous @toryeducation Twitter feed - not affiliated to anyone at the Department for Education - has upset an Observer journalist and dealt out some brutal treatment to former minister Tim Loughton.
He has plenty of admirers. On Tuesday, Paul Goodman, of the influential ConservativeHome website, wrote: "There is even a case for saying that the Education Secretary, with his brains, energy and fearlessness, is emerging as the real Conservative leader."
With restless backbenchers impressed by Gove's straight-talking on the EU, and questions over David Cameron's leadership not going away, there will be plenty of interest in his Keith Joseph Memorial Lecture on Thursday evening.