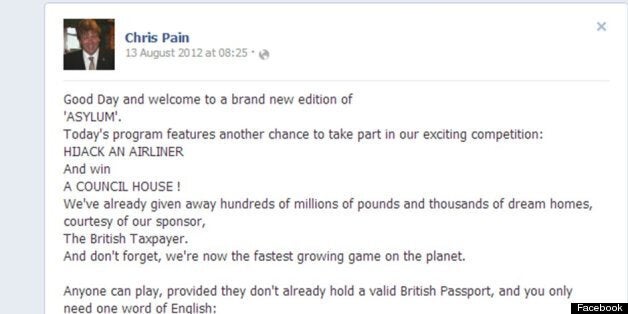 Ukip's leading councillor for Lincoln, Chris Pain, has been embroiled in a second scandal over his Facebook page, with another posting that appears to show him suggesting that asylum seekers are benefit-scrounging terrorists.
The post, made last August, is made in the style of game show, mocking the government for being lax in their assignment of welfare.
"Good Day and welcome to a brand new edition of 'ASYLUM''. It reads: "Today's program features another chance to take part in our exciting competition: HIJACK AN AIRLINER and win A COUNCIL HOUSE!"
He continues: "Anyone can play, provided they don't already hold a valid British Passport, and you only need one word of English:
"Prizes include all-expenses-paid accommodation, cash benefits starting at £180 a week and a chance to earn thousands more begging, mugging, burgling and accosting drivers at traffic lights.
This competition is open to everyone buying a ticket or stowing away on one of our partner airlines, ferry companies or Eurostar."
He was also revealed to have described "illegal immigrants" as "sandal-wearing, bomb-making, camel-riding, goat-f******, ragheads" by a Sunday Mirror investigation. Huff Post UK has obtained a copy of the postings below.
(WARNING: Some of the language contained is offensive.)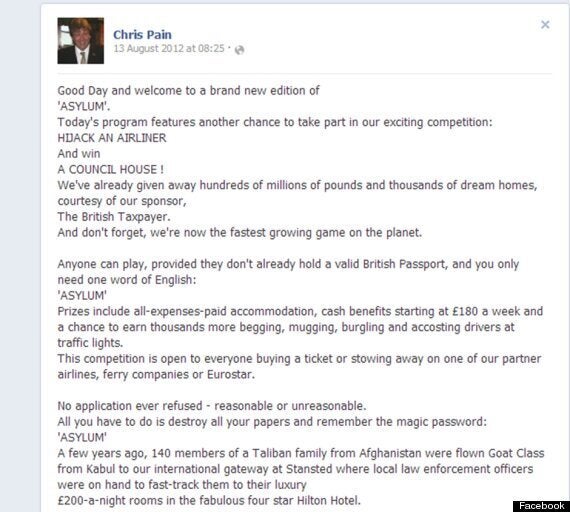 The postings were made in the style of a gameshow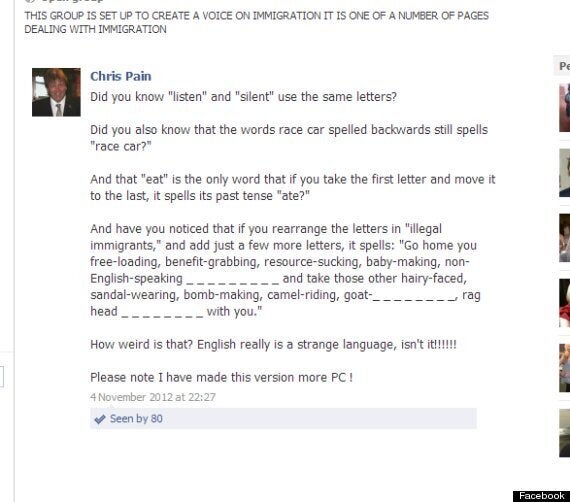 The original comments have been published in the Mirror
Chris Pain previously insisted his Facebook page was hacked, but did not respond to a request for comment on the latest postings.
Lincoln is home to the largest proportion of eastern European immigrants than anywhere else in England and Wales.
Controversial immigrant removal centre Morton Hall is also based in Swinderby, Lincolnshire. Detainees, campaigners and prison officers have raised concerns over the centre after disturbances over Christmas and new year, the latest in a number of incidents at the 400-capacity institution.
A disturbance on 30 December involving resulted in a number of injuries to staff and detainees and on Christmas day around 50 were engaged in a protest.
In 2011 18 failed asylum seekers from Afghanistan began a hunger strike outside the centre as a protest against plans to return them to Afghanistan.
Despite Nigel Farage's party seeing a surge in poll ratings lately they continue to be dogged by members' controversial comments and postings on social media.
Only yesterday a top Ukip donor said women wearing trousers was "hostile behaviour".
Popular in the Community